LOCAL SPIRITS company Ghost Coast Distillery and Athens-based Creature Comforts Brewing Company are partnering to present "Raising Spirits" a safe, free benefit concert event on Saturday, November 7, to give back to the Savannah community struggling amid the COVID-19 pandemic.
If anyone has had a front row seat to watch how the COVID-19 pandemic has affected the local tourism and service industries, it's Chris Sywassink, co-owner of Ghost Coast Distillery.
"Functioning as a distillery, a cocktail bar and tourist attraction, we felt the brunt of this pandemic immediately," says Sywassink. "In addition to having to slow-down operations ourselves, we provide spirits and support to local restaurants and bars, so we've seen firsthand how hard this thing has hit everyone in the pocketbook. We've had to close and lay off important staff to make adjustments for business-sake, so you can only imagine what small, independent service industry folks are going through."
Early on, they changed what they were doing at the distillery to give back—shifting production to make needed hand-sanitizer.
"We saw an opportunity to help out, so we pivoted and put efforts toward helping the community to stay safe and healthy. Making hand-sanitizer was a no-brainer. But as everything progressed, we felt like we needed to do more. That's where the idea for this benefit concert came in."
"We have a great relationship with Creature Comforts Brewing Company out of Athens," says Kelcie Beausir, marketing manager at Ghost Coast. "They have a huge local following in Savannah, and we share the same distributor (Savannah Distributing). We were brainstorming partnership ideas and started discussing how many people here have been affected by the slowdown in business. The idea of a benefit concert seemed perfect, but we had to concentrate on creating a fun environment where everyone feels safe and adheres to local health protocols."
The answer was an outdoor, socially-distanced music event at The Gardens at Ships of the Sea Museum—which donated the space for the concert—featuring two regional bands that have both played Savannah before: Little Stranger, from Charleston, and Of Good Nature, which hails from the Charlotte area.
While the event is free to attend, it's requested guests make a minimum five-dollar donation at the gate to Giving Kitchen, and all the proceeds will go toward their mission to help service workers who have been affected by illness or job loss.
The music kicks off at 5:00 p.m., with Little Stranger taking the first set. Of Good Nature will follow, as the event is expected to wrap up around 9:00 p.m. There will be food by Chazito's Food Truck, and cocktails and beer for sale during the concert from Creature Comforts and Ghost Coast. But the focus, Beausir says, should really be on the funds being raised to help local service industry workers.
"Creature Comforts has agreed to match every dollar donated at the gate, so whatever you give will be doubled," adds Beausir.
"We love to be a part of events that focus on human connection," says David Stein, founder of Creature Comforts Brewing Co. "For Raising Spirits, we're thrilled to be working with Ghost Coast, Giving Kitchen and the Ships of the Sea Museum to create a great night of music, delicious beverages, and also give back to a community of some of the best people we know."
Giving Kitchen is a Georgia-based nonprofit that "provides financial assistance to food service workers, based on need and a defined set of criteria," according to their website thegivingkitchen.org. Food and beverage service workers based in Georgia can apply for financial help if they've been hit with hardships or loss of employment, like many in the Coastal Empire have.
"We're all feeling a little concert and event deprived in Savannah, but we've taken all the precautions to bring live music back in a safe way. The Gardens at Ships of the Sea is an outdoor space that holds over 500, so we are limiting admission to 150 at a time. We will have people with counters at the gate to make sure we stay at that number. Proper face coverings are required to enter, and we'll definitely have Ghost Coast Daisy Maze hand sanitizer on hand, in addition to making sure everyone follows social distancing guidelines while inside," promises Beausir.
"This is important to us," says Sywassink. "Since we opened the doors at Ghost Coast, we've been all about community, especially in times like these. We are doing what we can to help out, and we have been overwhelmed by the positive support by everyone in this area. It's what makes Savannah stand out."
To find out more about how you can donate to Giving Kitchen, or if you are a local food and beverage worker in need of assistance through one of their programs, visit thegivingkitchen.org.
Little Stranger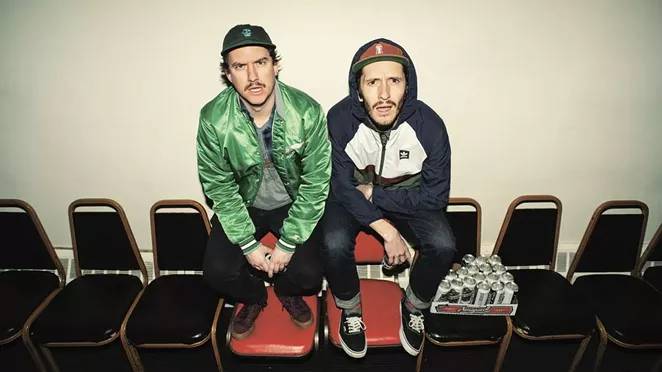 Born and raised in Philly, crash landed in Charleston, Kevin and John Shields are breaking into previously uncharted waters with their quirky indie hip-hop group, Little Stranger. Between John's melodic singer-songwriter magnetism, Kevin's in-your-face delivery, and an overall undeniable groove, this duo is sure to get any audience up and moving. Stylistically similar to the Gorillaz but with a loose reggae beat, every track brings the uniqueness and strangeness that their name implies.
Kevin and John Shields bring years of experience to the table. Throughout the course of their careers, they've opened for artists like Slightly Stoopid, Papadosio, B.O.B., The Movement and Del the Funkee Homosapien.
After their inception in 2016, Little Stranger was named "Hip Hop Artist of the Year" in 2016 and 2017, and listed jointly as "17 People to Watch in 2017" in the indie Charleston blog "Out of the Woodwork". They've since toured all across the continental United States, constantly growing their fanbase along the way. With an ever-increasing arsenal of new tunes, Little Stranger is poised to make 2020 another off the backboard slam dunk.
Of Good Nature
Of Good Nature leads with a fusion-friendly approach to today's music, uncovering a highly accessible sound that concentrates on lyrics, uplifting energy, and musicianship, packed into a potent blend of Alternative, Pop, Rock, Jazz, Reggae.. the list goes on. This group of prolific songwriters, fans know as OGN, are keeping dedicated and grabbing new listeners with their new album release 'Everything Turns Gold' May 2020.
In February 2020, Of Good Nature joined Train on their Sail Across The Sun Cruise for the 3rd year along w/ Allen Stone, Matt Nathanson, The Original Wailers, Mark McGrath. The band performed at One Love Music Festival in Long Beach CA w/ Rebelution, Stick Figure, Slightly Stoopid. OGN announced they join The Expendables on their national 10th Annual Winter Blackout Tour presented by Cali Roots across the United States.
OGN also received recognition for their past studio work, album 'Timeless'- debuted at #1 on iTunes and #3 on Billboard (Reggae Albums Chart) in 2019 and single 'Take Me Anywhere' premiered on Sirius XM's The Pulse. Be The Day is featured on The CaliRoots Radio Show on Sirius XM's The Joint.