Local band Bero Bero has become known for their explorations of synth-based music, and they've always relied heavily on groove as a central part of their endeavors. Over the course of the last few years, during which time they've released EPs and singles, the duo—comprised of Veronica Garcia-Melendez and David Murray—has earned a reputation for not just being great songwriters and producers but also captivating live performers.
What makes that fact important to the evolution of Bero Bero is that it's the entire foundation of their new EP Dance, out Jan. 4 on House of Strut Records. All of the songs on the EP were crafted with the idea that they would be danceable songs that are optimal for playing live. It's a concept they employed after noticing that their more dance-oriented material went over best during shows, so they took the excitement and ran with it.
The results of Dance recall the best of 80s synth pop (Yaz, Depeche Mode, Eurythmics, etc.), fused with the sleekness of more modern electronic music. It's a captivating work that places the groove in a new place, and a new pace, for Bero Bero.
Ahead of the EP release, and the release show at The Jinx on Jan. 10, we caught up with Garcia-Melendez to learn more about Dance.
It seems like this EP was intentionally on the dancier side, stylistically?
Yeah, that's why we ended up calling it Dance [laughs]. We were like, "Maybe we should think of something more creative." But then we'd come back to the idea that we were intentionally trying to write something dance-y. Even the second song on the EP, which is darker, we still wanted to keep moving.
We've played shows all over the East Coast now, and some of the shows we'd intentionally play all of our dance-y stuff. It was just fun. So this time we decided to focus on trying to write all songs like that. We'd try and play them live and then go back to the drawing board—like with the last song, "Pop Song," it initially had three A sections. We realized that it was kind of boring and repetitive, you know? Or, like, the tempo wasn't right.
The other two releases were completely conceived at home and then we took it in the studio. With the first one, no show had been played before it was recorded. And the second one was an exploration in layer-building. With this one it was like, "Let's just write songs that have sections and keep moving."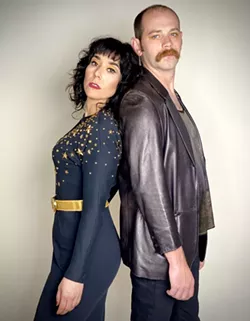 Do you remember a moment in particular on tour when the wheels started turning, and you realized that people were responding to the dance stuff?
I do remember a moment! It was at The Bends in St. Pete, and it's not a big space. It's a small room, but everyone was just dancing. It was packed; it was almost like they were bouncing off of each other. That was the first time that we'd stacked the set in a certain way where it would keep the energy up in that way. We were like, "We should do more of that."
What was the first song that laid the groundwork for what the EP became musically?
We started with "Miami," and then the next one was "Pop Song." On that one, we just tried to push it harder. On "Miami," we tried to capture the energy of Miami. So with "Pop Song," we were really trying to do something super high energy. That was definitely the one we kept tweaking. Those two were the starting point.
Do you see this as a thread you'd like to keep pulling conceptually, or is Bero Bero more of a blank slate that you can sort of do whatever you'd like with?
I think we're having fun experimenting with different ideas, which is why we decided to go for the dance idea. I know we'd like to collaborate with Dope Knife and do a trip hop thing with him. I want to do something like that, but what gets us called back at [venues] is when we play the dancier stuff. But as far as what we do next, I'm not sure exactly. We want to keep it open and not do one thing; we're just influenced by so many styles of music. Dave and I have this musical relationship where there's room for that kind of exploration because we trust each other.
cs