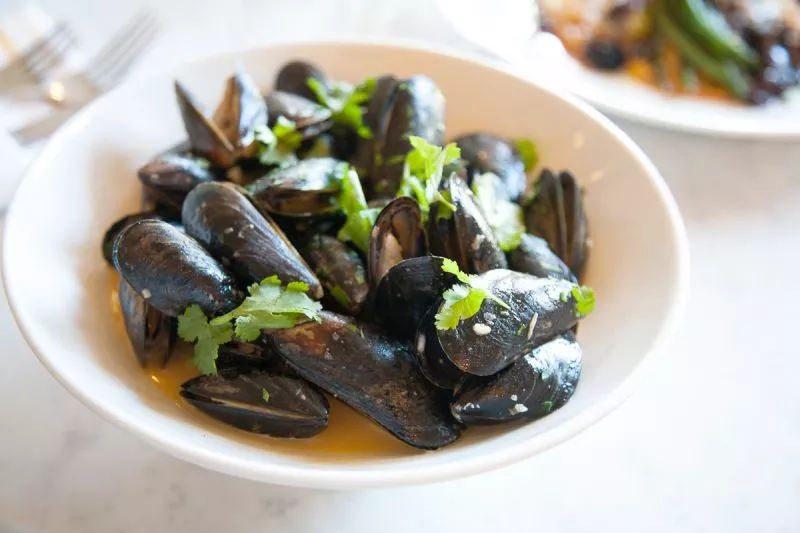 Nestled in the Embassy Suites on the western end of Oglethorpe Ave., resides 39 Rue De Jean, a swanky French inspired Brasserie with the aura of a laid-back European bistro.
39 Rue de Jean Savannah is the brainchild of the Charleston-based Holy City Hospitality restaurant group, which was established in 2005. Over the years, Holy City Hospitality has strategically developed a restaurant empire, beginning with the original 39 Rue De Jean in Charleston. Named after the restaurant's first location, "39 Rue de Jean" translates to "39 John Street."
In true brasserie fashion, this French eatery serves as a rendezvous for locals and hotspot for visitors. In addition to offering a wide selection of wine, spirits, cocktails and beer, 39 Rue De Jean serves classic French fare with modern flare.
Guests, whose attire ranges from suits to shorts, can indulge in everything from fresh seafood, hand-cut steaks, and braised short rib to braised rabbit, Coq au Vin, Bouillabaisse and Duck Confit. While the mussels are all the rage, with six different preparations, one cannot disregard their most unconventional offering- sushi.
Kinsey Rogers, Marketing Coordinator for Holy City Hospitality, weighs in on this indulgent phenomenon.
"A lot of people are curious about the origin of sushi on our menu. There have been a few theories over the years. In truth, it was added to give our chefs an opportunity to showcase their skills," Rogers explains.
"There was a movement in French cuisine called the nouvelle cuisine approach that took off in the 70s. (It) brought an emphasis on seasonality, sense of place, artful presentation and personal expression in French cuisine. Although French and Japanese cuisines are seemingly very different, there is similarity in that both are strongly centered on the practices of great presentation and use of high quality ingredients."
Thus, with its European inspired ambience, classical French cuisine and Japanese influences, 39 Rue De Jean truly perfects the dichotomy between its upscale design elements and relaxed colloquial ambiance. On your next visit, prepare to be whisked off the streets of Savannah and transported to Paris. – Maria Whiteway
Runner-up: Circa 1875 Gastro Pub