Gene Harley has an interesting dilemma: How to be the public face of a law enforcement agency that works almost totally in secret.
The Chatham-Savannah Counter Narcotics Team is a task force of local cops who take down large-scale drug operations with amazing effectiveness: a 98 percent conviction rate.
They do it through a combination of surveillance, search warrants, tactical response, and undercover work.
"I'd say about 80-85 percent of what we do involves going undercover," Harley says.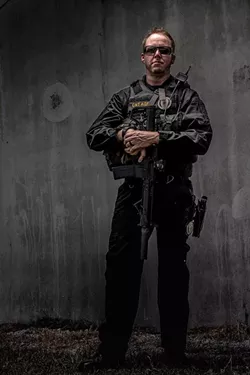 That involves a very special kind of officer.
"The ideal CNT agent doesn't look or act like a cop at all, in any way. We don't ride around in unmarked Crown Vics and call that going undercover," he laughs. "The job requires nerves of steel. You can be a great beat cop, but a terrible drug agent."
Harley himself is no mere PR mouthpiece. The Savannah native and U.S. Navy veteran has nearly 20 years experience as an officer with Chatham County Police, where he now holds the rank of lieutenant.
He currently serves as CNT's assistant deputy director in addition to being its public information officer.
CNT agents are recruited from local agencies, chiefly Savannah Police and Chatham County Police. The level of dedication is intense, to say the least.
"We want go-getters who also play by the rules. Our manual of policies and procedures is very thick," Harley says.
He says it's anything but a 9-5 job — usually quite the opposite.
"We work on drug dealer's time," he says. "We follow the dope."
Harley says not only do CNT agents deal with "the worst of the worst" as far as criminal behavior goes, they must have an extremely supportive home environment.
"They change schedules constantly. They often work two or three days straight without a break," he says.
"Guys will have a go-bag packed with enough stuff for two or three days on the road. You never know when you'll have to make a last-minute trip to Atlanta to follow a source."
Harley says CNT's purpose isn't to harass low-level users.
"The way CNT is constructed, we don't go after the small person. We go after mid-level and top-level people. Our goal is to take out as much of the organization as possible."
Harley says to think of CNT as a localized version of the DEA, with just about the same wide array of capabilities.
"We operate in almost exactly the same fashion as the DEA, except we don't have national authority. That's why we work in partnership with so many other agencies, including federal law enforcement. A lot of our cases trace back to organizations in Atlanta, Texas, and California," he says.
An extensive legal component is required because of the amount of search and surveillance CNT performs, including wiretapping phone calls in real time.
CNT has assistant DAs who work to meticulously craft search warrants before taking them to a judge for approval.
Harley says not one of their search warrants has been refused that has been vetted by their legal team. – Jim Morekis
Runner-up: Barry Lewis