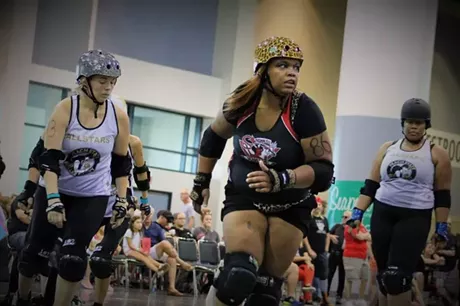 Jazmine McKellar's rise to Best Athlete is not the most traditional one.
After a bad breakup, she felt lost and was in the process of trying to find herself again when one of her coworkers invited her to her game.
"I was thinking football or something," McKellar says. "And she's like, 'No, roller derby.' What?"
McKellar went along to see the game and was instantly transfixed.
"I was like, I have no idea what's going on, but there's women on the track beating the crap out of each other and I was front row seeing the intensity," she remembers. "This is women empowerment. This is women being as athletic as they possibly can. I really enjoyed that—it seemed like a community I could get into."
Now, McKellar has been tearing it up on track for two years as Ally BamBam Shakes, a nod to the band Alabama Shakes. She's part of the All-Stars and also works as the interleague coordinator.
And it all started with that fateful game.
"I was seeing all these people in different shapes," she says. "You can be skinny, tall, fat, whatever."
McKellar played volleyball in college, but prior to derby, that was pretty much the extent of her athleticism.
"In volleyball, I was never the best player," she says. "I never felt like I could be the best player. With derby, I can be whatever I want to be, as long as I have the dedication and the drive to push myself."
And push herself she definitely does. The Savannah Derby Devils have four practices per week. All are two hours long and focus on endurance, skills, team-specific practice—there's an A-team and a B-team—and scrimmage.
"For bouts, each half is 30 minutes, and depending on how much you play, those two hours are so helpful for when you play in bouts," says McKellar. "I'm dying in practice, but when we play a bout, I'm like, 'We only have ten more minutes?' It feels great that we have all that practice."
Additionally, McKellar runs twice a week and lifts weights twice a week.
"Every year, I try to do something a little different inside derby," she says. "I think this is my actual passion."
As any great athlete will tell you, it's all about the team you surround yourself with.
"I feel like for me to promote myself, I have to promote everyone else. I'm not just me, I'm a representation of my team and my sport and everything that goes with it," says McKellar. "I feel like I'm part of a family. Of course, we don't want to always make it seem like it's a kum-ba-ya thing. It doesn't make you a bad person that you have conflicts—it's okay. The bigger picture is that I'm letting you be you and you're letting me be me."
You can see the Savannah Derby Devils in action June 8, August 31 and September 28 at the Savannah Convention Center. – Rachael Flora
Runner-up: Kywann Green