Whether he's in the sound booth at a House of Gunt show, welcoming out-of-town DJs at monthly MIX parties, or creating mixes on Soundcloud, C Powers has had a deep impact on Savannah music culture since arriving in Chatham County eight years ago.
The first-time Best Local DJ winner has become the analog fuel for some of Savannah's best parties and drag shows, pulling tracks from a massive collection he's been developing since middle school.
Powers was introduced to electronic music at a very early age while growing up in Atlanta.
"In the '90s there was an explosion of dance music commercially," he recalls. "I was at the age most kids get a guitar, and I was seeing all this stuff on MTV with DJs and connecting that to electronic music."
Powers scraped together weeks of allowance money to purchase his first set of turntables. His Deadhead parents supported the endeavor, taking the 11-year-old to Little Five Points record shops for digging.
"I got into what older people around the shops played and learned early how to source music," he says. "Which is important...especially coming out of an underground music discipline, it's hard to find this stuff. Coming into it that way, it's engrained."
Over the years, Powers lived in the record-hunting goldmines of Chicago and London.
"Geography dictates a lot," he says. "Music always travels locally and quickly...in the South, we're not geographically connected to the Midwest where a lot of hard acid and techno stuff associated with the deep LSD era of dance music happened. We have a good mix of stuff from the UK and stuff that was influenced by bass music, which came out of hip-hop. I think there is a connection to factory work in the Midwest—cold temperatures, repetitive beats. I think in the South, being hot, people don't move as fast, and there's literally more space in the dance rhythmic structures."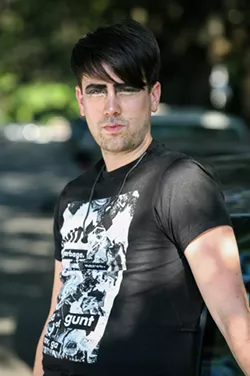 Powers arrived in Savannah in 2010 site unseen when his wife, Michelle Quick, accepted a position at SCAD.
"I tried to [start DJing] as soon as I could," Powers remembers. "I would bike around and pass out CDs to people at bars."
He began collaborating with Safe//Sound, the events and promotion entity created by Gus Muller and Jae Matthews of Boy Harsher. Together, the trio stared booking electronic and post-punk shows, and Powers began DJing at DIY events.
"Back then, we'd do house parties and play really nerdy DJ stuff I wouldn't expect people to get," he says. "But SCAD kids would pour in and start fucking on the walls like we're playing lounge music. You would think this would be a really boring place for electronic music—no one's connected to the underground network of American dance music—but that way, I don't have to conform to the inevitably restricting expectations of that underground dance culture. I can choose to interact with it when I leave and online."
Those house parties paved the way for Cape Fear, a recurring event at Hang Fire where DJs spun in a room with blacked-out windows. Around that time, Powers was approached by House of Gunt co-founder Monster C*nt, who was searching for a new DJ. Soon, Powers was helping the collective with audio and working with them for hours in the studio, creating new tracks.
"We made a whole Halloween opera that was pre-recorded," he says. "I am the DJ, but it's a lot more than that. It's a lot of background work as well."
Drag and dance music culture are inherently entwined, but Powers finds that the work resonates even louder in a smaller Southern town like Savannah.
"In New York, DJs are working with drag queens a lot, and since it's normalized, it's got more protection," he says. "Here in the deep South, people are still going to possibly react violently to your counterculture. I think the work is more necessary."
In the last year, Powers teamed up with friends Raine Raine and Greg Hornak to create MIX, a monthly party in the basement of Club One. The event, bathed in Hornak's projected visuals, is an opportunity to bring in touring DJs and electronic music talent and add in performance and drag. It's a free show, and no MIX is exactly alike.
You can read all about this week's MIX in this issue, and mark your calendar for June 2 for "Brood," a new House of Gunt show with an insect theme, DJ'd by Powers. Powers may be taking some weekends to perform out of town, but he enjoys coming home to Savannah.
"People are very open here," he says. "If you give them something they haven't seen, people are really willing to try new things here." — Anna Chandler
Runner-Up: Jose Ray