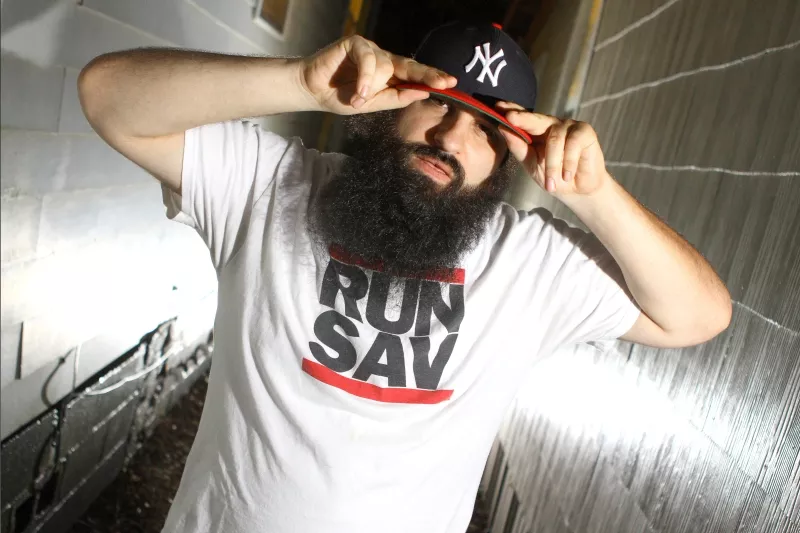 WHEN MIGGS arrived in Savannah in 2006, he wasn't really seeking out a music scene.
"I wasn't like, yo, I'm Miggs the Artist, listen to my mixtape!" the SCAD grad recalls. "I just happened to rap."
It was the heyday of hip-hop collective Dope Sandwich; as fate would have it, Miggs just happened upon Knife's album release party at Hang Fire.
"It was totally unexpected to see what they were doing," he recalls. "To see the official way the show was being ran—they had huge tables with all this merch out, girls wearing Dope Sandwich shirts, all supporting these guys on stage."
Miggs was hooked. Through that show, he was introduced to Hip-Hop Night at The Jinx, where he honed his craft and became fully immersed in the local scene.
It all paved the way for the overwhelming success of his 2014 album, Son of a Gun. A visual artist with a great team of supportive friends and collaborators, Miggs employed smart design, guerilla marketing, word of mouth, and the help of professionals to create buzz about the release, catapulting the LP onto the worldwide hip-hop radar.
With radio play through the U.S., Europe, and the U.K., the "realness" of it all finally hit him.
"It was nice to take the actual proper channels to do something and have it be successful," he says. "It's like, 'Ah! This is how you be a musician!'"
It's pushed him to work bigger and better for his follow-up.
"I don't want to put out my next album and have it be equal to or lesser than what Son of a Gun was like," he says resolutely. "The only way to do that is to spend that much more time on the creation and promotion."
Keeping that in mind, Miggs hints at an upcoming EP, but is tight-lipped on any information or a drop date; he plans on keeping it a surprise. Not that his world has slowed down at all; his constantly working with other visual artists, musicians and rappers has led to new opportunities, including a jazz-influenced collaboration with former Word of Mouth bandmate Melissa Hagerty and his brother. He and Knife also have an incredibly ambitious project in the works: a concept album based on the story of Peter Pan.
"I happen to be a huge Peter Pan fanatic," grins Miggs. "We started just kind of joking, 'What if we did a take on the origin story of it?'"
As the duo talked through it, they began noticing correlations between a graphic novel Knife had written and themes in J.M. Barrie's classic work.
"The crocodile was always lingering, and is the only thing Captain Hook fears," Miggs offers as an example. "It could be big government, big companies, CEOs of corporations constantly overlooking what is happening. And that turns into government, and authority, and now we have S.W.A.T. teams with shields and the crocodile logo on it."
"It's definitely something that's very conceptual and very different from a lot of hip-hop," he says. "It's not a straightforward rap album. It's just storytelling from an abstract standpoint. It felt amazing to do that...even with just regular rap music, you're following the guidelines of what rap music is supposed to sound like. We just spent a whole bunch of time thinking outside the box and spreading our rap wings."
Miggs advises that the project will "come out when it comes out." In the meantime, he's dedicated to helping releasing music by up-and-coming talents on the Dope Sandwich label, including Bassdrum Bloodlust and Culture Cypher. He hopes that his Connect win will inspire a new generation to step up and participate in local hip-hop.
"I want there to be more of an active scene going on," he says. "I know there's tons of people out there interested in being a musician and rapping. I want to inspire people to come out to Hip-Hop Night, to put out a mixtape, and look at what I'm doing as an invitation to join. If I can help spark people and motivate them to do be honest with that they're doing, then cool. I've done what I want to do, and I'm glad that my albums can be vehicles for that." —Anna Chandler
Runner-up: Dope Sandwich