Jeff Two-Names and the Born Agains really love what they do, and it shows. The band is pretty much all about having fun playing music, which is something that a lot of bands forget how to do when they let the industry weigh them down. They're a band that's in it for the right reasons - so much so that they were shocked by their Best Punk Band win.
"It's funny because there were years when we were literally the only punk band in town and we didn't even finish in the top two," drummer Rev. Kev says.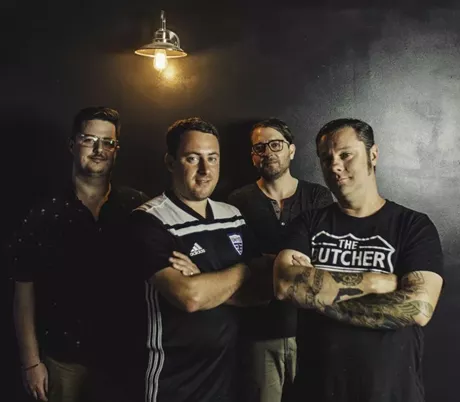 It certainly seems like there was a time in Savannah when they were the only punk band around, and now there's a growing world of bands under the punk umbrella. The question is - do they feel like they started the ball rolling?
"Definitely with The Ramages," bandleader Jeff Storey-Pitts jokes.
"We're responsible for The Ramages. They actually have several songs in response to our songs, since Petey [Worrell, Ramages bassist] used to be in the band." The rivalry between Jeff Two Names and The Ramages is, Pitts says, not unlike a "rap battle" and is chock full of "diss tracks."
For a band that writes plenty of songs with humorous lyrics, there have been some songs written more recently that Pitts admits are on the serious side.
"I don't know what to do with them! I keep thinking we need to have a new band name, because why would we have a song like this?" he says with a laugh.
The band recently recorded 10 songs on the heels of a successful Stopover performance, and are feeling good about the prospect of an upcoming release.
"It does help when your songs are under two minutes," guitarist Michael Doctor MD says.
Despite revealing the completion of new recordings, and the shift towards some heavier subject matter, the band offered no comment on how many Ramages diss tracks were among the new collection. – Sean Kelly
Runner-up: Toxic Shock