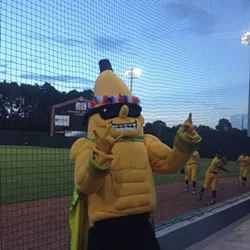 One of the great Savannah success stories in recent history is the instant phenomenon of the Savannah Bananas.
Playing in Historic Grayson Stadium and competing in the collegiate summer wood-bat Coastal Plain League, the Bananas opened their inaugural season at home on June 2. As if working from a movie script, they finished the season by winning the CPL championship.
The family atmosphere, constant entertainment, and spirited play on the field had Savannah quickly forgetting the Sand Gnats minor league team, which had packed up and left for Columbia, S.C.
"To think that almost all of the games would sell out and we'd win the Championship... no one could have ever predicted that," says team owner Jesse Cole.
Of course, a lot of hard work went into that overnight success.
"When my wife Emily and I decided to go all in on Savannah and sell our house in Charlotte and empty our retirement accounts, we had an unbelievable belief in what we were doing," says Cole.
"It's taken 10 years of trying things and failing to get us to this point. But the night the Bananas were revealed on February 25, we had no idea that the world would take notice. It was crazy!" he recalls.
"Orders from all over the country came in and the community started to embrace our fun and crazy personality. That's when we knew we had something special."
Describing the Bananas mantra of Fans First, Cole says "It's always been done that way" isn't a part of their vernacular.
"Two of our core values are to Always Be Growing and Be Hungry. So our entire staff is learning every day, we even have a book club where we pay our people to read," Cole says.
This past season Cole and the staff looked at every area where they could make the fan experience even better.
"Last year was our first season ever at Grayson, so we didn't know how to take care of 4,000+ fans in that ballpark, especially when they all have All You Can Eat. So this year we are going all in on extra staff, extra stations and extra amenities to take care of fans," Cole says.
The next area the Bananas are going all in on is entertainment.
"We've teamed up with SCAD to bring more performers, dancers, singers and actors to put on a show every night. We've also teamed up with local high schools to introduce the Banana Band at our big weekend games."
"Finally, we learned no matter what, be different in everything you do and try things and then figure them out," Cole says. "Our big push is to have more events at Grayson and this offseason we've had a Craft Beer Kickball League, two Beer Fests and a huge country concert. We learned a lot from these events and now will be looking to host even more."
Cole credits his wife Emily for being the Bananas' secret weapon.
"Emily is the biggest key to my success and the team's success. She is now being called Mom by our staff because she is always looking out for everyone. She's beyond the most caring person I've ever met," says her husband.
"She didn't sleep at all last season as she sacrificed herself to make sure our staff didn't suffer as much as she did with the long hours and extra work. She lets me dream every day and supports me in everything I do and has developed a caring culture with our entire staff that I've never seen before."
Cole also says he reads over 100 books a year in an effort to always learn more. He shares his most important role models:
"My three biggest mentors are Walt Disney, Bill Veeck and P.T. Barnum. I made custom portraits of them for my office with the words Vision, Innovation and Showmanship on them," he says.
The Bananas connection with the community goes beyond just the fans, however. The players—who often live with guest families during this break from their regular NCAA play back on campus—have forged a special bond as well.
"Coach Sean West tells the players from the beginning what to expect from this experience and how they are going to be a part of something special," Cole says.
"That first night when the team saw 4,000+ fans come out to watch them, they were all believers and they were all Bananas. After we won the championship, I'll never forget some of the players coming up to me and saying 'Thank you, that was the best summer of my life,'" he says.
"I believed it was them that needed to be thanked, as they understood it was not about them but that it was about giving back to the fans and the community the entire summer." —
Jim Morekis
Runner-up: SAV Rock 'n' Roll Marathon