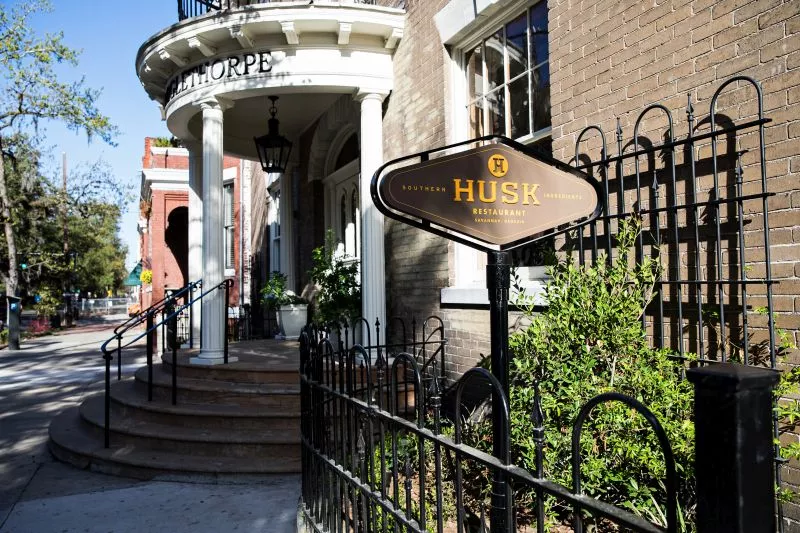 It's no surprise here that this year's Best New Restaurant is Husk, Sean Brock's fourth iteration of the Southern restaurant with an eye towards local ingredients.
While it's easy to claim that Husk's restaurant style is changing the culinary scene in Savannah, the team behind it doesn't jump to that conclusion.
"I would not even begin to think that we have changed the dining scene in Savannah," says David Howard, president of the Neighborhood Dining Group that owns Husk. "I believe we are providing a true taste of the Savannah region with a hyper-focus on sourcing local ingredients, all in an amazing historic home and offering our guests an alternative dining option."
Husk's menu changes daily to reflect the region's current provisions. Past menus are archived and include inspired local dishes like Bear Creek Farm beef, Jerusalem artichoke, and shiitake mushrooms.
Featured suppliers include farms in the region, like Swampy Appleseed, Hunter Cattle, and Handlebar Farm.
With Husks already existing in Charleston, Nashville, and Greenville, the Savannah restaurant sets themselves apart from the others with a different layout.
"Husk Savannah has the largest bar of all the Husk restaurants, and that combined with the raw bar has made that room a high-energy and fun place to enjoy a cocktail and dine," Howard says. "Alternatively, we offer multiple other dining rooms for a more subdued experience."
After parting ways with their original chef de cuisine, Tyler Williams, in April due to differing visions, Husk brought in their Nashville sous chef Andrew McLeod to run the kitchen in the interim.
"In Savannah, we have been very challenged with the recruitment of culinary help, but that's a nationwide crisis and is evolving into a significant issue for our industry," Howard admits.
Just last week, Husk began offering lunch service from 11 a.m. to 2 p.m. Monday through Friday.
"All Husks serve lunch, and that's always been part of our business plan," says Howard. "We are confident that lunch will be popular."
Of special note is the Husk Burger, which Chef Sean Brock says might be the best burger he's ever made.
For now, Howard and the rest of the Husk team are enjoying the win.
"This is confirmation that all our ideas and efforts are worth it and appreciated by those that live and dine in Savannah," Howard says. "Our fine staff deserves the credit—the investment of time and passion on their part has been unwavering and we are sincerely appreciative to everybody with the recognition." – Rachael Flora
Runner-Up: Fox & Fig