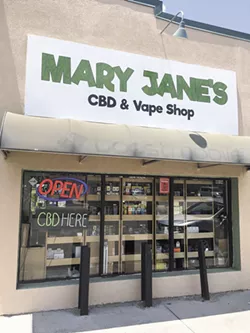 Open for only six months, Mary Jane's CBD Dispensary is obviously a favorite among Connect readers. However, the business has expanded into more than just a smoke shop.
Garrett Olano, social media and communications professional says, "Our mission is to provide high-quality full-spectrum hemp containing CBD to meet the demand of people wanting natural remedies to improve their overall health and wellness. Originally, Mary Jane's began as a smoke shop. However, after deep consideration and realizing this need for people to have access to natural remedies as an alternative to harmful pharmaceutical medications, we felt it was a moral obligation to solve this need."
The business started with just $1000 worth of CBD hemp products and a healthy dose of curiosity about the reaction to CBD in Savannah. Almost immediately, Mary Jane's sold out of their inventory and were scrambling to buy more.
Now, they carry $100,000 worth of products in their store, including CBD pet treats, gummies, oil tinctures and pain lotions. The variety is beneficial to their customers, who come in for different needs.
The growth of the business has been so positive, that Mary Jane's has decided to expand into more locations, locally and nationally. New stores are planned inside the Oglethorpe Mall in Savannah and a location in San Antonio, Texas.
Garrett is pleased at the expansion,"We are extremely excited to see what is in store for us, plus how we can continue to serve the great people of Savannah. The future of CBD looks bright!" – Jessica Farthing
Runner-up: Smoke City