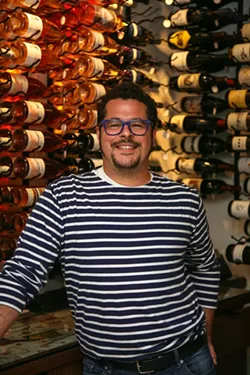 During his interview for last year's Best of Savannah issue for another win as the city's favorite sommelier, Jason Restivo perched on the scaffolding in front of the old gas station on the corner of Victory and Drayton, explaining the floor plan for the restaurant slated to open there in less than six months.
"The bar will be over there, and the kitchen over in that corner," he described, pointing in the direction of a pile of rubble with his wine glass. "And right here—" kicking aside a piece of wood "—will be the patio seating."
Anyone who doubted his spectacular vision ate their hat and more when Atlantic opened its double doors in early November to full seats and rave reviews.
Restivo and his wife, Jennifer, have created a marvelous oasis out of what was once a stucco-covered drive-by, adding strategic greenery and sleek style to this once-invisible corner—efforts that recently garnered a Historic Savannah Foundation award.
"It feels like I've won the lottery every day. I really am living my dream," laughs Jason, sitting now in the airy dining room with its modern coastal feel, surrounded by picturesque displays of pickled vegetables and art deco posters, exactly like he described it a year ago.
"I'm still so excited every day when people start showing up."
While the San Toroni villa-esque arches and courtyard fire pit offer a casually elegant atmosphere for Savannah's scenesters, most of us are coming to eat and drink without scaring ourselves when the check drops.
Billed as a "neighborhood eatery serving heart and soul sustenance," Atlantic (nope, no "the," learn it, live it) has brought affordability back to the city's foodie scene, thanks to the Restivos' blessed match with Best Chef Lauren Teague.
"Nothing on the menu is over twenty dollars," affirms Chef Lauren, who offers a fresh fish dish daily as well as hearty lamb and steak entrées.
"We wanted people to come not because it's a special occasion, but because it's right down the street."
Formerly of 22 Square at the Andaz, Chef Lauren is already well-known throughout the city for her culinary integrity and commitment to sourcing locally. She's brought all her skills to the burner, baking her own breads and sausages and cooking on the line next to her loyal sous, Paul Dempsey.
"It's been a real change coming from the hotel, where I maybe served fifty people all day," she compares. "Now we're doing two hundred and seventy five a night and it's just awesome."
Choosing from columns of "breads," "bowls," "plates," and "vegetables," diners decide their own destiny with myriad combinations of dishes (sharing is caring!) Sandwiches are accompanied with crudités instead of fries, though plenty of comfort can be found in the mushroom bolognese and perfectly spiced enchiladas.
Chef and the Restivos are committed to keeping the price point reasonable, offering rotating gluten-free and vegan options as well as genius desserts crafted by A Squad Bake Shop.
"We've already changed the menu five times," grins the chef. "I don't want anyone to get bored."
No worries; mixing it up is embedded in the aesthetic. There's always something new to try on the cocktail, beer and wine lists, and you can never go wrong with the $9 "rosé of the day."
Jason seems giddy with the newfound freedom to entertain local oenophiles as he sees fit with special pourings and visits from his friend list of vintners and distributors from around the world.
"I didn't want there to be any rules," says the sommelier. "We're living in an age when wine is an affordable luxury, and I want there always to be an element of surprise."
Juxtaposing that never-ending variety is the consistent service from Atlantic's impeccably trained servers, who make navigating the peak hour crowds look effortless yet still manage to remember repeat customers' names.
It's all part of the vision that has been inside Jason's mind as long as he can remember.
"We've been working towards this our entire lives," he says, gently touching the marble bar with the palm of his hand, as if to assure himself that it's all real.
"We understand what it means to take care of people." – Jessica Leigh Lebos
Runner-up, Sommelier: Christian Depken