Dean Denney sits with vibrating pen in hand over a belly-button surrounded by spiky black lines. He's carefully filling in red and orange flames that crawl up the surface of his co-worker's stomach. The canvas is illuminated from 20 feet above by an enormous skylight, which was installed in the 1930's for meticulous weevil-hunting cotton workers.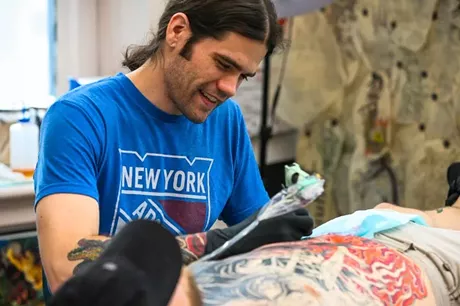 Anonymous Tattoo, an airy loft space perched atop Bay Street, has been Denney's home for the last seven years and in that time he's left many lasting impressions on people. "There's no city quite like Savannah," Denney says, "It's a good tattoo town, with really amazing clients and even more amazing co-workers."
Each artist at the shop approaches ideas in their own way, which provides a wide range of expressive styles that include animal chimeras, surrealist collage, pointillist dots, Blackwork patterns, celebrity portraiture, and Japanese dragons.
Denney's style can be classified as American Traditional — brightly shaded iconography outlined by thick black lines. He shows an affinity for anthropomorphic animals such as a dog dressed as a clown, a frog holding a lily, and a grim reaper penguin.
Asked about his influences, he warns there are "too many to name. We could go down a rabbit hole."
Denny got started as an apprentice at a biker shop in Raleigh, NC, where he would sometimes advise against requests for "wild stuff". Now he finds himself planning bigger jobs with clients that are scheduled months in advance and require several sessions to complete.
He prefers to meet in person to "make sure the artwork jibes with who they are and what they do." The consultation process includes the visual content, as well as career and lifestyle considerations. "I work with a shrimp boat Captain who gets exposed to salt water and sea gulls, so he can only get tattooed in the off season," he explains.
Scheduling an appointment with Denney will soon require a 5-hour commute for Savannahians, as he and his wife are moving to Asheville, NC, where he'll be working at Spiderweb Tattoo. "My wife is from there and we have a lot of friends up there," Denny says. Professionally, Denney is seizing the opportunity to work with some old colleagues and gain joint-ownership of a new business. "I'm ready to be my own boss," he declares.
As Denney leaves us for Northern pastures, his mark remains on our city, pressed into the semi-covered flesh of military folks, art students, and nonconformists who wear his art on their sleeves. – Pat Longstreth
Runner-up: Kelly Borders