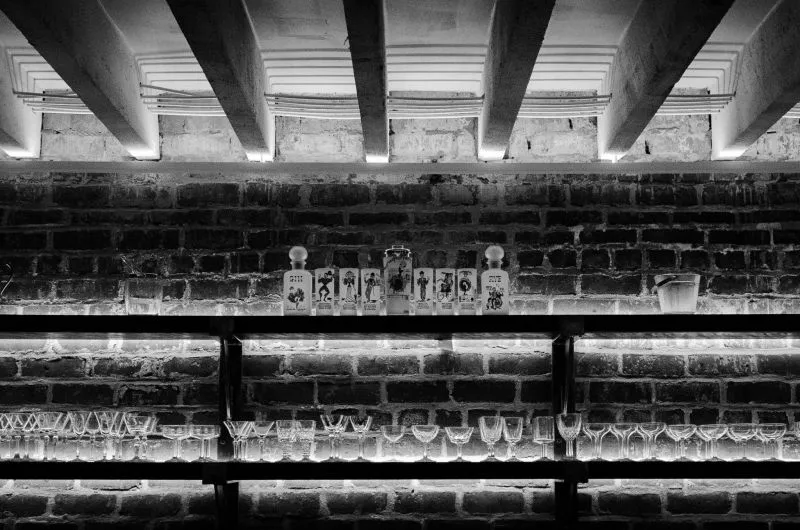 It's not just a cute name—to get to Alley Cat Lounge, you have to enter through the alley.
The entry is inconspicuous, usually marked by a solo door guy, but step inside and go downstairs and you're whisked into a highbrow world.
The menu is the first clue that this is no ordinary bar. Alley Cat's menu, The Alley Cat Rag, is a 32-page, newspaper-style tome that situates booze-related literature next to its list of liquor offerings.
The literature samplings favor the 1930s and 1940s—just after Prohibition ended—and include excerpts from Ernest Hemingway, Hunter S. Thompson, and the renowned essay "Frank Sinatra Has a Cold" by Gay Talese. The last page is called "Mental Floss" and is a compilation of booze-related quotes.
The readings help break up the staggeringly massive liquor offerings this bar has. It's kind of a wonder a bar this size has this much liquor.
Take the tequila section, for example. The offerings include sotol and mezcal and range from $6 Lunazul Silver to $120 Partida Elegante, and every option in between. There's also an explanation of the difference between tequila, sotol, and mezcal.
In fact, it's that explanation that sets this bar apart from any other upscale bar—it takes your hand as you dive in, rather than just expecting you to know the difference.
For an upscale bar, Alley Cat is surprisingly not snooty. Once you step inside, there's no feeling of judgment if you don't order a certain way.
You can truly make your own experience here—you can shoot Jameson, split a bottle of $160 champagne, share a Chatham Artillery Punch bowl, or enjoy a house gin and tonic. It's whatever you choose, because Alley Cat meets you right where you are.
—Rachael Flora
Runner-up: Rocks on the Roof