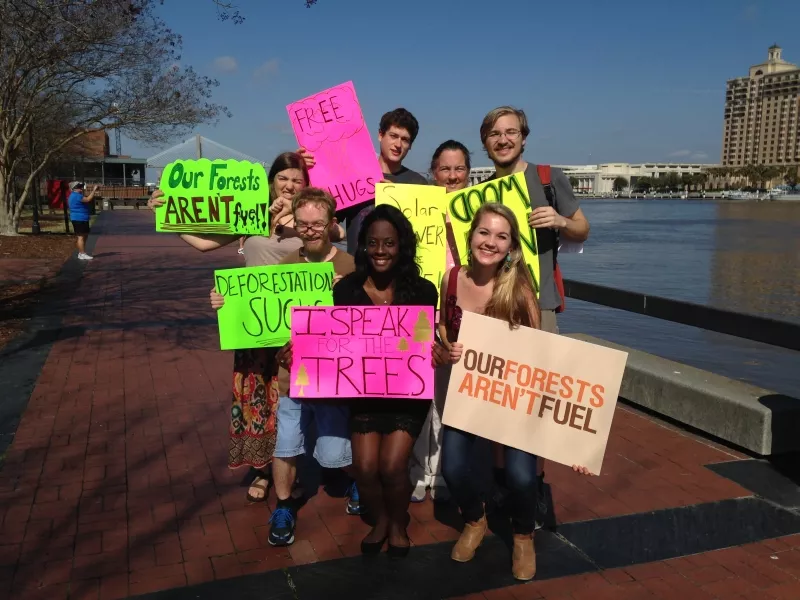 BETWEEN everyone's fabulous St. Patrick's Day garb and the verdant spring right around the corner, there's no doubt about the "it" color of the season.
Emerald, olive, chartreuse, kelly, moss—I see y'all rocking your 50 shades of green.Although the guy in the "Irish You Were Naked" T-shirt maybe deserves a kick in the shamrock.
As you enjoy the festivities and new foliage unfurling in the squares, take care not to fall for any greenwashing—and I'm not talking about your bestie convincing you to skinny-dip in the Forsyth Park fountain.
"To greenwash" means to frame a particular project or policy as environmentally friendly when it's actually quite the opposite.
We've got a big ol' bathtub of misrepresented issues happening in Georgia right now, and there are plenty of players who would like to see the pistachio-hued wool pulled over our eyes.
Topping the list is the ratification of SB 139 and HB 444, hustled through the GA Senate and the House Committee on Agriculture and Consumer Affairs like they flashed a Disney Fast Pass. (HB 444 has not yet gone to the full House for a vote, but the committee pitched it through 23-1.)
Collectively known as the "Plastic Bags Everywhere" bills, this legislation effectively robs towns and municipalities of the right to regulate plastic bags in any way. That means Tybee Island's attempt to rid itself of the sea turtle-strangling hazards has been suffocated, and the same goes for Athens' idea that it might tag a tiny fee to plastic bags to encourage shoppers to bring their own.
The legislation is essentially authored by and for plastic bag manufacturers, whose lobbyists cheerfully argue that consumers and retailers aren't really smart enough to handle the chaos caused by regulating plastic bags. Instead, the American Progressive Bag Alliance's suggestion for mitigating the pollution caused by the 100 BILLION bags distributed in the U.S. every year is to recycle them.
Sounds reasonable—until you find out that plastic bags are Enemy No. 1 of single-stream recycling facilities. They clog up machinery and cost thousands of dollars a month to clear, diminishing the benefits and driving up the cost of recycling other materials.
So, no, recycling plastic bags won't reduce their ill effects—and anyone who tells you different is giving you the greenwash.
Next up: Wood pellets. One of Georgia's top exports from the very busy Port of Savannah, these little pills—also known as "biomass"—are made from compressed tree pulp and touted as a renewable energy source that can replace filthy fossil fuels.
Well, surprise! They're not. Unlike sustainable lumber producers and small-scale wood waste collectors, the biomass industry often harvests entire forests at a time, leaving only a "beauty strip" of trees next to the highway so no one sees the scars.
Less trees means less oxygen in the air, and when burned, wood pellets emit as much as 50 percent more carbon dioxide than coal. Quite the dirty little secret!
Current legislation allows biomass producers to market their products as sustainable. But no matter how many pellets they push, those companies only remain profitable because of subsidies they receive from European governments.
Environmental advocacy group Dogwood Alliance has amassed a coalition of 30 Georgia businesses and organizations that support the "Our Forests Aren't Fuel" campaign, and indefatigable community organizer Rita Frost has put the issue front and center in Savannah. (Learn more at the Forest Festival in Johnson Square on March 22.)
Not fooled by the greenwashers, Frost is going straight to one of their biggest customers: Later this month, she'll meet with British consulate Jeremy Pilmore-Bedford to show how solar, wind and other true renewables can better help the United Kingdom meet the European Union's 2020 climate plan requirements. (In the U.S., Georgia Power and other energy monopolies are sweating the Obama administration's strict edicts to reduce carbon emissions on the same timeline.)
Seriously, it's Science 101: How can cutting down trees possibly fight climate change? Sounds like someone's throwing a whole lotta green shade.
But please don't greendrown yet, 'cause we still have to talk about SB101, which is supposed to protect Georgia's precious saltwater marshes and actually kind of doesn't.
After he eliminated the required 25-foot buffer of undisturbed vegetation around saltmarshes last spring, Georgia EPD director Jud Turner asked state legislators to come up with a new compliance law. The result, sponsored by our own representative Ben Watson (R-Savannah), designates the same size buffer as well as a host of "loopholes and exemptions" that may make it easier for developers bring in the bulldozers.
What the bill does not contain is any restriction on the use of contaminants such as Roundup within the buffer, an oversight that's bound to have long-term catastrophic effects.
"Prohibiting chemicals in the buffer is essential to preventing destruction of the larvae of fish, crab, and other species key to the food web and marsh ecosystem," writes Center for a Sustainable Coast executive director David Kyler.
"Allowing chemicals in the buffer contradicts its basic purpose."
Despite that logic and repeated calls for revision, SB 101 is currently with the House's second readers.
Last but not least, we've got the grand greenwash job known as the Palmetto Pipeline. A connector feed from the Plantation Pipeline that runs from Louisiana to Maryland, this 360 miles of galvanized steelmwill chug 167,000 gallons of oil a day from the northeast corner of South Carolina to Jacksonville, FL, stopping at a new storage facility in Richmond Hill. Energy transport mammoth Kinder Morgan promises that 80 percent of its new pipeline will follow already existing infrastructure and is designed for minimal impact.
But according to its own map handed out at a series of public information meetings last week, much of it will be dug through fragile wetlands that cross four of Georgia's major rivers: The Satilla, the Altamaha, the Ogeechee, and our already much-beleaguered Savannah. The concern for oil spills and toxic leaks will go on into eternity.
Yes, the term "green" is supposed to mean clean, but those of us who've lasted through a St. Patrick's Day in Savannah knows that mold and vomit come in that hue, too...
So as you erin go bragh and trip the cobblestones fantastic, mind the jade-colored pools surrounding Georgia's environmental issues.
They might look like fun for an illicit swim, but they'll leave us far dirtier than we could ever imagine.
cs