THEY SAY you shouldn't bring work with you on vacation. I agree, but as a guy whose PowerPoint clicker fell out of his bag at a recent family gathering in Florida, I can't say I'm good at abiding by that advice.
That clicker follows me around because I make a lot of presentations on bicycling, walking, and Complete Streets to neighborhood associations, Rotary clubs, and other organizations.
Late last month I was invited to make two presentations to a different sort of audience: warehouse workers at a large distribution center in West Savannah. After some announcements about projected arrival times of trucks and a reminder about the procedure for handling forklift propane tanks, I was on.
I usually begin by asking how many people ride bikes for recreation. Hands went up. How many depend on their bikes for daily transportation? More hands.
Afterward, several warehouse workers lingered to talk with me about trail systems they'd used in California, Indiana, and other places before they moved to Savannah. They wondered why we don't have comparable facilities here.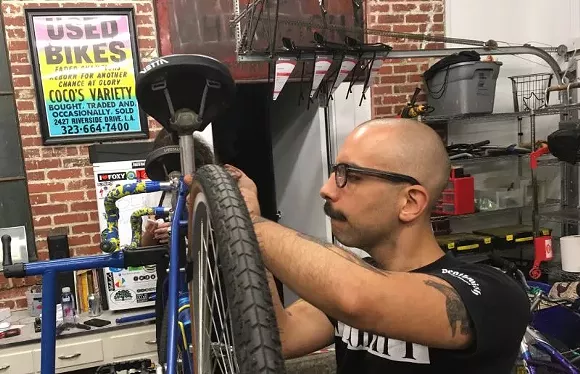 There's a persistent myth that bike lanes, multiuse trails, and even sidewalks are extravagances that we can't afford.
Or that there's something elitist about the desire for safe, family friendly streets.
In Athens last week, Tyler Dewey was facing this mindset at a hearing in advance of a Transportation Special Purpose Local Option Sales Tax vote coming up in November. Dewey, executive director of Bike Athens, encountered a citizen who had a dismissive opinion of bicycle and pedestrian infrastructure.
He described her stance this way: "Since she believed sidewalks and bike lanes and paths are only recreational amenities for people who have the time to use them, she felt they were luxuries."
She asserted that better biking and walking infrastructure "would not benefit the poor." Dewey knows this is absolutely incorrect because of his work assisting lower income residents through Bike Athens' bicycle recycling program.
"We work with social service partners to donate approximately 70 adult bikes a year to Athenians with a critical need for inexpensive transportation. Athens Transit does an admirable job with the resources they are provided, but they do not run 24 hours a day, and they do not serve the entire county," Dewey said.
"For some, riding a bike to work is a choice. For some it is not."
The Savannah Bicycle Campaign's New Standard Cycles program is based on Bike Athens' model and the same need is evident here. Volunteers refurbish donated bicycles, which are then given — with lights, helmets, and locks — to people identified by a dozen local nonprofit partners.
"We've given lots of bikes to folks working the early morning or overnight shift who must use a bike to get to work," Dewey said. "Folks are riding in the dark, with little choice of which route to take."
Things are no different in Savannah. Some of the distribution center employees I met last month probably find themselves in similar predicaments every workday.
Economically disadvantaged areas are often the most dangerous places to walk and ride. A study by Governing magazine found, "poorer neighborhoods have disproportionately higher rates of pedestrian deaths. In the nation's metro areas, the bottom third of Census tracts, in terms of per capita income, recorded pedestrian fatality rates twice that of higher income tracts."
Dewey said, "The need for inexpensive transportation is overwhelming. These people are part of our community. They are as deserving of safe, comfortable streets as any of us. To suggest bike lanes, trails, and sidewalks are luxuries is to discount the lives of so many. Not to be hyperbolic, but a bike lane can be a life saver."
Improving infrastructure for people who ride bikes and walk (including those who use wheelchairs and other assistive devices) has proven again and again to reduce crashes that result in injuries and death. This benefit extends to people who drive.
As our local officials are making difficult budgetary decisions, it's important to remember that safer streets are urgently needed by our most vulnerable citizens. This is a necessity, not a luxury.
cs