WRITING HAS always been a passion for me, while food and the kitchen have always been beacons of discipline and foundations of structure in my life.
But I have to be honest: Writing about food honestly isn't the best part of this gig. I've got to give that to all of the amazing people I've had the opportunity to listen to, and all the amazing stories I've had the privilege of hearing.
When you get the opportunity to go beyond what's directly on the plate, and you dive into where the inspiration comes from, you begin to understand the dynamic of the ingredients and what they mean together. It takes a lot of courage and bravery to believe in yourself, create a business around something you love, and actually dare to be great at it.
It takes another level of bravery and determination to do that in a country you are not from, in an industry brand new to the city in which you are opening said business.
And that is the beginning of the story of Big Bon Pizza, a wood fire pizza food truck, who serve some of the best pizza Savannah has to offer.
Family-owned businesses seem to be taking on a different meaning lately. I've noticed a transition from "Mom and Pop" shops, usually portrayed in small run down buildings, decorated ten years behind the times.
Now it seems as if family-owned businesses have evolved into well branded, well oiled machines who provide a ton of culture and upward mobility for the our city.
I had the privilege of speaking with the family who has created its own hybrid within the food truck industry, and currently is the only catering company who brings the ambiance and positive vibrations along with it.
Big Bon is one of Savannah's newest caterers who aims at providing a very unique experience, giving them the opportunity to not only engage with their customers, but to get to know them and their needs on a completely different level.
"Family is a mindset, not a household," Kay Heritage, one of the partners and the mother of the group, explains of one of their mantras.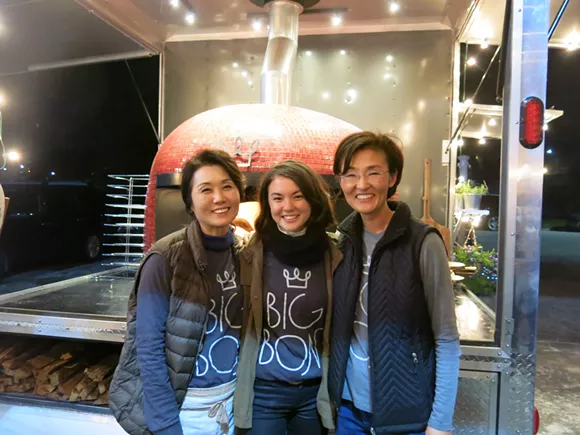 "It truly feels as if I get the opportunity to let my friends and family into my kitchen on a regular basis."
With Kay being the only person in the group with extensive catering experience, having an environment that fosters trust and belief in one another has been key.
So this family spent a lot of time in the pre-planning stages of this venture, making sure they knew the techniques required and had the necessary equipment.
That level of humility allowed them to occupy the spaces in which they could learn from the best, and bring that knowledge and trust in one another to the table when they finally took their shot.
"Having someone believe in you is one thing, but to have someone believe in you with their entire life savings is a completely different thing," Kay explained.
Belief runs deep, and Kay's Seoul sister Sunju Pitts, another third of Big Bon, proved that by believing in her dream enough to back her sister with everything she had.
The transition between being in the catering business to owning your own catering company is a big shift, but it was handled with nothing but grace and professionalism.
"Coming from the catering industry, where you usually engaging with your customers, our trailer has presented us with an aspect that I never knew could exist; and I love it,"Kay explained.
"I've always known food makes people happy, and food has always been good to me," Sunju explains.
"But when I started making food for others, I began to notice how happy it made me to feed people."
Which to me sounded like the final piece of the puzzle, and also to me hinted towards that trust found within each other.
"There is a lot of freedom given to me within my role," Anna Heritage, the third and final piece of Big Bon, explained.
"Which in turn gives us the room to make mistakes in order to see what works for us, and what doesn't.
All in all, Big Bon seems to be setting the tone for small businesses: A tight organized family unit, dedicated to being the best they can be, consistently.
They have set the bar for efficiency and for what food service should look like.
Family really is a mindset, and Big Bon lives that mantra, as they make whoever they are around feel like family.
That's not an easy thing to do, however. When it is done correctly, the lasting impression left on customers will leave them thinking about you every time they go out to eat.
The people I have the opportunity to interview for this gig are the same people you see out at your neighborhood coffee shop or at the park. They reflect tremendous amount of growth happening beneath the surface.
Let's keep stirring that pot, people.
cs