FOOD TRUCKS are something we've been waiting for in Savannah for quite sometime. As of late last year, the city took a huge leap forward in providing a platform for food trucks to really show what they can bring as an industry.
It has required a lot of dedication, patience, and flexibility from all parties involved to figure out a way to create this window of opportunity. I've always understood how influenced by tourism Savannah is, but I've also been under the impression that that scope of tourism was destined to change at some point.
Art is a very large industry here in Savannah, mostly driven by SCAD, but there isn't a strong enough network to catch all of the talented graduates and allow their talents to really impact Savannah in a real way.
There is a strong force of independent strong-willed entrepreneurs who are dedicated to helping turn the tide in favor of the future. Food trucks are one of those industries that's a catalyst for other things around it.
Movie sets, events in the park, holidays, private events, food trucks will be an element that we all can relate to and consistently get behind. There is a ton of upward mobility in our city, and food trucks, once in full effect, will be the missing link in the transition of the C-Port.
Fortunately I exist in a unique space where I get the opportunity to see some of the up and coming food trucks before they're exposed to the public. What I like most about this subset of our food industry is the creativity behind each truck. Because each one is so personal, it allows everyone to have their own niche, which is why I think there has been such a camaraderie around the food trucks.
Every truck is invested in each other's success because an industry, allows everyone a bigger piece of the pie. If you could have a Latin food, a wood-fire pizza, and/or a fresh baked cookie truck provide food for your holiday party or your senior art show, wouldn't you?
A lot of people have already answered that question with a resounding yes.
As the new year is upon us, and everyone is a few weeks into their new dietary lifestyles (I'm right there with you people, trust me), I figured I would present you with a story that could potentially derail all of work you have done.
This story comes from another one of our neighboring cities, Statesboro, but this time, you can actually catch them in Savannah from time to time when the city has a public event.
I got a chance to meet the owners and operators of Big Boy Cookie, Jonny Womack and his wife Hannah Womack, who decided to trust their gut and chase their dreams of serving some of the best cookies you mind could ever dream of.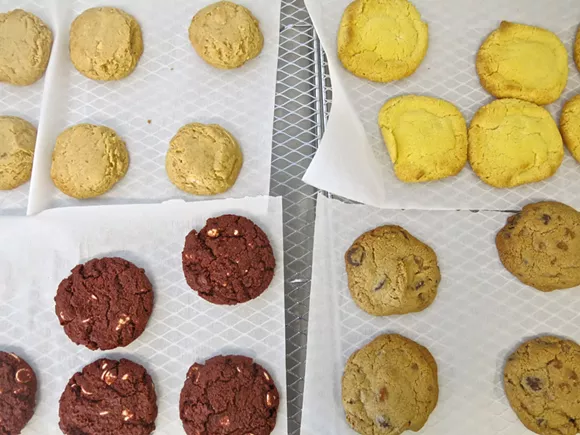 Their story is interesting, because before chasing this dream neither of them had much of any commercial kitchen experience and came from nursing backgrounds.
"I was always in the kitchen as a kid, and loved to help my grandma," Jonny said. "I loved nursing, but after a couple of rough scenarios, life brought me towards sales, which is something I grew up around most of my life."
After bouncing around in the marketing/sales arena for a while, Jonny formed the idea "to create my personal sales signature which started with mason jars full of candy, and evolved into freshly baked cookies."
I'm sure you can draw the line of the narrative from this marketing sales signature into a full fledged business on which they have plans to continue to expand and feed cookies to as many people as they can.
Jonny went through the process of mastering baking cookies, and through those master recipes has developed some out of this world, flavor-packed cookies. From seasonal cookies like banana pudding, red velvet cake, and even pumpkin; to the most delicious chocolate chip cookie I have ever tasted.
Cookies are such a treat, and to have a truck take the time to master the art of baking a cookie, is what hopefully will have people choose the local business over the corporate one. The stories of these families and organizations that come with honest intentions, and have plans to help our city to continue trend upwards, are what breathe life into our local economy.
Jonny decided to chase what meant a lot to him, and fortunately for him he had a family who wanted to support him and back his dream. Having a dream is one, having the backing is another. But actually executing and creating a successful business is an entirely different thing.
As a food truck, Big Boy Cookie continues to impress the masses with their talent for baking, while more and more people line up to try these delicious treats. The future looks bright for anyone who takes the time to finesse their skills in order to have the capability to knock everyone's socks off; but especially Big Boy Cookie.
Next time you want are racking your brain for a small gift, or need cookies for your office meeting, think Big Boy.
They ship to any city in the U.S, and these cookies would definitely put a smile on anyone's face who got some. I know they put a smile on mine.
You can also catch them at the Children's Book Festival, and the next Savannah Food Truck Festival. I'm proud of our city, it's slowly catching up. In order for it to get there, we've got to support the local effort. Visit their website www.bigboycookies.com/ to purchase the cookies that will change your life forever.
Or at least for a couple minutes. Let's keep stirring that pot, people.
cs