With stellar musicianship and a loyal and growing fan base, Big Something is one of the most exciting and eclectic groups in the Southeast at the moment. Fusing rock, jazz, jam, blues, and dance music, the North Carolina-based band returned with the album
The Otherside
this year. We chatted with vocalist/guitarist Nick MacDaniels the band about their sound, their festival, and recording in advance of their Barrelhouse South return.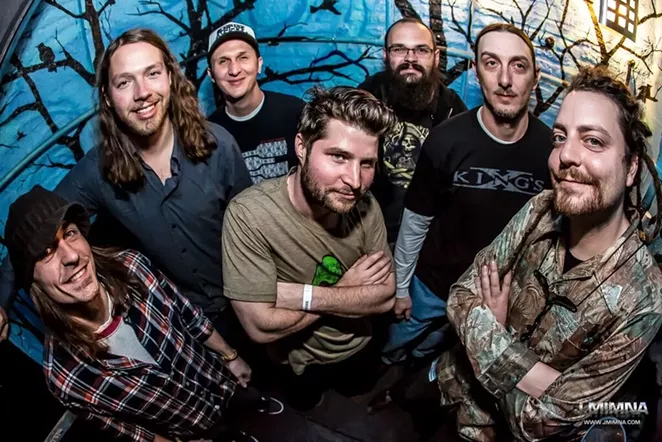 How have you grown as a band since your formation?
I think we've grown in many different ways. This is now our craft as opposed to a hobby. Everyone has come a long way on their instrument and developing their musical voice. And I think we've honed in on our musical identity a bit more and how to take that in new future directions. We've learned a lot together both on and off stage and it's made us all very close as friends and musicians. We can kind of just listen and converse musically on stage now - we kind of know what each other is thinking and there's a sort of musical telepathy that we've grown into.
The Otherside continues a story that began on Tumbleweed. How did that tale develop?
Our lyricist Paul thought of the idea for a nameless, faceless character wearing a tattered business suit aimlessly wandering through a post-apocalyptic desert wasteland trying to survive while hallucinating on peyote. That nomad character was the namesake of our album/song "Tumbleweed." His journey continues/ends(?) on our newest album
The Otherside
.
With summer coming, what gigs and festivals are you looking forward to?
This summer is looking awesome! So many great festivals to be excited about - Summer Camp, Mountain Music Festival, both weekends of Electric Forest, The Ride Festival, Peach Festival, Lockn and of course our own festival - The Big What? - which is now in its 7th year!
How did the event begin and what are your hopes for its future?
When we first started as a band there were a lot of great little North Carolina festivals that we loved to play - The Getdown, Groove in the Holler, The Farm Party, etc. and all of those kind of stopped happening for one reason or another. So when those all ended we saw a need for a new North Carolina festival and we got all our friends together that were involved with those other events and we decided to throw a little festival of our own. We called it The Big What? as sort of a joke about our band name - Big Something. It's been so cool to watch it grow over the years. It's hard to believe this will be our 7th year in a row doing it. My only hopes for the future are that it continues to stay a safe, fun and happy place for people to enjoy this awesome little NC music scene. We don't want it to get too big. It's the perfect size festival with a great laid back and friendly atmosphere. We want it to stay like that.
Anything you'd like Savannahians to know who may have not caught a Big Something show before?
We just want to show everyone a good time through music.