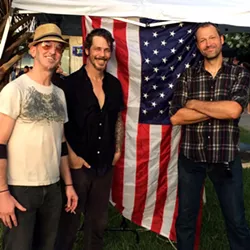 BLAKE RAINEY came onto the scene with his band Young Antiques, a power-pop/roots band that gained the Atlanta-based artist recognition from many respected national publications. The Georgia native has been releasing consistently strong solo material, including Love Don't Cross Me and The Dangerous Summer, since the dissolution of Young Antiques, proving he's one of our state's finest songwriters.
While rooted in classic country and outlaw grit, Rainey's music boasts a melodic punk sensibility in its structures with some real Replacements and Elvis Costello moments shining through.
His latest album, Helicopter Rose, released in December 2016, showcases Rainey's piercing, reflective lyricism. Rainey's barflies and meandering characters offer a compassionate take on broken Americana in the vein of Tom Waits and Bruce Springsteen.
Savannah's own Waits & Co. welcome Rainey and His Demons to The Hostess City.
Thursday, June 1, doors at 9 p.m., show at 10 p.m., $5, 21+