A PIECE of the Blarney Stone is coming to Savannah's River Street. And for four days this St. Patrick's Day weekend, you can kiss it and create more than just luck. You'll be helping to start something that could grow into a Savannah tradition with lasting impact.
"The Savannah Blarney Stone concept has been years in the making," says Dr. Sidney Smith, dermatologist, solar power promoter and philanthropist. "Without the participation and dedication from many of our local citizens, this opportunity would not be possible."
Smith's idea was infectiously simple: Buy a piece of the Blarney Stone (actually a 485 lb. rock from the Blarney Castle Estate, where the legendary stone resides), bring it to the South's biggest Irish party and have people kiss it to raise money for various charities.
The fundraising potential seemed enormous. And that's when other great ideas spawned: Make it an annual event. Invest half the money each year in trust funds to create revenue well into the future. Build business and educational partnerships to amplify the impact.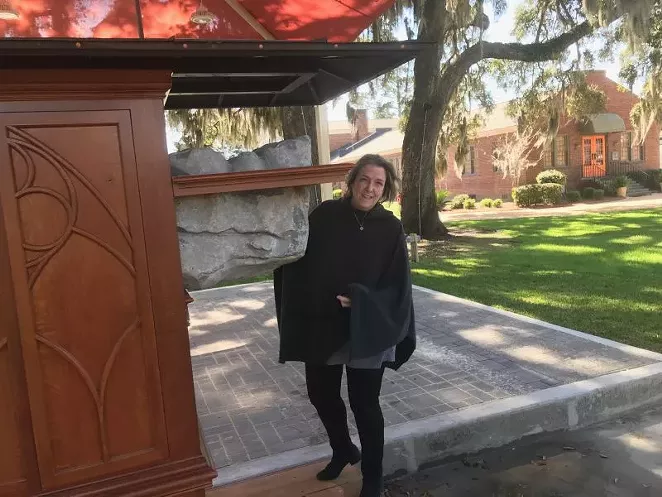 "The inspiration for the Savannah Blarney Stone was our desire and commitment to give back to the Savannah community and her non-profit charitable organizations," Smith says. The stone promises to be a year-round organization with its main event in March.
Every year, Smith and his Savannah Blarney Stone organization will select 10 different charities in a formal application process. For this inaugural year, they chose the charities more informally. None of the charities have really big budgets. So the impact will be real.
This year's recipients are: Fresh Air Home, Girls on the Run, Heads Up Guidance, Deep Center, Ossabaw Island Foundation, 100 Black Men, Tybee Island Marine Science Center, Employability, Alee Temple and Friends of Cockspur Island Lighthouse.
The recipient groups will provide volunteers to staff the stone, collect donations and keep the lines orderly in the day and evening. Overnight, the stone will have security, don't worry. It'll be under a lit 30x30 ft. tent to ensure that for a picture, you make a donation.
The suggested donation will be five dollars. "Even if we capture a small percentage of all the tourists coming to St. Patrick's Day and beyond, we'll still have created a sustainable fund for the charities," says Sandra Champion, part of the Savannah Blarney Stone group.
Champion let me see the stone at its permanent home, Cohen's Retreat, where it sits on a concrete slab, under a large red awning and in a beautiful wood case designed in Bulloch County. I imagine weddings or events might use the stone there. But that's just my idea.
Of course, you might be wondering about the stone's authenticity. Is it the real thing? The Internet is littered with stories about pieces of the Blarney Stone being in this place or that place. Usually these stories end up being lots of, well, blarney. They're fakes.
Well, I reached out to the Blarney Estate in Cork, Ireland. And a spokesperson confirms that they sent Dr. Smith a stone from the Blarney Estate as a "one-off" for charity. I think this makes the Savannah Blarney Stone extra special. No one has anything like it.
As to whether this particular stone will have the same lucky powers as those of its fabled cousin – the one you have to lean backwards for – you'll just have to kiss and see, won't you? We know it has beneficial powers to do good work in our community.
The stone will be open for kissing on Rousakis Plaza (River Street) near the large anchor monument (Abercorn Street Ramp) from March 15-18.
cs