AS FAR as years go, this one has been more difficult than most.
From a global pandemic and civil unrest to an increasingly corrupt administration and the brief threat of murder hornets, 2020 has felt like a barrage of bad news, which can be difficult to avoid and harder to cope with.
It's been a lot, y'all. And sometimes we can feel helpless in the face of it all. When things get rough, we can always turn to art to help.
Art can help take our minds off the bad stuff, help us find community, and help us express ourselves.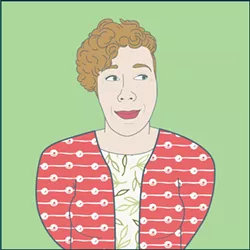 That's the gist of what Megan Kranzler did to cope with getting some unsavory news back in the beginning of summer.
After Georgia Gov. Brian Kemp's ill-fated executive order that banned cities from making their own mask mandates, Kranzler felt frustrated and overwhelmed, as many of us did. Using art to vent, she created masks that expressed contempt for the idea with a particular four-letter word.
Clearly, many people felt the same way, since Kranzler quickly sold a lot of the masks and had to rush to keep up with demand.
"I quickly was trying to scramble to put a business together because I didn't really have a way to sell the masks," she says.
Kranzler, a graphic designer who lost her job in the spring due to the pandemic, took the opportunity to pursue a dream she'd always wanted: to open her own business.
Enter Olive Ridley Studios, a design agency and online store with a natural bent towards philanthropy.
"One of the main ideas behind me starting my own business has always been to take on philanthropic initiatives," says Kranzler.
Over the past ten years, Kranzler has worked for several big-name brands here in town, so her experience prepared her for this moment.
"If I would've tried to do this five years ago, I probably wouldn't have been very successful at it," she says, "but I think having a decade of experience has allowed me to build the tools I need to really take this and run with it."
The first big project for Olive Ridley Studios has been the Love for Lebanon campaign. Kranzler designed an enamel pin based on the Lebanese flag, a project she took on after the Aug. 4 explosion at the Port of Beirut.
The situation in Beirut got some attention for a couple days, but then faded from public attention.
"Everybody stopped talking about it, but this is still a huge issue," says Kranzler. "They need help. I think there's so much going on here at home right now that it's easy to just ignore the problems happening in the rest of the world. I was like, 'Somebody needs to pay attention to this.'"
As Kranzler points out, the Lebanese currency has lost value over the year, so American dollars end up helping more.
The Love for Lebanon pins are just $15, and 100% of the proceeds will be donated to Impact Lebanon's Disaster Relief Fund, an organization that distributes funds to trusted and vetted groups.
The pins were just released for presale last week, and Kranzler hopes to sell at least 50 pins.
"I'm keeping my goals pretty modest for now, but I'm hoping that maybe this'll take off and exceed all of my expectations," she says. "Nothing would make me happier."
Right now, Kranzler has been putting most of her attention and energy towards the online store to get the pin sale up and running, but she plans to devote equal attention to the design agency in the future.
"I'll pick out some charities to try to donate to regularly, for sure, as the business continues to grow," she says. "There are so many humanitarian and environmental issues that need attention right now. I have not yet done my research to figure out which organizations would be the most beneficial to donate to, but it's definitely going to be an ongoing thing."
Kranzler has lots of plans for the future of Olive Ridley Studios, including product lines that benefit a specific organization, but for now, she's content with putting in work to cheer people up.
And that brings us to the mascot of Olive Ridley Studios: a friendly turtle, decked out alternately in sunglasses and a graduation cap.
"I made the mascot super happy because my focus is really making your life better," says Kranzler. "Even if it's just putting a smile on your face because I designed some silly thing that makes you smile, that is still making your life a little bit better, even if it's just for five minutes."
CS