SINCE before Christmas, I have been planning the 5-year anniversary celebration of my business, InkyBrittany.
The plan: Create a new set of Graphics to hang on display at the Sentient Bean, have a reception, invite everyone I've ever met to come to it on May 1.
It was always planned for May (I started InkyBrittany on my birthday, May 22, in 2015), but being six weeks into quarantine was not part of the plan.
After the shock, confusion, and disappointment of all the cancellations and closures, there didn't seem to be a good reason to NOT go ahead with creating a new set of pieces and sharing them in whatever ways I can.
In the process of selecting which stories to represent visually and include in the show, there needed to be a range from local to global topics. It needed to keep the theme of highlighting people contributing to their communities and doing civic and public work.
The Sentient Bean is A) the planned location of the show when businesses are fully re-open and it is no longer unsafe to be in public;
B) a special place in InkyBrittany history, as it basically headquartered Emergent Savannah and was one of the first platforms for me to get some exposure and experience starting back in 2015;
C) a very appropriate and deserving story to feature in the 5-year anniversary collection, given the recent merger of the Bean with Brighter Day, and the retirement of beloved long-time Brighter Day owners, Peter and Janie Brodhead .
This visual tribute is based on the December 2019 Connect article written by Rachael Flora, interviewing Kristen Russell & Brad Baugh of the Sentient Bean and Peter and Janie Brodhead about how the decision came to be, and the compatible and complementary business ethics shared by both.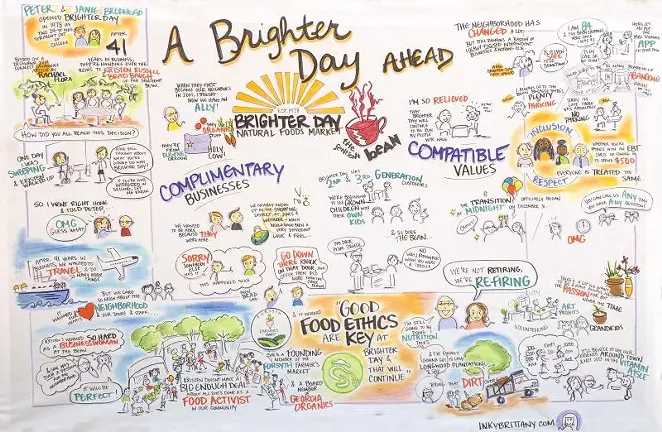 cs