Ashley Harts and Kevin Mapleton hail from Charlotte, North Carolina, and it was their tradition to eat steamed bagels every weekend while living there. Once uprooting their lives for Savannah, the two were beyond dismayed to discover that our steamy town lacked their beloved steamy bagels. Most Savannahians agree that, though we have options for bagel shops, we could always use more. The void in the local tour de torus was too much for Harts and Mapleton to bear. So, the idea was simple: Harts wanted steamed bagels, so she opened a bagel shop. "I just love steam bagels and they weren't here so, I said 'Kevin, will you get me a bagel steamer—an industrial bagel steamer—for my birthday?' So, then we just started messing around in August, giving them to our friends and neighbors, and they were like, 'Wow, you really should do something with this'," Harts said. This is one instance where everyone should rejoice that neighbors voiced their opinions because the bagels coming out of Steamboat Bagels' bread saunas are nothing short of brunch-altering. Steamboat Bagels is a project of love simply because Harts and Mapleton both have their own full-time jobs. "It's always been in my mind that it is going to be a hobby," Harts said. "It was never something where I was like, 'I want to get rich doing this.'" Though the two haven't put their financial futures into making bagels just yet, their customers get the very best they have to offer with each sandwich because of the enjoyment that Harts and Mapleton get out of their new venture. The location for Steamboat Bagels came naturally, too. With little experience in the food industry, the couple decided to start small. First at home, then with friends, and now at least once a month via pop-up restaurant in Starland Yard. "We looked into getting a food truck and we looked into getting a space but for us with our jobs it just didn't make sense," Harts said. "So, we have a partnership with Loki and Starland Yard. It has been really great to do the pop-ups there." Truth be told, I had never had a steamed bagel before and was uncertain in my expectations. So often eating a sandwich framed in bagel is a tricky venture. The bagel can be too chewy or the filling too slippery. All holed-breakfast-sandwich connoisseurs know the feeling of taking that first bite and having to hold in the contents of the bagel awkwardly with the pinkies of the hands. It's a messy situation well worth avoiding if at all possible. But, by layering up the sandwich on a fresh bagel, then steaming the entire thing — in Steamboat's special contraptions — you get a bagel sandwich that eats like a panini but is soft like a steamed bun. Harts seemed to agree with my point. "If you have all the hearty ingredients that we put on our sub with the smoked meat and the smoked cheeses, you don't really want to have it falling out of the back of it," she said. From steaming, the bagel itself remains delicate and easy to chomp through. I am now a full-fledged disciple of the technique; bagels that are used as sandwich bread need to be steamed and leave the traditional chewy counterpart for a smear or some lox. Some of their sandwiches are created on bialy style bagels. Bialy bagels are not boiled like traditional ones, they are instead sent straight into the oven for baking. The showstopper — and submarine-sized — sandwich was the Bagel Barge, aptly named. It's debut was the very last pop up. Patrons get 10 full inches of an everything bagel sandwich roll, which is arguably the best bagel flavor — especially for breakfast sandwiches. Before steaming, the dynamic duo boards the Bagel Barge with all of the breakfast fixins: sausage, cheese and eggs. The Smokestack was also a winner. Layered inside of a normal-shaped bagel comes tender smoky shredded boston butt, gooey white American cheese, tender egg, salty bacon and a fresh made rosemary garlic aioli. This is unlike any barbecue sandwich that you'd find in a normal smokehouse. Between the perfectly soft bagel and the smoke-filled chew of the meat is the perfect marriage of texture. The egg, bacon and cheese add a level of delectably devilish richness that the compliments the slowly-cooked pork shoulder deliciously.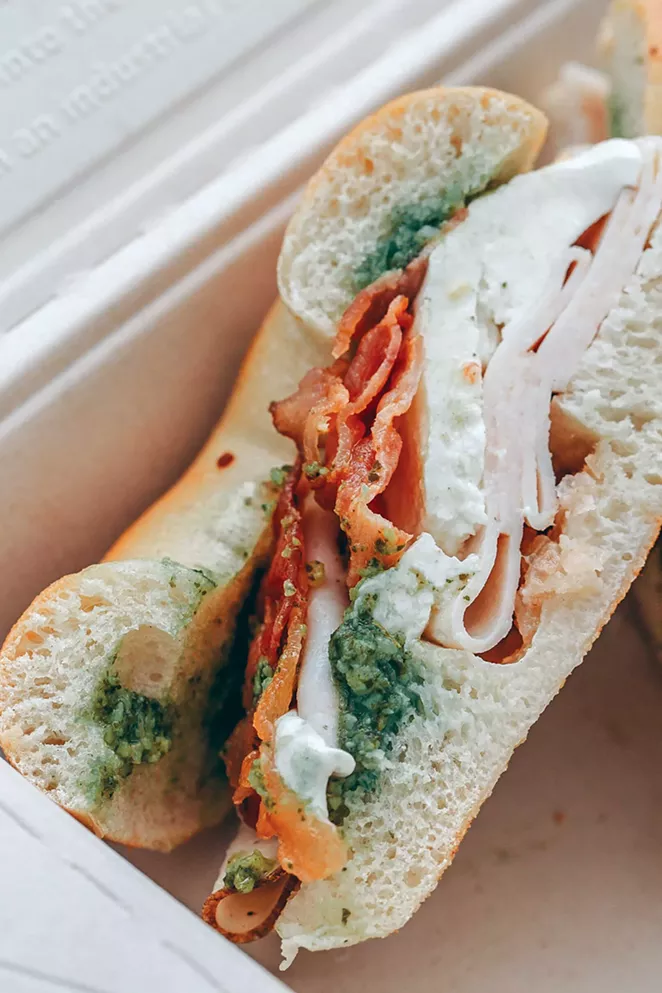 The Pilot House consisted of turkey, mozzarella, bacon and pesto. If a hungry patron finds themselves in front of the window of Steamboat Bagels for a bit of a late brunch, Hart and Mapleton have them covered with this more lunch-like version of a normal bagel sammie. The pesto-adorned cheesy meat mountain pairs well with a late morning brewski or light cocktail from Starland Yard's bar. For the next pop up, May 16, patrons will likely find that a Steamboat signature is back on the menu — the pimento cheese with ham. The classic is dubbed the Groggy Sailor. It features a signature homemade pimento cheese, smoked ham, egg and mustard. This one comes layered on a jalapeno and red pepper bagel.
Hart and Mapleton know that sinful morning meats aren't for everyone: "Whenever someone comes up and asks if we have anything vegetarian, we just tell them we can make it without meat or put an egg on it. We automatically take $2 [off]." The idea of an egg-only sandwich on the pillowy steamed bagel is not a compromise by any stretch of the imagination. Many people will find that they prefer that as it brings the taste of the bagel to the front of the experience of tasting Steamboat's food. Some time in the future, the Sultans of Steam would like to have a quaint brick-and-mortar spot. "We would love to have a small space were people would get to go bagels and maybe a Bloody Mary or something on the way to the park," Harts said.
In the meantime, you can follow Steamboat Bagels on Instagram, @steamboatbagels to get the most up-to-date information on Savannah's newest circular culinarians.