Continuing their commitment to creating learning experiences for children in our community, Telfair Museums will open its new Children's Art Museum (CAM) at the Jepson Center on Saturday, July 8.
"We are so thrilled to welcome the public this weekend, July 8 and 9, to our brand-new Children's Art Museum. It's a project that's been over a year in the making—in fact, many years in design development with our partners FrenDesign," said Benjamin T. Simons, executive director and CEO.
Telfair Museums partnered with local design firm FREN Inc. for the transformation, and the opening will reveal to the public a portion of the Jepson Center that was converted into CAM.
"FREN is incredibly proud to partner with Telfair Museums and humbled by the opportunity to join the efforts of a dedicated community that was determined to see CAM become a reality. We are crafting CAM to inspire children to learn and welcome families through an extraordinary exploration of art," said FREN Chief Executive Officer Stephen Nottingham.
The Jepson Center, designed by the internationally acclaimed architect Moshe Safdie, opened to the public in 2006. Over the years, the museum has worked to stay current by updating the space to offer the best variety of art and technological exhibitions.
"This environment is like no other in our region and very few others that I can think of in the country. There are lots of wonderful children's art spaces in our museum. This space creates opportunities for reflection and creative interaction," said Simons.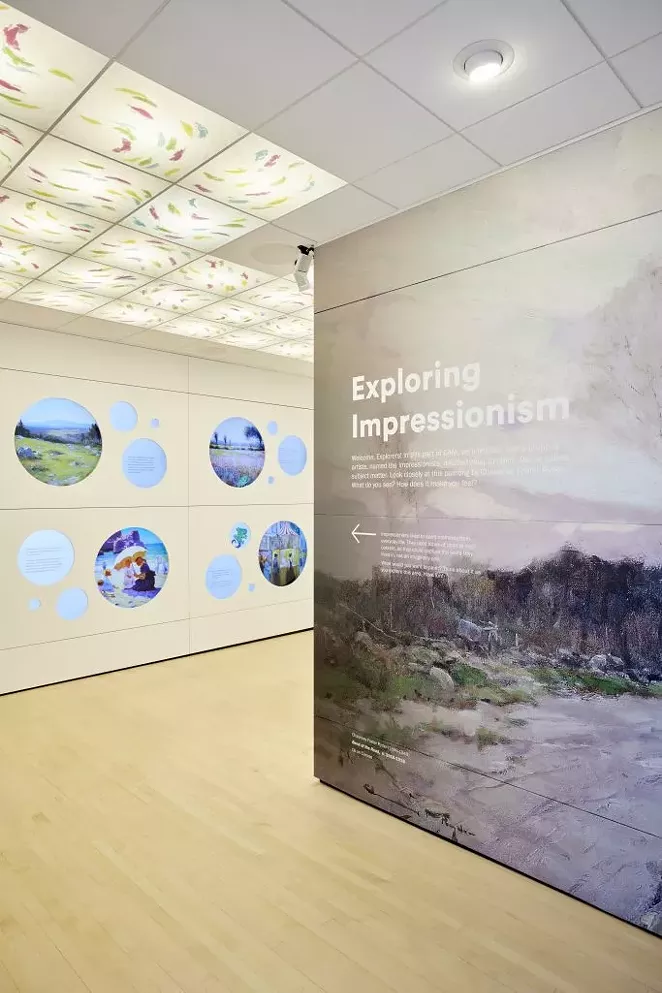 Also partnering with the Telfair to bring CAM to life are community philanthropists Jackie Rabinowitz and Cynthia Willett, whose latest work brought the Sunshine Park and Healing Garden to the Children's Hospital of Georgia in Savannah.
"We both are committed to creating learning experiences for children in our community," shared Rabinowitz and Willett.
For years, the Jepson Center has hosted many interactive children's arts exhibitions and various programs that have given thousands of youth the opportunity to explore art and technology.
CAM is the next level of evolution of their mission, in which they created a purpose-filled space for children to discover different aspects of creativity.
"All children are creative. All humans are creative, and we want this to be a place that fosters that lifelong creativity," said Simons.
After an extensive process that included a strategic planning process, a major need was identified to provide an updated museum experience that offers its members, visitors, and local school communities transformative learning experiences for all ages.
"It has to be cool. Kids have so much right now through video games and things that engage their minds, and if this is not cool, they will not come. This has to be a way to reach them where they are and then expand their horizons. I think CAM does both," said Savannah Mayor Van Johnson.
Officials say the Telfair Children's Art Museum is addressing that need by offering styles of learning using modern technologies, immersive environments, and low-tech and hands-on activities.
"We've incorporated the very latest in digital technology and interactive technology as well. We also combined that with a lot of hands-on activities and very simple interactions that don't require a lot of high tech, offering a range of learning experiences," said Simons.
This investment by Telfair Museums to create CAM will serve as a major attraction for not only thousands of annual visitors to Savannah but also for local families and schoolchildren seeking fun, educational experiences that address the needs and outlooks of modern audiences.
Since the 1920s, Telfair has welcomed more than 250,000 students to the museum through a partnership with Savannah-Chatham County Schools and educational tour programs that continue to evolve today under the leadership of Harry DeLorme, longtime Director of Education and Senior Curator.
"We are excited that CAM expands Telfair's capacity to offer Pre-K and family programming and to provide unique and immersive experiences for children of all ages in the Coastal region," said DeLorme.
Even the placement of CAM will offer a different learning experience for visitors. CAM was strategically placed and designed to explore the different effects of light, time of day, and season.
"I love the fact that the Children's Art Museum highlights the beauty of the Jepsen Center, the south atrium facing Oglethorpe, and the way that the light changes throughout the day. That really is a big subject for the children's Art Museum," said Simons.
There will be a special members-only entry early on Saturday and Sunday, and will open to the general public at 11 a.m. on July 8 and 9. Officials at the Telfair Musuems hope this long-anticipated opening will unveil the innovative transformation of part of the Jepson Center into a space that ignites creativity and inspires children of all ages.
Both weekend days will feature a range of hands-on art activities, treats, face painting, music, and more.
To celebrate the grand opening on July 8, Telfair Museums is offering fun giveaways for the first 100 visitors, as well as introducing a special partnership with Leopold's Ice Cream. The two are joining forces to create signature ice cream flavors celebrating CAM and the recently opened Wildflower Café inside the Jepson..
"We would love for people to consider becoming members. We know this will be a place of great exploration, excitement, and encouragement as we make art accessible to the young," said
While visiting CAM, keep an eye out for their official mascot, Cammy. Cammy is a chameleon, and he can be spotted throughout the galleries. You are encouraged to wave when you see him, and he just may "do something special."
To learn more about the Telfair Children's Art Museum, visit telfair.org/cam