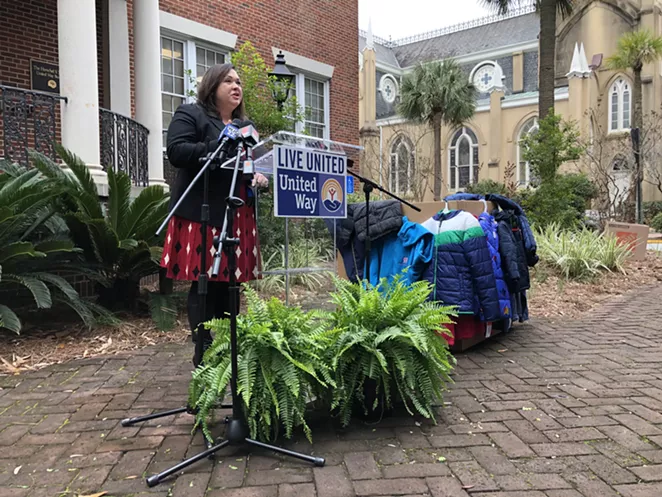 Underprivileged kids across the Savannah region will soon be zipping up new winter gear thanks to the inaugural Canady's Coats for Kids charity drive, resulting in boxes of donated outerwear being delivered to the United Way of the Coastal Empire on Wednesday, Jan. 13. Two work vans belonging to Canady's Heating Air Plumbing were repurposed into coat-delivery vehicles and parked in front of the United Way's headquarters on Savannah's Monterey Square to drop off the cold-weather clothing Wednesday afternoon. Between Nov. 30 and Jan. 8, Canady's organized its first-ever coat drive by providing varied drop-off locations for donations of new jackets, parkas, fleeces, and other wearable charitable gifts for kids from infancy to age 17.
"We started Canady's Coats for Kids as a way to help children in need stay warm this winter. The community really came together to help make this a success," said Fred Canady, president and owner of his namesake company. "We look forward to making the next Canady's Coats for Kids drive even better."
The United Way will be distributing the coats to varied organizations that work with children in need, with the first shipment of donated coats presented to representatives of Savannah's Frank Callen Boys & Girls Club right after they were unloaded from the Canady's vans. "We are so thankful that Canady's chose the United Way of the Coastal Empire as a partner for its first Canady's Coats for Kids. So many generous people helped to make a difference," said Brynn Grant, chair and CEO of the United Way of the Coastal Empire. "I look forward to our organizations partnering again next year." Canady's is continuing to collect children's coats at their locations at 211-B Johnny Mercer Blvd. on Wilmington Island and at 504 Scott Court in Richmond Hill.