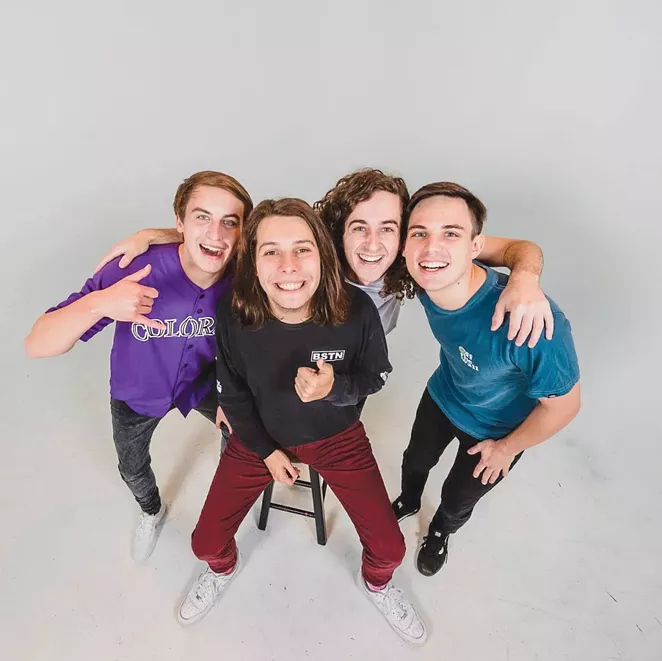 New Orleans-based pop-punk band Neutral Snap woke up in Savannah in March 2020 and found their world flipped upside down. Mayor Van Johnson had just declared a local state of emergency in response to the COVID-19 pandemic, and cities across the nation were doing the same. Neutral Snap was in the middle of their 22-date tour for their debut album "Sorry I Passed Out." "We said 'well, I guess we're going home now,'" guitarist J.P. Brown said. Before their music career came to a screeching halt with the rest of the world, Neutral Snap was on the up-and-up. The band, made up of lead vocalist Josh Latham, guitarist J.P. Brown, bassist Dominick "Dan" Conforte, and drummer Ray-Ray Boudreaux, was created in 2011, but really popped off at their "homebase" Fred's in Baton Rouge, Louisiana, a few years later. They quickly gained popularity among fun-seeking music lovers, hit the road and released their first album in January 2020. Neutral Snap played their first show in the Hostess City at Barrelhouse South in 2018. It was a disaster. "It sucked," Brown said, laughing. "It was a horrible show." The band redeemed themselves with a packed crowd at their second show at Barrelhouse, after which Savannah became a regular stop on each tour. They shoot to come to town roughly every eight weeks.
"I don't like comparing ourselves to other bands, but hand on the Bible, there is not one band on this earth that can control a crowd better than we can." — Josh Latham, lead vocalist, Neutral Snap

tweet this
"Savannah is the city that reminds us the most of New Orleans, which is our home," Latham said. "We fell in love with the city the second we got here. We had a really good connection with the people off the rip." Brown said the connection with the Barrelhouse staff is like family now. Barrelhouse takes care of the band to this day. Following COVID-19 regulations, they welcomed Neutral Snap back to the stage in February and will again host them for two nights next week in celebration of St. Patrick's Day. Brown says he's thankful to play live shows again after struggling with virtual shows last year. "It was weird not having a crowd, and it was weird not being able to really interact with anyone on the livestream," Brown said. "We did what we could with it. We went from playing every weekend for four years to not playing at all for four months." Neutral Snap said they don't think the pandemic has made them lose too much momentum. They hit the studio at the end of last month to work on their second album, but they want to give "Sorry I Passed Out" a little more time to shine before releasing anything new. "I don't think album one has done everything it needs to do yet," Latham said. "Because our tour was shut down, we weren't able to show as many people our album as we wanted to. So, there's still a lot of people who are just discovering us." If any band can come out of a pandemic and keep the momentum going, it's Neutral Snap. They're exactly what live music fans are craving after a dry 2020. They've got catchy songs with an edge, know all the right party anthems to mix into their set and are overflowing with confidence. "We put on a live show that would make you think that we're a national act," Latham said. "We're professional. We're incredibly personal. Go to whatever show you want, but just know, that the people at our show are going to have a better time." Their confidence radiates, and so does their energy. Halfway into a Neutral Snap concert, both the guys and the crowd are dripping sweat from jumping, dancing and having the time of their lives. "I don't like comparing ourselves to other bands, but hand on the Bible, there is not one band on this earth that can control a crowd better than we can," Latham said. "We're really good at what we do, and we're having an absolute blast. I play with my best friends every night. That's my job." Neutral Snap said they're confident that anyone, from any background, with any music taste will have fun with them. "My favorite compliment I've ever gotten was 'Hey man, I don't like the kind of music you play, but I like the way you play it,'" Brown said. After their show at Barrelhouse next week, Neutral Snap plans to keep performing where they can. When the timing is right, they'll release their second album. Latham joked that his long-term goal is to be an A-list celebrity, but said he's truly content with the band's success at this point. "We started playing in church parking lots in high school," Latham said. "So, if this was as far as we went, I am very happy." Regardless of the band's celebrity status, one thing is for sure: Neutral Snap is ready to party for a long time.
Neutral Snap will be performing at Barrelhouse South, 125 W. Congress Street, on March 16 and 17 at 9 p.m. To learn about the band, visit neutralsnap.com.