REGARDLESS of your spiritual or religious beliefs, Carol Fleischaker Cohen's exhibition is for you.
Cohen is the featured artist at the Jewish Educational Alliance for the month of August. The exhibition is a retrospective of sorts, presenting work that spans nearly 50 years, starting when Cohen graduated college in 1968. From collages to batik paintings to stuffed dolls, Cohen presents work in a variety of media that is sure to inspire.
Cohen draws her inspiration from Kabbalah, an ancient Jewish method of interpreting the Bible that was popularized in the mid-2000s by celebrities like Madonna and Britney Spears. Kabbalists wear red strings on their wrist to signify their faith, and celebrities were photographed by the paparazzi wearing the strings, prompting questions and subsequently contributing to a spiked interest in the religion.
These days, Kabbalah doesn't seem to be the "it" religion with celebrities, but its message of unity lives on, particularly with artists like Cohen.
"Essentially, it's about balance," explains Cohen, who has been into Kabbalah for about 40 years. "There are three areas of study—theoretical, practical, and magic. Magic brought me there, but I found everything else later on. It's very personal, yet universal. You can take it at many different levels. If you're just looking at Kabbalah like [Madonna] did, she was looking for personal fulfillment, asking, 'How can I be a better person?' Kabbalistic thought says that when God came into Himself to create the universe, something shattered and our purpose on Earth is to raise the broken shards. It took me a lifetime realize that we are the broken shards. All of us are broken. We all have sacred wounds, and they are rejections by somebody or hurts. 'I'll get you in just a minute, honey, I'm cooking.' And those things, we take on. First of all, we have to identify what's broken about ourselves."
Cohen's work integrates Kabbalistic and Jewish symbols, like the Book of Life and the Tree of Life, as well as other spiritual symbols, like the North Wind, to convey a message of oneness within the universe.
Her work also deals with loss, particularly her own.
"When my husband died, I went on this journey with myself. Who am I? Where am I going?" she recalls. "At night, I would feel him in my hair, telling me everything was okay. So I had to paint that. And when I hung the piece on the wall, he was all right and he left."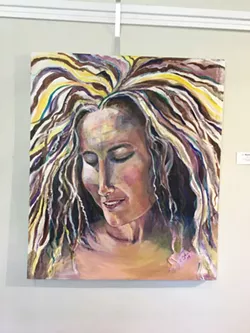 Another piece depicts the Holocaust and its extreme losses.
"So many of the fathers were killed during the Holocaust, and all that wisdom was lost," Cohen explains. "This is the heart of Judaism, the wisdom of the fathers. Today, children do not honor the elderly and their wisdom. Today, we put them in nursing homes and forget about them."
Ultimately, Cohen's goal for the exhibition is not about selling, but about healing.
"I would like for visitors to identify with my art and that in some way it adds to their healing," Cohen wishes. "Or begin a search for their own healing—just act as a catalyst. That would make me very happy. If it sells, it sells. If it doesn't sell, I'll just take it home."
Cohen's exhibition will remain up until Aug. 31.
CS