THE CHILDREN are our future, and the Savannah Black Heritage is investing in the future of our community.
The annual festival is in conjunction with Black History Month in February, and it's filled with activities that seek to get Savannah's youth involved.
The festival has been around for over thirty years, but organizer Shirley James has been with the festival since 2002, just two years after Savannah State University took over the festival's planning at the request of then-Mayor Floyd Adams.
During that process, James shares, it was apparent that the festival didn't include many activities for children, so Savannah State hosted an event on campus for the school systems. Over 4,000 kids showed up.
"Since that time, we have noticed and we have thought that part of our mission is to entice through entertainment and just expose our young people to as much as we can so they can actually see professional African-Americans in all the genres," says James. "Exposing them to all of that, and helping them understand the influences in culture and history by African-Americans. Just something to enhance their knowledge and appreciation for who they are."
One way the Savannah Black Heritage Festival brings in youth is by their flagship event, the Grand Festival Day. This year, the big day happens Feb. 8, at the Civic Center as always.
The day formally begins with a Historic Health Walk, which traces the steps W.W. Law took on his postal route and allows participants to run or walk at their own pace. Alternatively, there are also guided tours of Laurel Grove Cemetery, where some of Savannah's most influential African American citizens are buried. (There are tours of Laurel Grove each Saturday in February; contact the City of Savannah Cemeteries Division for more information.)
Then, head over to the Civic Center to begin the festivities, which include a health fair with screenings and exercise demonstrations and an intergenerational aerobic line dancing.
This year, James is especially excited for the Courageous Conversations with Youth, which features Kuntrell Jackson.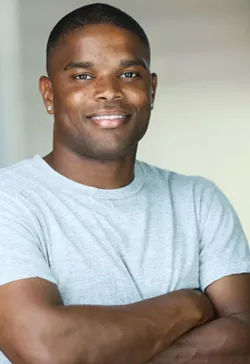 When Jackson was just 14 years old, his presence in a fatal robbery attempt got him a murder conviction and a life sentence without parole, even though Jackson wasn't involved in the robbery and was just in the wrong place at the wrong time. His case went to the Supreme Court, where they ruled that mandatory life sentences without parole for children are unconstitutional. Now, Jackson is an activist for prison reform and speaks to youth about his experience.
"We're really hoping that parents and mentors—anyone who works directly with children and our young people—will come and have a conversation with Kuntrell," says James. "He wants to share his story. He's still on parole, but he's trying to have young people understand the importance of making wise decisions and not placing themselves in the wrong place at the wrong time."
Youth and adults alike will have the chance to hear from Jackson and learn from his experience at 11:30 a.m.
The day also includes a local authors corner, a crafts village, and a youth talent extravaganza.
"We always promote our talented young people in the Savannah area," says James.
To close out the day, enjoy live music by the James Brown Academy of Musik Pupils, Nickel Bag of Funk, and Ready for the World, best known for their song "Oh Sheila."
Fortunately, the festivities for the Savannah Black Heritage Festival don't end with Grand Festival Day—there's a whole month of activities planned.
James is looking forward to the W.W. Law lecture which features Althea Sumpter this year.
"She's affiliated with the Gullah-Geechee corridor, and she does a lot of research and she teaches how to research and how to write your stories about your family or where you grew up," says James, "those kinds of experiences a person has had in the South and the Gullah-Geechee culture."
On Valentine's Day, the festival brings back the Sons of Mystro, a duo of classically trained violinists who perform contemporary favorites as well as their own creations. Last year's performance received rave reviews, so this year's concert is sure to be packed.
A festival favorite is the Future of Jazz Concert, which doubles as a tribute to the late jazz great Ben Tucker. The concert features young jazz musicians from around the region who carry on the legacy of musicians like Tucker, who was a hometown hero and passed away in 2013.
There's something to do every day of the month, making the Savannah Black Heritage so special to our community.
"I think it has become a part of the culture of the city now," says James. "We have Savannah Black Heritage Festival, we have Irish Festival, Greek Festival, Jewish Festival—all of us have the opportunity to be exposed to all these different festivals and all these different cultures, so we're all part of what Savannah is about."
That transcendence of cultural lines is evident not just in Savannah, but nationally as well.
"It goes across all cultural lines, when you think about it," says James. "No matter what our ethnicity is or what our culture is, we are all in the same mix because it takes all that culture coming together to make this country what it is. Everybody plays a part in it and appreciates what each of us have done."
CS