With heart-stopping footwork, core strength, and resonating drums, the Argentinian folk dance known as Malambo dates all the way back to the 19th century. But it wasn't until quite recently that the dance and musical spectacle was experienced outside of its home country.
Enter Che Malambo, an all-male Argentinian dance company celebrating the history of Malambo, the dance of South American cowboys (gauchos). Featuring stomping, precise footwork, drumming and song, the troupe presents an unforgettable show rich in history and culture.
Matthew Bledsoe, producer and manager of Che Malambo, discovered the style of dance through a friend and was instantly enchanted.
"I was just blown away by how different it was," he says. "It was a whole genre and style of dance. As a dance professional, I'd managed several troupes around the world and toured, and it was quite a discovery."
One of Malambo's most fascinating aspects is the melting pot nature of the style. In the 18th and 19th centuries, gauchos were migratory horsemen, adept in cattle work.
"I kind of imagine them not on horseback for a few days of riding, gathered around the campfire, and that's where this came together," Bledsoe explains.
"They had all these influences! There are a lot of high kicks, which is reminiscent of a lot of Irish dancing, and of course in the 1900s there was one of the largest immigrations of Irish to Argentina," he says. "They worked as herders next to the gauchos and picked up a lot of their steps and incorporated it into Malambo."
"If you really look at the history and where they get the inspiration, it's very international," he continues. "There are influences from flamenco, the drums they play are originally from West Africa from slaves that were taken from Portugal to Brazil and worked together with the gauchos. Those drums they used were not only a musical instrument; they used them for communication from mountaintop to mountaintop."
Most of Che Malambo's performers grew up with the dance, and some are third and fourth generation dancers.
Bledsoe fondly recalls visiting a cast member's family home in Argentina last year, where an elderly grandfather, mother, father, and son joyfully performed together.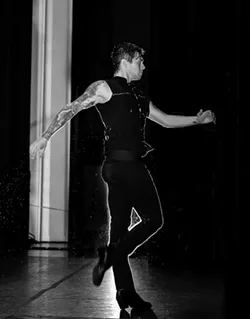 "It's a lifestyle for them," he says. "It's a part of their family."
To perform with Che Malambo, troupe members must be skilled with the traditional Argentine bombos and boleadoras, a throwing weapon made of intertwined cords and weighted with stones. They must have rapid-fire footwork for zapeteo, steps inspired by the rhythm of galloping horses.
Though it still remains relatively unknown in academic dance, Che Malambo has become an international sensation, bringing Argentinean culture to a new audience, including 26 cities on their current tour.
"I see the show in three kinds of points," Bledsoe says.
"Dance aficionados—the dance nerds, as I call them!—are really intrigued and impressed by this because it is an art form we're not familiar with. Everybody knows tango, but there's this huge passion for Argentine culture in Malambo. It's just never been showcased and exported properly. And there's the world music audience we're catering to at Savannah Music Festival...whether you're a dance or music fan, this is just a spectacle."
cs