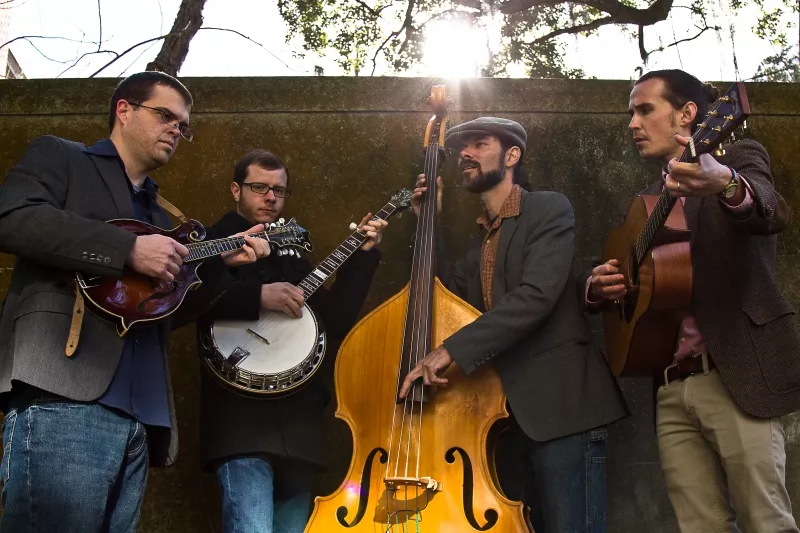 IT'S ODD to think that, having done multiple gigs at Trinity UMC, City Hotel still gets pre-show jitters about the whole thing.
We're "backstage" in a room that shares a wall with the sanctuary that's become Savannah's premiere acoustic listening room, listening to American Hologram warm up the crowd. The gents sit quietly on plush antique couches, smoothing their pants like they're about to go to—well, church.
I can't help but be reminded that every time I attend a Trinity concert and try to sit as still and quietly as possible in the sacred space, a line from the Savannah bluegrass band's EP pops in my head: "I caught my very first teenage buzz as I was sittin' in a hardback pew."
The Lowcountry's first taste of City Hotel's "Savannahgrass" was originally intended to just be a demo, comprised of guitarist/vocalist Aaron Zimmer and mandolinist/vocalist Cory Chambers' solo work. Fan demand made it an EP. Now, two years in the making, City Hotel is prepared to release their first full-length record, Dogged Days, in a celebration at Southbound Brewing Company.
"These songs have all been written since we've been a band," says bassist Anthony Teixeira.
Zimmer attests that, while the quartet arrange together, he and Chambers are still most comfortable writing solo in a song's early stage.
"We're both private writers," says Zimmer. "The process takes a long time."
While they each have very different approaches to their songwriting, it all comes together in the end to sound distinctly like a City Hotel song.
Zimmer uses songwriting as a way of telling family stories; in fact, Dogged Days and the title track reference his father and grandfather.
"As a teen, they told me stories about being in their 20s—not knowing what they were doing, not having any money," Zimmer explains. "They taught me about hanging in there: even if it's not working out, even if you're working two jobs and trying to be a musician and feeling like you're not doing a good job of either. My grandfather was a writer and my dad worked at Waffle House—it's about perseverance."
The roots run deep in Dogged Days; the CD art is the work of Zimmer's grandmother, created in 1964.
The album even includes a cover of Zimmer's father-in-law Ernie Palmer's song "Gainesville Mill."
"We heard the song and thought it would be good for bluegrass," remembers banjo player Jay Rudd.
"He's got a book of, like, a thousand-plus songs," admires Zimmer. "He picked up the guitar when he retired."
Though Palmer approved the City Hotel cover, he hasn't heard it yet—the band's waiting for the album release to surprise him with the final version.
A bit of a guarded writer, Chambers turns to literature for inspiration, preferring to explore the possibilities of fiction.
"I'm into wordplay and the building of constructs," he says.
Dogged Days was cut locally at Elevated Basement Studios. Live, you'll often see the boys huddled round a mic, practicing a kind "live leveling" in which a soloist leans into the mic to amplify their sound. To keep the vibe, Zimmer says they employed an "array of mics" in studio, striving to keep it as live as possible.
It's a masterful take on the quick-stepping, down-home style they've honed so carefully, blending a front-row feel with crystal-clear production that doesn't use the studio as a crutch.
It can be difficult to truly hear City Hotel's vocals live, and Dogged Days does its singers great justice: Zimmer's like a front porch Sinatra, able to demonstrate control and a pleasingly timeless tone framed by a Southern accent. Chambers was born to sing old time music, stretching those vowels with natural country flair and easily belting into a banjo strain.
The band selected three additional covers for the record, including two traditional tunes. If you've seen City Hotel live, you know they're masters of bringing wonderfully unexpected, contemporary moments to their old-time sound: track nine laces bluegrass standard "Little Maggie" with The Whigs' "Right Hand on My Heart."
"I remember when The Whigs were starting out while I was at UGA," says Zimmer. "Their sound is so youthful."
At Southbound, they'll play the album in its entirety and follow up with a second set of the quirky pop covers they've become known for ("Party in the USA," anyone?).
"We're opening for ourselves," Rudd jokes.
As is tradition, Southbound's got a new beer for the occasion, named for a Chambers Dogged Days cut: The Judge.
"It's forty-six percent," Zimmer says with a devilish (and slightly apprehensive) smile. "It's more like, 'Can you finish a glass?'"
Attendees, you'll be the judge of that.
A ticket includes a souvenir pint glass, koozie, and beer samples throughout the evening. It's a prime opportunity to see what City Hotel can do: in a church, in a brewery, and wherever else their doggedness takes them.
CS