Local bluegrass group City Hotel has been branching out individually over the past year or so, but they're coming back together creatively and are going full steam ahead.
The band, comprised of mandolin player Cory Chambers, banjo player Jay Rudd, guitarist Aaron Paul Zimmer, and bassist Anthony Teixeira, the band has been delighting audiences in Savannah and beyond since 2011 with their traditional instrumentation and knack for thrilling songcraft.
The band is currently working on a new album, after spending some time pursuing other projects, and are preparing for a headlining gig at the Unitarian Universalist Church of Savannah on Sun., Nov. 3, where they'll be playing fan favorites as well as trying out some new material.
"For about the last year-and-a-half, just about the only public gig we've been doing is a Service Brewing residency every Friday. Just by the nature of that space, it lends itself to a very rock and roll sound," Rudd tells Connect ahead of the gig.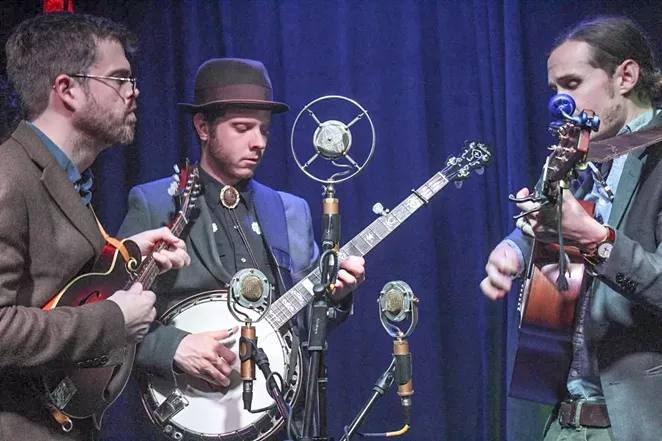 "When we first started the band, our shtick was to crowd around a couple of condensers and do the acoustic thing. Since doing Service, we've moved to the more plugged-in sound. It's kind of forced us to relearn how to connect with each other."
Missing the simplistic and intimate approach of a bluegrass-style setup, the band looked to the UU Church—who's been staging concert series' for a while—to serve as the venue for a classic City Hotel performance.
"We're pretty excited to go back to the more intimate sound. We're excited to take that connection and bring ourselves physically back together around the mic," Rudd says.
Having been together for so long, there's an undeniable connection between Rudd and his bandmates; it's something they've been fortunate enough to continue without lineup shifts, and have more recently been given the chance to have some distance from as they weathered personal and musical changes.
Taking time away from the creative side of the band, Rudd says, makes coming back together to write and record feel refreshing and exciting.
"When you step away from putting all of your focus into one group, you definitely gain some perspective. Cory's got his own solo project, Aaron's got his project, and Aaron and myself did our EP as a duo. It takes us into different sonic landscapes, he says.
"What happens when we step away and come back is, we gain an appreciation for what we have as a band. It's difficult to get a group of people consistently. Just the fact that we have four people who've been getting together for eight years, that's pretty unheard of as a band. We all have an appreciation and love for each other, and that comes out in what we're doing."
cs