SINCE its grand opening, The Garage Savannah has filled a unique role in Savannah's music scene.
With private rehearsal spaces, lesson rooms, a full recording studio, and a local music library, Matt Collett and Colin Motlagh's Midtown musician's paradise has expanded into a bit of an empire.
In addition to taking care of the technical side of recording, Collett and Motlagh are collaborating with promising local and regional artists and using their diverse musical backgrounds to spark creative partnerships under the moniker Aphelion.
Their latest is Savannah rapper Clay Hodges' EP "B.U.F.U." Five tracks of sultry, atmospheric foundations created by Aphelion are set against tougher numbers, with Hodges easily vaccilating between bars and soulful vocals.
Lyrically, "B.U.F.U." is an "emotional diary," the Savannah native says.
"Honestly, I just took pieces out of my life and just told my story," he shares. "I was going through a rough patch in my life and got advice from one of the wise, older guys at my old job. He said, 'Life is like the weather. Sometimes it rains, sometimes it's sunny, sometimes it's cloudy and sunny, but you've got to take it as it goes."
That wisdom inspired Hodges to create better songs and move forward with his music.
"I grew up on the Eastside," he says. "It's not the worst part, but it wasn't always good. I grew up in what's called the 'hood. What I'd seen in my environment gave me a serious outlook on life. I tend to talk about the struggle, I talk about people being in bad situations, trying to get out of those situations. That was me for a long time...now I'm comfortable."
As a kid, Hodges aspired to be a singer. When he was 10 years old, he began rapping. His collaboration with The Garage was an entirely new experience.
"They work on a different level than I work on," Hodges says. "They're showing me what it's like to be a professional - it's on a whole different level, and I'm learning about it, and I'm happy to pick up a lot from what they're doing with a live band and live instrumentation."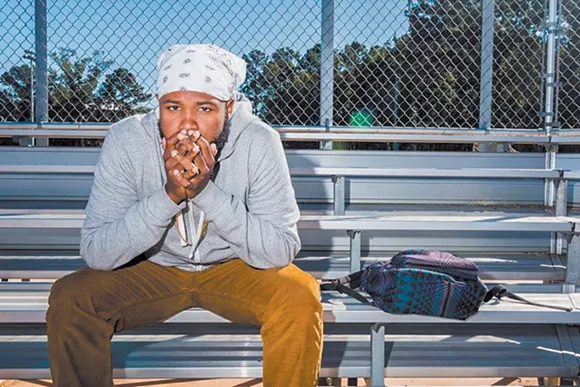 While working on the EP, Collett and Motlagh encouraged Hodges to sing more on his tracks.
"It was a whole different element, how to utilize my voice on the production," Hodges recounts. "They encouraged me to sing more and be more creative with my voice. Before, I rapped, and now I focus more on time and matching with the beat and have my voice be an added instrument. That's different than rapping over traditional rap beats."
Hdoges appreciated the collaborative aspect of the recording process.
"I've worked with others in the past, but the way they work is really like a team," he says of Aphelion. "We go in the studio, and they're like, 'Try to do this harmony,' 'Do this' - being real producers, in a sense. That helps out a lot, too, making the quality of the music better. Working with them has been a big blessing. They really helped me take this to the next level."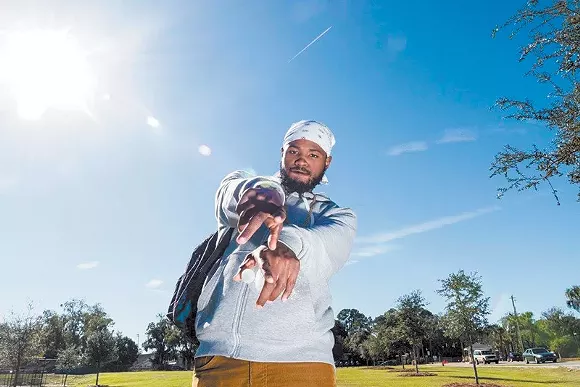 At his album release show, which also features sets from Lil Bra and Rese, Hodges will perform with a full live band.
"Any time you perform, it should be an experience for the viewer," Hodges says. "Something they can take home and tell their friends and children about: 'I saw a guy perform before he got big.' That's what I want, and what I've been preparing myself for. I've been working hard for this performance; I am expecting greatness, but most importantly, it's going to be a fun event."