New year, new you, right? That's how it is supposed to go, anyway. The calendar flips to the new year and everyone starts their diets. You start watching what you eat hoping to lose those stubborn 25 pounds only to end up right back where you were by St Patrick's Day. If that is you, you should know that you are not alone. A local gym owner once told me that by far the majority of new customers that walk through the door this week looking for a reset bail on their plans by March 1.
That's unfortunate, but I like to look at it a different way. If you start and fail 10 times, but on the 11th you succeed and actually stick to your plan, then did you really fail? No, you did not. So….with that said, we are going to contribute to your 2023 reset here with a list of spots in Savannah where you are likely to find a plethora of clean eats. Defined as healthier options among the mainstream. Eating healthy doesn't necessarily mean spending the next 12 months of your life eating like a rabbit. I have always been a firm believer in anything in moderation.
The Sentient Bean/Brighter Day Natural Foods
"The Bean" as it has become known around these parts sits at the Southern end of Forsyth Park on Park Avenue. It is one of our original spots in town for organic and clean eats. It is a coffee shop with food, so the vibe is absolutely casual. They offer gluten free and vegan options as well as some 'regular' fare. Breakfast, lunch and dinner. Next door is Brighter Day Market, Savannah's ground zero health food store. Brighter Day features a daily deli until 2pm. Sandwiches like Vegan Cucumber Hummus or "Tastes like Tuna" are common and very popular. There's also more mainstream turkey and/or egg salad sandwiches for the anti-vegan in your life.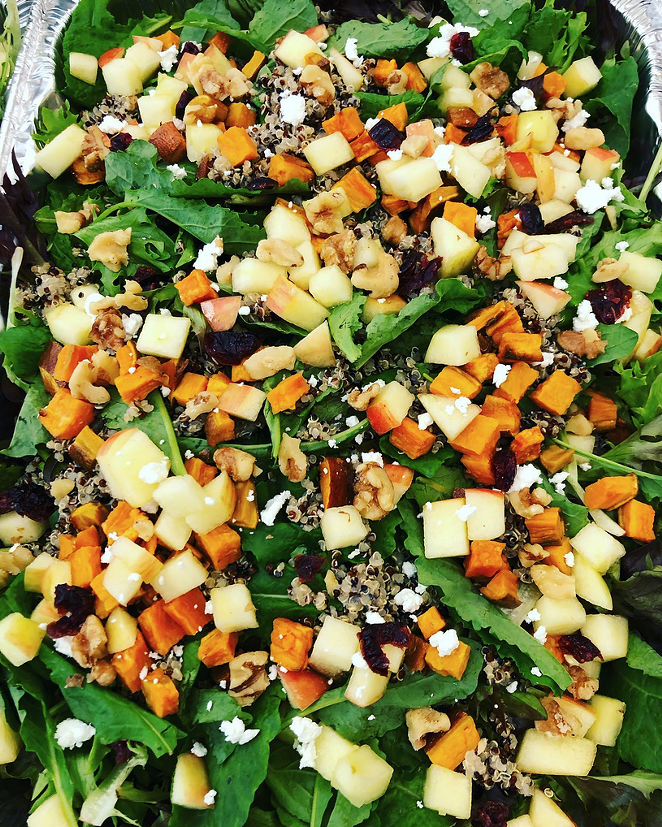 Good Greens
Good Greens is a delicious-albeit tiny-salad shop on Johnny Mercer Blvd on Wilmington Island. If you don't live out on the islands, then it can be a bit of a pain to get to, but I can tell you the food is worth it if you are in the area. In fact, they get a regular flow of customers who don't live on the island. I've seen them come in and out of there.
The Harvest Salad is a day one original and probably my favorite-when I add roasted chicken. It features Kale, Spinach, Quinoa, Roasted Diced Sweet Potatoes, apples, dried cranberries, crumbled goat cheese toasted walnuts and balsamic vinaigrette. Sound delicious? It is. They offer the chicken as an add-on. They offer several salads and a couple of soups, most of which change regularly. Take a look, you will eat it and like it. Keep in mind they are closed this first week of January 2023. They will re-open on the 9th.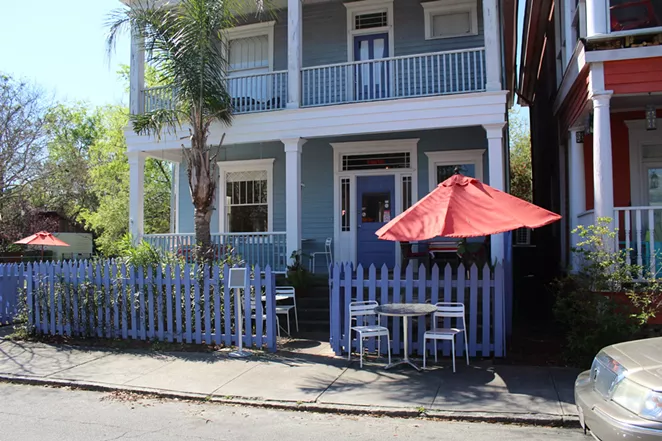 Starland Cafe
Bonus points if you can guess where this is located. Yes, Savannah's very quickly growing Starland neighborhood. It is fair to say that I enjoy quite a few salads around town, but I have yet to enjoy one that is as wonderfully perfect in my book as Starland's Kitchen Sink. Grilled Asparagus, dates, golden raisins, marinated artichokes, green apples, red grapes, crunchy rice noodles, grape tomato and red onion. I always add wonderful grilled chicken to this Savannah classic. It is their most popular menu item.
The Tomato Thai soup with some goat cheese on top is another exceptional dish. My very picky eating daughter worked here a couple of Summers ago and was coming home with this soup nearly every day. Yes, it is that good. Speaking of persnickety, I had their Cuban Sandwich last year on a whim for National Cuban Sandwich Day and was absolutely impressed by how good it was. One of maybe 3-4 versions of this sandwich that I would 100 percent recommend. Seriously, though. If you've not heard of or been to Starland Café, you owe yourself a visit. They are only open for lunch 11am-3pm Monday through Friday. Yes, this means closed weekends. That will tell you how popular it is.
Kayak Kafe
Kayak Kafe is probably Savannah's most mainstream 'clean eats' restaurants. Two locations (Broughton Street and Midtown) will give you an idea of their popularity. A plethora of Vegan and Gluten free options make them so.
I've always loved their soups. But my go-to here is probably the Mexican Chicken Salad. Romaine, Roasted Chicken, Pico de Gallo, black beans, sliced avocado, shredded jack cheese and crispy tortilla strips. There's a serious selection of dressings, both vegan and not, to choose from. All of them are made in house and they taste like it.
Like any other restaurant of this kind, freshness is important and they do it well at Kayak. There's a good selection of tacos, quesadillas, sandwiches and even veggie burgers here. Plus a tiny kids menu. You can't miss with this one.
I should mention that these are hardly the only spots in Savannah to eat well if you want to. So many eateries are offering healthier options these days. You just have to pick and choose.
I am big fan of some of the salads at Coco and Moss downtown. The plant based crowd has two spots to try in Savannah in Fox and Fig and The Haunt. The latter located at 606 Abercorn (read: easier parking) to enjoy a very creative plant based meal.
Wishing all the greatest of health and happiness in the new year!