It's mid-November and I'm attending a Member dinner at Cleo the Gallery. Curator Jeanette McCune (b.1993) has just served a truly delicious meal and I've enjoyed conversation with artists Maggie Hayes, Faran Riley, Cat Counihan, Elizabeth Sloas, Chris Moss and his wife, and photographer Robin Maaya.
Now it is time for McCune to talk about the current show installed around us in the tiny gallery space. As she recalls unpacking the artwork for the first time, she closes her eyes, smiles, and crosses her arms over her chest in a warm hug and I am struck anew by her passion, her joy, and her true delight in finding, displaying, and sharing art.
Fast forward to January, and I meet McCune at a local coffee shop to get an update on her gallery. First things first; I've always wondered where she came up with the name.
"At the end of the day, I just really like it," McCune answers. "Mainly, I was thinking where I see myself in fifty years. She's my alter-ego: I see myself as an old Cleo with big-ass glasses and long gray hair. Someone who is very savvy with her art collection." With a laugh, she continues, "But more and more, I call Cleo my daughter now – as in, 'Do you have any idea how much Cleo is costing me? She's sucking me dry! She just takes and takes and takes!'"
Oklahoma City-raised McCune had a circuitous route to becoming a gallerist. Following a year at UC Santa Cruz, she earned a BFA from the Maryland Institute College of Art in 2016. Throughout university she was a studio assistant to sculptor Ben Kelley, working on heavy metal fabrication and wood working. "My degree was in sculpture, but when I'd go into school I'd just want to hang out it in the fibers department and do quilting, crocheting, and dying fabric. I still make the occasional quilt. The last big installation I did of my own work was a fibers show in Montreal in 2018."
After graduation, McCune moved to New York to work for Brooklyn's Textile Arts Center, later traveling to Australia on a year-long work visa "because I'd always been in love with a gallery and artist-grown initiative there called No One Special." In Melbourne she truly fell in love with art curation, working as an assistant curator and bringing a couple of American artists to the gallery. Next, she moved to Montreal's Anteism Books, a studio that specializes in very sleek, contemporary, handbound artists' books, and finally, after a short stint studying in Turin, Italy, McCune settled in Savannah…
The idea of being by the ocean appealed (she's a surfer) but mainly, she thought SCAD would bring a lot of creativity and pop-up spaces in the community to showcase artists, though now she admits to being a bit disappointed that there is not more of a thriving contemporary arts scene.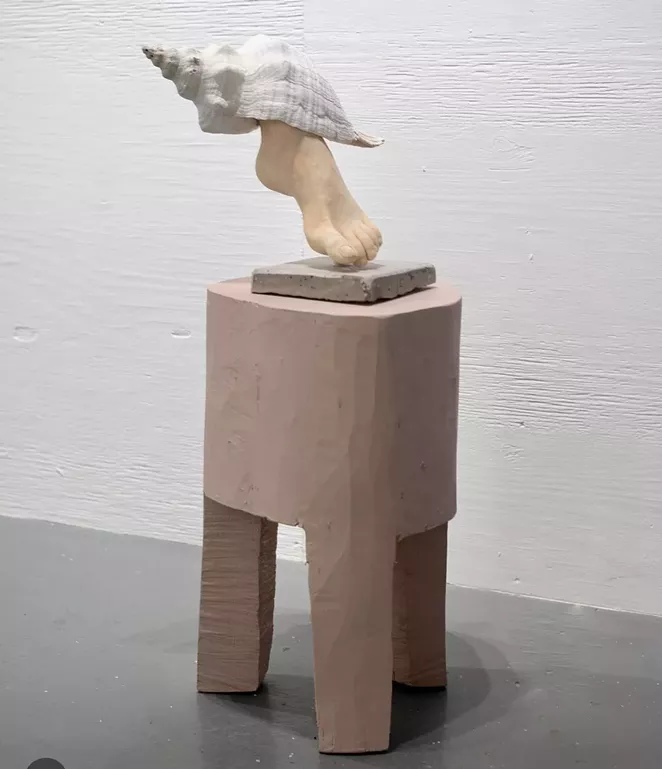 As the pandemic began to shut things down, McCune was happy to nest and be given the gift of time to figure out the idea of Cleo that had been percolating in the back of her mind. Eventually, in the summer of 2020, she hand-built the walls to create a gallery within a storefront on Skidaway Road called Abode, home to several local makers and artists. Cleo the Gallery opened in that space in October of 2020.
From the start, Cleo's mission has been to help support the livelihoods of under-exhibited artists. "That grew out of the pandemic," McCune says, "I saw a lot of my fellow artists really struggling and I felt they should be paid for their services." Her groundbreaking business model serves as a redefinition of the balance of power between gallery and artist and includes paying each exhibiting artist an upfront honorarium as 'rent' for the time spent in her space, whether or not they sell. "They have already put forth the labor and the creative initiative to make the work."
McCune also offers financial, and in some cases, physical, support in transporting the work to the space as the budget allows. She envisions her gallery as "a force for good", and in the best possible world, she sees other institutions and galleries adopting a similar model so "we can come together to find the most sustainable way to help artists because they are so integral to quality of life."
The idealistic young curator staged five shows at Abode within a span of just one year, before moving the gallery to a temporary space on 40th street where she hosted a further four. Artists were from Australia, Boston, Tampa, New York, Atlanta, LA, and Savannah. She speaks of many of them like children: "I will go to the ends of the earth to champion them. They are f'g wonderful and deserve every break and every advantage they can get."
McCune thrives on continuously seeking out artists whose work speaks to her. Intrigued by artist-run initiatives wherever she can find them, she says, "I keep my finger on the pulse in multiple ways. For example, in the last show, I exhibited pieces I found through Australia's Sunday Salon – an online platform connecting collectors with a great roster of artists; Mousse has a lovely publication that is very informative; and there is an amazing artist-run project called SHAG that is housed in a repurposed garage in Charlotte, North Carolina."
Cleo the Gallery reopens this spring in a new home on Waters at Maupas and McCune is striving to make it a space where "we have conversations between local, American, and international artists. It should be a beautiful mix. Showing artists who are not familiar with the Southern art scene what we are doing here in Savannah. And in turn, that brings us some clout with galleries in Montreal, or Australia or wherever. I want to inspire artists from France and England and other places to look at Savannah."
As a side note, this passion seems strikingly similar to that of curators Pete Schutlz and Amy Pleasant of Birmingham, Alabama's Fuel and Lumber Company, whom I recently had the pleasure of meeting at Laney Contemporary. With many more years of experience, they share McCune's vision of connecting disparate contemporary artists and shining a light on our Southern art scene. Just the name of their inititiative is so interesting to me: In our collective past, most American towns had a fuel and lumber company to provide basic goods and services, and similarly they believe art and culture to be among the needs vital to the health of a community.
To harken back to my year-end column, until SEDA, the Chamber, the City, and SCAD make support of artists a priority, visionaries like Jeanette McCune deserve our financial support. She says, "That relationship is symbiotic. You must have these thriving art spaces to incite people to come here."
The future looks bright with three shows already in the works for Cleo: one by Canadian muralist Caitlin McDonagh; a collaboration between Baltimore artist Danni O'Brien and Furman University's ceramicist Kevin Kao; and a group show guest-curated by Joshua Bennett from Nashville. Member dinners, conversations, and community involvement will remain a staple component, as will her $300-and-under flat file shop "for those just starting out on their collections. I want people to feel comfortable collecting while being transparent about where their money is going, and how their purchase fuels an artist's creative journey."
To sustain her ideal of providing upfront honorariums to artists and of paying to have artwork shipped here, McCune is working with a CPA and an attorney to complete the paperwork to restructure Cleo the Gallery as a non-profit, and is seeking grants and funding, philanthropic support, and selling memberships. Ranging from just $5 to $200 a month, buying a membership seems like an effortless way to support her model and help bring fresh, contemporary, less established artists to Savannah, "not just to give them a space to showcase their work, but to support their career and help build important connections for them."
Get involved at cleothegallery.com and follow @cleo_the_gallery on Instagram.