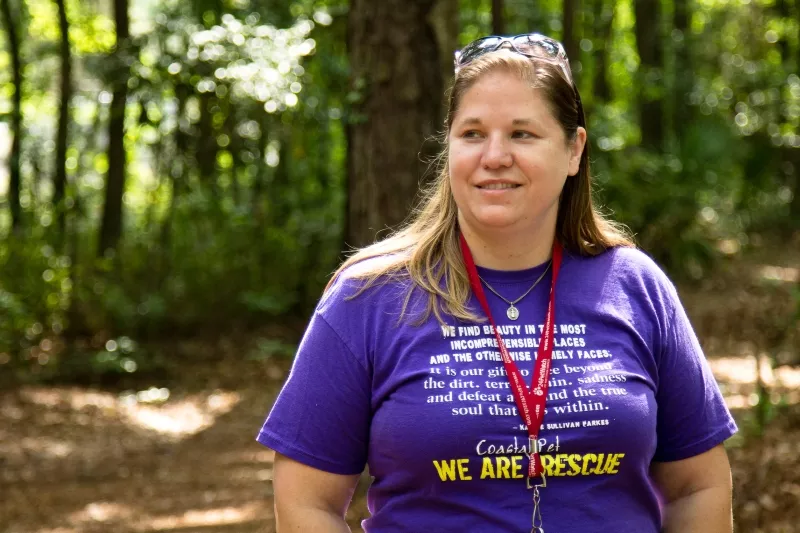 AS SOON as the gate opens onto Camp Pawsawhile Retreat, a snow white cat comes bounding up the wooded trail.
It meows loudly before plopping down at the feet of Coastal Pet Rescue founder Lisa Scarbrough, who has come to check on the progress of the new facility. Located near Lake Mayer, Camp Pawsawhile will soon bustle with the barks and purrs of adoptable pets, but for now, the friendly white cat is the only resident.
"This is Lady Pawsawhile, our official greeter," explains Scarbrough as she leans down to scratch Lady's ears.
"She actually has a home somewhere in the neighborhood, but she seems to have adopted us."
For Scarbrough, it usually works the other way around. Since 2002, she and her legion of Coastal Pet Rescue volunteers have pulled abandoned dogs and cats from area shelters and paired them with new owners. CPR oversees an average around 85 adoptions a year, and the organization currently holds the title for Best Non-Profit as voted by Connect readers.
Those familiar with pet rescue know that time is of the essence when it comes to government-run animal shelters, where dogs and cats are euthanized if they're not adopted quickly. For the past few years, CPR has worked mainly with Bryan County Animal Control, and Scarbrough often scoops up five pets at a time to save them.
The rescued animals are fostered temporarily by kind volunteers while they receive veterinary care and are assessed for adoption, but that can present a scramble.
"Sometimes we need at least 24 hours to get a foster home ready," says Scarbrough, who wears a pendant of St. Francis, patron saint of all animals, around her neck.
"I always thought we could do so many more intakes if we had a place that could be the first line."
After a pause she adds, "It's always been my dream to have a shelter."
That dream has been realized in a way with the establishment of Camp Pawsawhile, a former hunt club that will now serve as a temporary refuge for CPR's rescued dogs and cats. While not a true shelter, it's a neutral place where foster parents can meet their potential charges and to help facilitate more adoptions. (The address is being kept private for now to prevent people from dumping their pets.)
The result of a generous lease agreement and numerous in-kind donations, the private retreat has been built entirely by CPR's dedicated volunteers, mostly with reclaimed materials found on the property.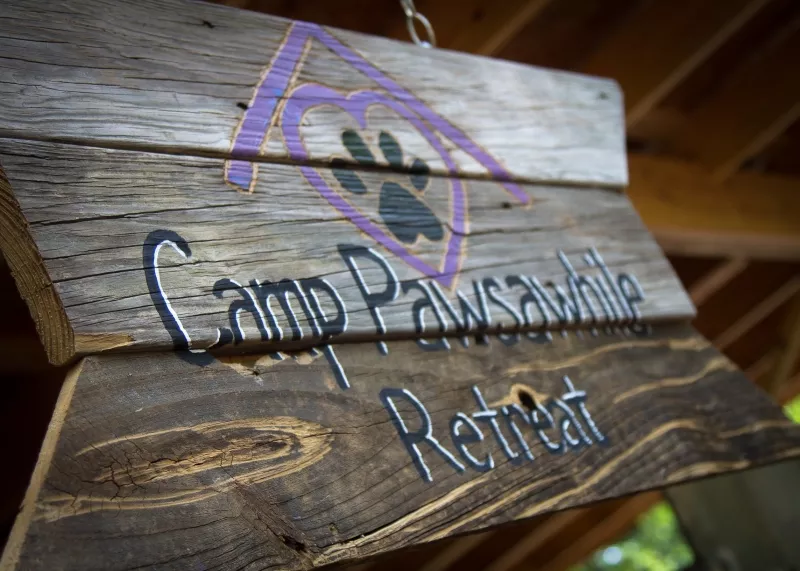 Lady Pawsawhile leads the way on dainty white feet as Scarbrough shows off the seven former hunting dog kennels—now refurbished and powerwashed—and a training corral tucked under a grove of pine trees. A small tin shed serves as an office next to the Cattery, an enclosed structure dedicated to felines and filled with climbing towers and private nooks for mothers with new litters.
A group of Gulfstream employees helped assemble donated chain link fencing on their day off, and students from Savannah State built off-the-ground cots for the dogs.
"It's come a long way since last August," says Scarbrough as Lady flicks her tail. "It took us 30 truckloads just to get the trash out of here."
Camp Pawsawhile will be ready for furry visitors just in time for CPR's next fundraiser, a Survivor-type competition that challenges contestants to raise $500 each. Those who fail literally end up in the dog house.
For 24 hours on May 2-3, challengers will participate in a series of pet-related activities, including a training agility course with CPR rescue pups. The last one standing wins fabulous prizes, and the crowning of the winner coincides with CPR's first on-site adoption event.
But contestants who don't meet the financial goal in the first few hours of the competition get to spend Saturday night in one of the kennels.
"I think it'll be good motivation," grins Scarbrough.
The public can pledge their support for their favorite player on the CPR website, and all are invited to attend a pre-Survivor $10 flapjack breakfast on Saturday, May 2 at Applebee's on Whitemarsh Island. All proceeds go towards CPR's expenses, the bulk of which are veterinary fees.
For Scarbrough, Camp Pawsawhile is the culmination of a lifetime of work. She began rescuing animals as a kid on Tybee Island, helping her father trap, neuter and release feral cats. She has logged thousands of miles picking up animals and thousands of hours coordinating care while fostering solid relationships with the local business community.
Scarbrough hopes that one day Coastal Pet Rescue will be able to support a paid position as she continues to work full-time as the digital media director for Paula Deen Ventures, but for now she's just glad her organization has a place to call home. (On the other hand, Official Greeter Lady Pawsawhile will get a promotion as she helps assess how well the new foster dogs get along with cats.)
"I've basically been running this out of my car with a laptop for 14 years," she laughs.
"I'm just glad I finally have an office."
cs