Foxy Loxy Print Gallery and Cafe
Monday - Saturday 7:00am- 11:00pm
Sunday 8:00am to 6:00pm
1919 Bull St.
912-401-0543
Located in a Victorian house, Foxy Loxy is a great place to meet new friends, get some work done, or enjoy an afternoon out! Part coffee shop, bakery, and Tex-Mex Cantina, there is a lot to choose from. It's a cozy and cool hang out spot with a young and hip crowd, due to the cafe's perfect location. They offer plenty of comfortable seating on the inside of both floors, an upstairs porch overlooking the streets, and a simple yet cozy courtyard in the back.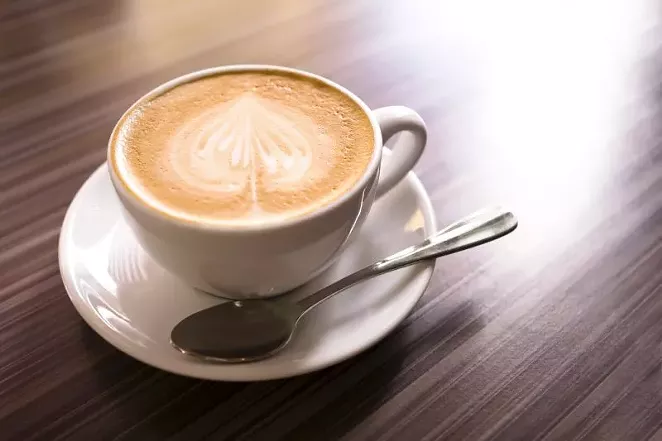 Mate Factor Cafe
Monday- Thursday 6:00am - 8:00pm
Friday 6:00am - 4:00pm
Sunday- 8:00am - 8:00pm
401 E Hall St
912-235-2906
Greatly decorated, beautiful cafe inside, with an outside seating area on the patio out back. Their baked goods are fresh and delicious, along with a staff that is very friendly and warm. Their lattes are a specialty with their Mayan Mocha and the Green Chai lattes being two of the crowd's favorites. A cozy spot to get some work done or hang out with friends.
Sentient Bean
Everyday 7am - 9pm
13 E Park Ave.
912-232-4447
Cool cafe to visit with awesome vegan options and outside seating. The staff is more than happy to go around people's limitations (vegan, gluten free, etc). Located next to Forsyth Park, it's a great little stop for breakfast food, specially on Sunday for their Farmers Market Brunch. They are also very active with the community, hosting an Open Mic where creative people are welcome to share their talents.
Henny Penny
Monday- Friday 6:30-am -6pm
Saturday and Sunday 8am- 6pm
1514 Bull Street
912- 328-5497
Brought to you by Scribble Art Studio and Foxy Loxy Cafe, Henny Penny combines coffee and delicious pastries with spending some time with your kids in a creative art space. This space can be used as an open studio, for classes, workshops, etc. Just blocks from Forsyth, this cafe is a little spot to stop at for any of their house made pastries, hand crafted coffee, and espresso drinks.
Gallery Espresso
Monday- Friday 7:30am -10pm
Saturday- Sunday 8am -10pm
234 Bull St.
912- 233-5348
Beautiful and peaceful place to enjoy a cup of coffee. Serving many vegan options, pastries, and espresso drinks, this cafe has a very cozy atmosphere with a diverse clientele. The cafe offers a cool inside full of retro chairs and art, and an outside seating area where to watch the transit of Chippewa Square go by. In addition, Gallery Espresso showcases artwork from a variety of rising and thriving artists in the community of Savannah.
Savannah Coffee Roasters
Monday - Friday 7am —9pm
Saturday 8am —9pm
Sunday 8am —4pm
215 W Liberty St.
912-352-2994
A different place where artistry plays a part in blending their special coffees you won't find anywhere else! This cafe has a broad audience that enjoys their excellent service, delicious pastries, and coffee beans from all over the world with which they prepare their unique creations like the Savannah Blend, Good & Evil Blend and their award winning Captain's Choice.
Coffee Fox
Monday – Wednesday 7am - 9pm
Thursday – Saturday 7am - 11pm
Sunday 8am - 6pm
102 W Broughton St.
912-401-0399
Located in the heart of Savannah, Coffee Fox is an award winning craft coffee house which proudly serves their locally roasted PERC Coffee. They offer a variety of treats from pastries, cheese boards, wine, and beer. With wonderful service, friendly staff, and vegan options, this cafe is one to visit while strolling down Broughton Street.
The Foundery Coffee Pub
Monday - Thursday 7am - 10pm
Friday 7am- 9pm
Saturday- Sunday 9am-9pm
1313 Habersham Street
Cool place to go meet a friend, or get some quiet time for your studies. This cafe has a spacious ambiance, and is a very important place within the community as they host events such as: open mics, open theological discussions, free breakfasts for students, etc. Their special blends can't be found anywhere else, with a favorite being the "Kahlesi" tea latte and the "York!" espresso latte.
Cup to Cup
Wednesday — 7am - 5pm
40 Abercorn St.
912-376-9173
This small shop offers high-quality, locally roasted coffee and a friendly atmosphere. Great place for a morning stop or a delicious grab-and-go.
cs