After months of construction, a part of the Broughton Streetscape Improvement Project is complete. Now, it's time to bring life and the community back to the businesses on Broughton which have been impacted by the construction. Connect Savannah and the City of Savannah have created a day to do just that; Explore Broughton Community Day.
"The City of Savannah welcomes locals and visitors alike to join us on June 26 to Explore Broughton," said Savannah Mayor Van Johnson. "Come support local businesses and witness Savannah's new normal and the transformation of Broughton Street." Broughton Street will be closed from Martin Luther King Jr. Blvd. to Jefferson St. starting at 10 a.m. until 3 p.m.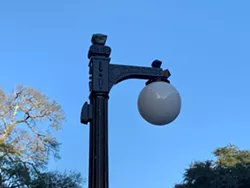 Kicking off at 10 a.m. in front of LuluLemon, both Pure Barre and New Yoga Now will teach back-to-back one hour-long workout classes. Those attending the classes are asked to bring a mat, towel, water and are invited to bring a pal. Visitors and residents of Savannah can also stop by to enjoy live music from local bands, Keystone Postcard and Whaleboat. Representatives from Savannah's leader in radio, Dick Broadcasting Company, will also be in attendance to make announcements and play music.
Along the closed streets, numerous Broughton businesses will have their own tables to engage with the community and display products available in their store. These vendors will also be a part of the Explore Broughton Bingo Card, handed out on Community Day. Prizes will be available for the first 10 people who complete the bingo card by visiting each spot. Families will also get the chance to take part in life-size games such as Jenga, chess and cornhole. The Girl Scouts of Historic Georgia will have a table nearby with recruitment information, a selfie station and the opportunity to create special craft with them.
Explore Broughton Community Day is free and open to the public. Bring your friends and family; it's going to be a fun day.