For such a small city, there's so much for visitors and locals alike to explore in Savannah, but who has time to find it all? Whether you're an out-of-towner or a local Savannahian looking to have a memorable weekend in the city, The Confetti Experience has got you covered. "Our whole business is to create custom and unique experiences that feature local businesses, that's our main thing," said Natalie Jones, owner of The Confetti Experience. Jones moved to Savannah from southern California in 2017. She said that as a Californian, she knew nothing about the East Coast, but one of the first things she noticed shortly after she arrived, roughly two days after her own wedding, was the amount of bachelorette groups that make their way through the city.
Early in 2020, Jones decided that she wanted to help curate experiences for those groups that come to have a good time in the hostess city. Jones said that she was aware of the stress that is put on both Brides and Bridesmaids to put together an amazing experience before that special day. "I've been in 10 weddings and I've been a bride, so I know," Jones said. "If it's your bachelorette party, don't worry about anything." Like most recently established businesses, Jones experienced the difficulties of starting a business in a COVID-19 pandemic world, but as many restrictions are lifted and the weather warms up, Jones is cranking it up a notch to provide some fun Savannah experiences this spring, including an upcoming partnership with the Alida Hotel.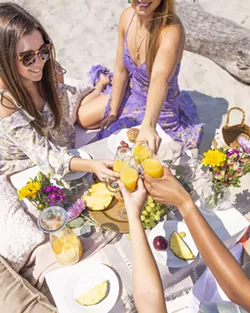 The Confetti Experience offers many flexible options to make sure the weekend is tailor-made for each specific group. Jones said she starts by asking the groups what type of experience they would like to have. Casual? Exquisite? Nightlight? She also inquires about the number of people in the group and the budget per person so that each group gets exactly what they're looking for. Jones not only suggests local eateries, but she also offers local event planners and photographers to meet with the groups and capture their experience. "Patronizing local businesses is one of our values," Jones said. A key feature of The Confetti Experience weekend, which is often offered as a stand-alone experience, are the picnics. Jones sets up picnics, rain or shine, at Tybee Island Beach, at Forsyth, in backyards, or even in-home if requested. She says that every set up is differently designed, based upon what patrons would like to see. Jones said each picnic is catered and delivered by the local businesses and she provides complimentary fruit and mineral water. The groups only have to show up.
Jones said she found out about many of the hole-in-the-wall dining spots from local foodies who have explored the city extensively to find the best spots which don't usually pop up on billboards. "Hanging out with people who weren't originally from here that have started exploring extensively was eye-opening," Jones said. Jones said based on her past work experiences, which involved managing large groups, she knew that she was a talented event coordinator. It was the feedback from groups she had catered to that confirmed she was on the right track. "We had a group in August that had no idea of anything to do," she said. "After the weekend was over, they said 'We had so much fun. There's no way we could have planned this ourselves.' When they expressed how grateful they were, that's when we knew planning these experiences was something we needed to focus on."
Vist The Confetti Experience's Instagram, @theconfettiexp_sav for details or to book.