There's always something happening in the Hostess City. Stay in the know about upcoming events and the latest information with our News & Notes.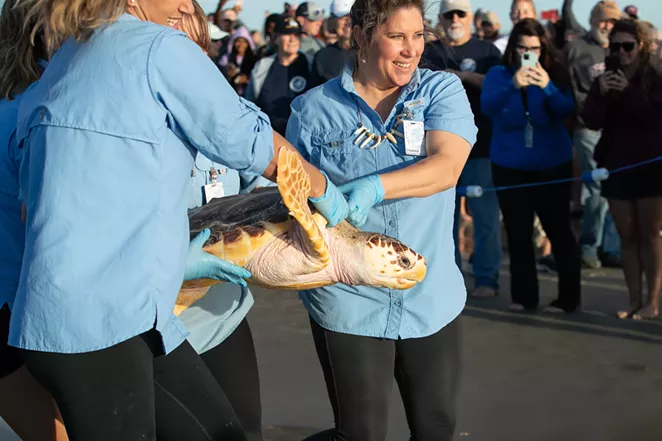 Tybee Island Marine Science Center has released resident sea turtle Ike to the ocean
On Saturday, Sept. 23, a crowd of supporters gathered early in the morning to witness the release of Ike, a three-year-old sea turtle, to the Atlantic Ocean. For the past three years, Ike has made his home at the Tybee Island Marine Science Center and helped to educate more than 300,000 students and visitors at the Center. Now it's time for Ike to embark on his new journey to the Atlantic Ocean.
Chantal Audran, Executive Director, Tybee Island Marine Science Center, said, "Today was the culmination of three years of hard work and dedication! We've ensured Ike's safety while in captivity allowing him to grow and thrive for his next big adventure in the Atlantic! Live long and prosper, Buddy."
After Ike's release, the Tybee Island Marine Science Center celebrated with various activities at the Center, including half price Turtle Talks, Westie feedings, and more.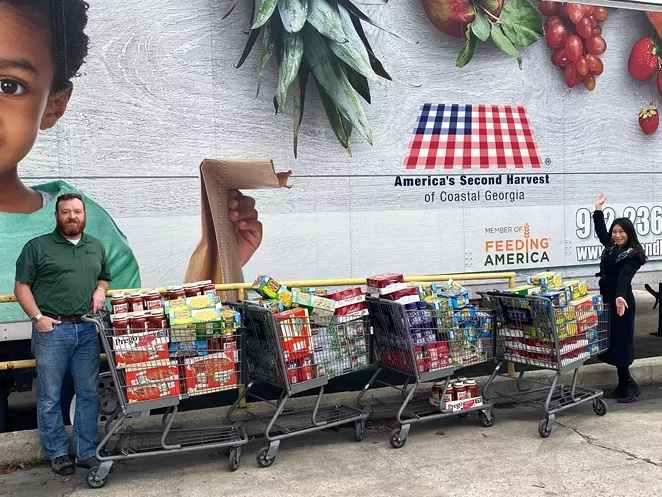 Telfair Museums supports second annual CANstruction competition
Telfair Museums will once again host the second annual Choate CANstruction competition. CANstruction, an international hunger relief charity, raises millions of pounds of food each year for local food banks. The CANstruction Competition invites teams to design and build structures entirely out of food cans, which are then donated to America's Second Harvest of Coastal Georgia in Savannah. The competition will be held from September 25 to September 30, with the full installations on display at the Jepson Center and Telfair Academy.
During this period, a portion of Telfair Museums' membership sales* will help purchase canned goods for Second Harvest's local food bank. The partnership will benefit members with a year of access to art, history, and architecture, members-only exhibition previews, one-time use guest passes, 10% discounts in our museum stores, and more. In addition to supporting the arts, contributions will provide hunger relief to hundreds here in our community.
"We are excited to host Choate Construction's 2023 CANstruction Competition and participate in the fight against hunger. We are grateful to our dedicated members and to the amazing staff at Second Harvest for ensuring a brighter future for individuals and families in coastal Georgia," said Ben Simons, Telfair's executive director.
Last year, Telfair Museums' members helped donate 2,135 pounds of canned goods toward Savannah's food bank. Since 2020, a total of 4,827 pounds of food have been donated through the generosity of museum members.
To support CANstruction 2023 and the accompanying partnership and food drive, community members can purchase a membership online at telfair.org/membership or stop by any one of Telfair's three sites. Visitors can visit the Jepson Center and Telfair Academy during CANstruction to view the installations and vote in the People's Choice Award, with voting opening at 10am on September 25.
League of Women Voters of Coastal Georgia hosts At-Large Post One candidate forum
The League of Women Voters of Coastal Georgia (LWVCGA), with support from media partner WJCL and the Coastal Georgia Center, will host a forum for the candidates running for the Savannah City Council At-Large, Post 1 on September 26 at 6:30 p.m. at the Coastal Georgia Center. Candidates will be asked questions submitted by voters on key issues relevant to the district.
The candidates are: Carol Bell, Jason Combs, Roshida Edwards, Curtis Antonio Singleton, Marc Anthony Smith, Tony Thomas, and Clinton Young.
Greg Coy, anchor with WJCL, will moderate the forum. A timekeeper, Hank Reed II, will ensure that each candidate has an equal opportunity to address the issues of interest to the audience.
Voters can submit questions to the candidates at: questions@lwvcga.org. This event is free and open to the public to attend, however attendees are encouraged to register in advance at LWVCGA.org.
SAFE Shelter Center for Domestic Violence Services to host "Twilight at the Thompson" fundraiser
On Friday, Oct. 13 at 7 p.m. at Thompson Savannah, SAFE Shelter Center for Domestic Violence Services will host "Twilight at the Thompson," an elegant, vibrant, and purpose-driven masquerade ball featuring cocktails, delectable hors d'oeuvres, and captivating live performances.
Proceeds will allow SAFE Shelter to continue offering services to victims of domestic violence, including a 24-hour domestic violence hotline; emergency shelter; outreach program services for victims who do not require shelter; assistance with temporary protective orders and stalking orders; counseling and referrals; weekly support groups; victim advocacy in court; and dating violence programs for middle and high school students, among others.
The event is just one of several planned by SAFE Shelter during October in recognition of National Domestic Violence Awareness Month.
For more information on ticket packages or sponsorship opportunities, visit safeshelter.org/masquerade.
Family Promise of the Coastal Empire launches 'The Backyard Readers' initiative to encourage young readers in the community
Family Promise has announced the launch of "The Backyard Readers," a new initiative dedicated to encouraging and fostering a love for reading in children around the Coastal Empire. The nonprofit created the program to provide a nurturing environment where young readers can thrive, grow, and discover the joy of books. The exciting initiative will take place twice a month, catering to children between the ages of 3-10 years old. The first event will take place from 10 a.m. to 12 p.m. on October 14 at White Bluff Presbyterian Church, 10710 White Bluff Rd, Savannah, GA 31406.
Each event will begin with breathing and yoga exercises for all children, before the group is separated by age range for the reading activity. Children will read one book a month, provided by Family Promise, and engage in age-appropriate activities centered around the theme of the book. The program aims to ensure all material is engaging and accessible to their specific age and reading level. Snacks will also be provided as part of the event.
"We are thrilled to introduce this exciting and important initiative for the community to take advantage of," said Katrina Bostick, Executive Director of Family Promise of the Coastal Empire. "It is crucial to foster a love of reading in the younger generations, and this program is a great way to provide children with a fun and interactive way to start their reading journey!"
Families, caregivers, and educators are encouraged to participate and share in the magic of reading throughout the program. In addition to the books provided by the nonprofit, a small library will be available for parents to browse the collection, read a magazine, or borrow a book. The nonprofit organization also encourages book and craft material donations, as well as volunteers interested in helping during the events.
Family Promise of the Coastal Empire works with host congregations to serve families with children facing homelessness. The organization recognizes that poverty is a complex problem that requires a multifaceted response. The nonprofit, serving Bryan, Chatham and Effingham counties, respond by integrating educational outreach, effective policies, and the hands-on work of volunteers providing food, shelter, and support services. For registration and volunteer inquiries, or learn more about the 'Backyard Readers' program, please visit familypromisece.org, call (912) 790-9446, or email info@familypromisece.org.