THREE years ago, after the presidential election, a group of bakers from Atlanta turned their disappointment into something delicious.
They baked 150 cookies a piece, boxed them, sold them, and donated the proceeds to Planned Parenthood. The Cookie Grab, named after Trump's comment, has taken place in Atlanta each year since.
Now, it comes to Savannah with its own spin.
"We decided we were going to do it a little more Savannahian," says Planned Parenthood Southeast board member Nina Altschiller. "We're doing it for Mother's Day, and it's called Plan C: Cookies for Choice."
Eighteen of Savannah's best bakers will bake a special cookie for inclusion in the box. There will be only 200 boxes made. The $50 boxes can be purchased online and picked up at The Grey Market Sat., May 11 at 9 a.m. or Sun., May 12 at 2 p.m. They can also be picked up at the Forsyth Farmers Market on Saturday. Every single dollar raised will go to Planned Parenthood.
In developing the idea, Altschiller knew to contact Natasha Gaskill, pastry chef for The Grey Market.
"I called up Natasha Gaskill and said, 'You're the best baker I know. Would you be interested in doing this?' Because I knew she would," she remembers.
"I literally couldn't wait to get started," says Gaskill. "I told Allison Morisano, the general manager at The Grey Market, and she instantly said, 'It should be called Plan C.' I thought the name was so brilliant. Atlanta called theirs the Cookie Grab as a clapback to Trump's gross words. I love the name and sentiment of the original, but I love the idea of this fundraiser being about the support of women's health and our reproductive rights."
The cookies are diverse, from Gaskill's smoked fig leaf pecan and oat cookie to Analog's salted chocolate chip to Gottlieb's famous chocolate chewies.
"Honestly, I just reached out to all the chefs I knew. I figured let's cast the net wide and see what I catch," says Gaskill.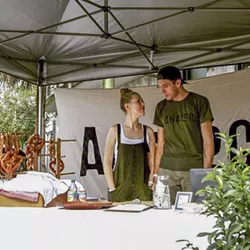 "It's pretty much everybody in town that can bake," says Altschiller. "It's a wonderful show of support from the baking community."
Meghan Eberly from Analog Public House has been involved with Planned Parenthood since 2017, and she strongly believes in the cause.
"I've always had health insurance and a way to access basic sexual health services, and I care deeply about Planned Parenthood because everyone should have that right," says Eberly. "Nothing should stand between a person and their ability to care for their own body."
That's a sentiment that Gaskill and Altschiller also share.
"I used Planned Parenthood for my healthcare in college. 1 in every 5 women in their lifetime has," says Gaskill. "I can't think of a gift or sentiment more special for Mother's Day than supporting women's health and the health of their families."
"Aren't you glad your mother made the right choice for you?" asks Altschiller. "Thank your mother for making that choice."
CS