RONIT HOLTZ remembers the exact day her artistic career began: January 8, 2017.
That's the day a vehicle-ramming attack took place in East Jerusalem, killing four. Holtz, who grew up in Israel, had a friend who was involved in the attack.
"I was just sitting here mourning in my living room, thinking, 'What am I going to do?'" remembers Holtz. "Well, I'll create a painting."
Holtz works in mixed media and used a magazine while making the piece. While working on the painting, she recalls looking down and seeing everything covered in paint except for one word: forgiveness.
"I stopped everything and was weeping," Holtz shares. "I was like, 'What does this painting need to transition to? What do we do in these atrocious events where innocent lives are taken? How do we move forward; how do we show redemption?'"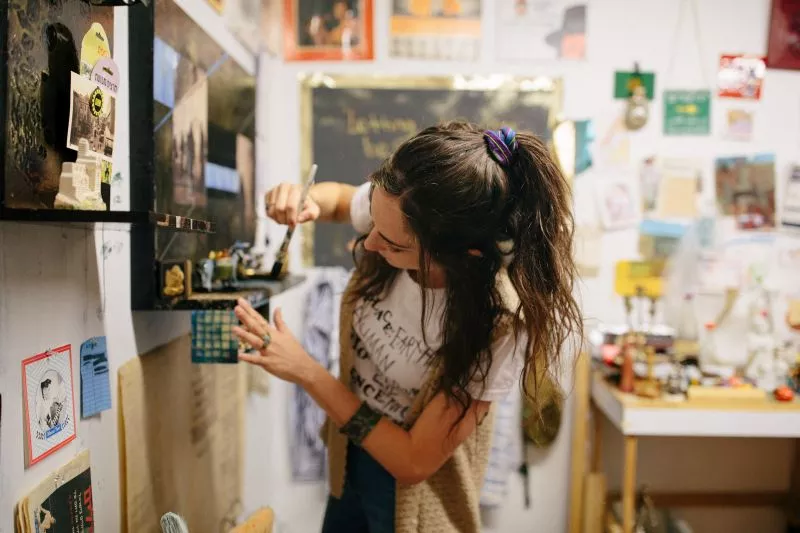 Those questions are integral to "BRIDGE: A Covenantal Narrative," Holtz's solo exhibition this Thursday.
Holtz is a Messianic Jew, a sect of Judaism that believes Jesus is the Messiah.
"When you think about Jesus and who he was preaching to in the land of Israel, it was the Jews," Holtz explains, "so his followers were Jewish. Essentially, the first Messianic Jews you could say were him and the disciples."
Messianic Jews aren't commonly accepted, since their belief in Jesus contradicts the central belief of Judaism.
"Getting into the politics of Judaism and everything, Messianic Judaism isn't really accepted; it's less than 1% of the population of Israel," says Holtz. "A lot of people get the right to the Law of Return to Israel. You have to be Jewish, but a lot of people don't believe in Messianic Judaism because they think we're going to convert. Christianity has that sort of aspect to it, so they think we're Christians and we want people to convert. If someone's been too forceful, the Jews hold their religion so precious since it's thousands of years old that it's frightening to them, what's happened in history because they are Jewish. Think about the persecution of the Christian church has caused Jews. They have a lot of pain and hurt in them, so they see Messianic Jews as a threat almost."
As such, Messianic Jews face persecution and are even called anti-Semitic by some, but Holtz asserts that anti-Semitism comes from Christians who don't acknowledge or understand that Jesus was a Jew.
Essentially, that's what Holtz is trying to do with this body of work.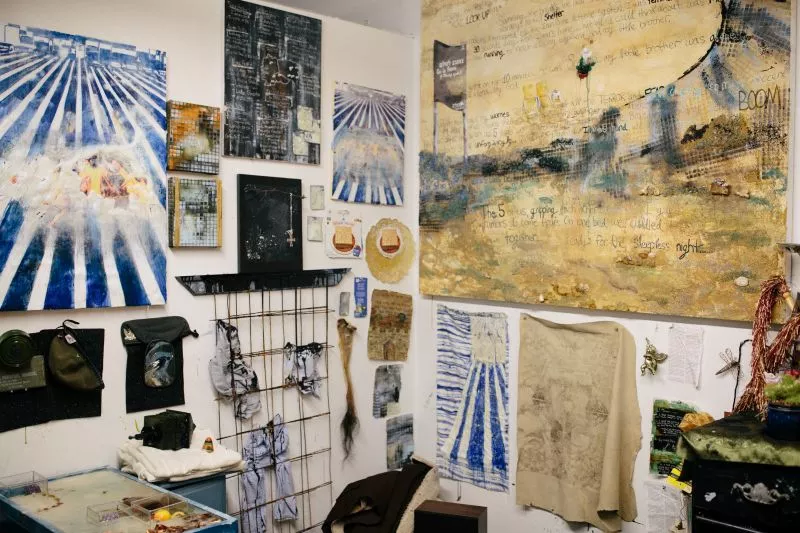 "The work I'm doing recently, from January to now, is acting as that bridge," says Holtz. "I was researching contemporary artists—is there a Messianic Jew as an artist? Are they talking about this? And I wasn't finding it."
After creating that mixed media piece that day, everything clicked for her.
"I decided to take on the role and use Jesus and return his historical Jewish origins to speak the Jewish message of Jesus, use the crucifixion as a symbol for suffering like Marc Chagall, and as for my own personal life, coming out of hiding," she says.
Holtz wasn't always interested in art and its potential for acting as the bridge.
In high school, Holtz went on a trip to Poland that retraced the Holocaust.
"We went to the concentration camps, the ghettos, extermination camps, doing all of that in two weeks," Holtz remembers. "It was crazy. I was 16 years old, so imagine. I'm very sensitive; I'm taking in the motions, the questions."
After the trip, Holtz's depression led her to seek art therapy.
"I was always sketching, but I didn't really see it as art, it was just me venting," she remembers. "So I did art therapy and I realized I am an artist—this is where I need to go."
Holtz chose to come to SCAD to pursue her art.
"In creating this work about Israel, I realized that out of the ashes of the Holocaust, Israel was birthed," explains Holtz. "The story I lived around every single day was full of gratitude. Out of all the things that happened in the past, this nation was birthed. Of all the persecution of a nation, this was birthed. I realize that's everyone's story. It's my story, your story, everybody's story. The paintings are not explicitly about Jesus; they're hidden symbols. You have to spend time looking at them, breathing them in."
One tie Holtz explores is that the blue and white stripes of the concentration camp uniforms were redeemed to create the blue and white stripes of Israel's flag. As a result, Holtz uses a blue and white color palette in most of her pieces.
"It's my heart's desire," says Holtz of her work. "Essentially, I always want someone to take back a redemptive quality in the work, to see the redemption, forgiveness, love, and to realize that's a part of their story, too."
CS