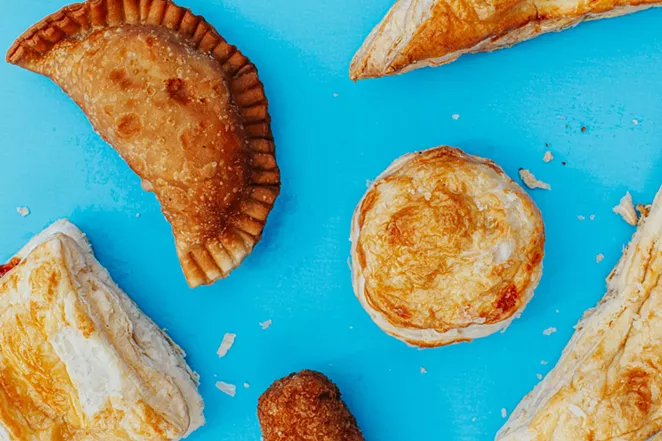 Savannah is an international port city that has grown over the centuries with a plethora of diversity, resulting in its myriad restaurants serving global cuisine and fueling an ongoing renaissance of culinary multiformity. Another port city, Miami, is well-known for its abundance of authentic Cuban food. No matter the city block, a Cuban window cafe - or ventanita - can usually be found around any corner. Miami too has no shortage of diverse fare and culture, but compared with Florida's most famous city, Savannah has a relative scarcity of true Cuban cuisine. Cynthia Santana, a former Miami resident of Cuban and Dominican descent, wanted to become part of our renaissance and fill Savannah's Cuban needs. When the pandemic hit and Miami's economy slowed, Santana and her husband Mike Lieberman made the move to Savannah after being laid off from work. The change in circumstances allowed Santana to pursue her dream of bringing quick affordable fare to locals by opening Savannah's first ventanita, the Cuban Window Cafe.
"We took a lot of influence from foods that I have eaten growing up and learned how to cook, but also things that are very much staples in Miami. The Cuban window is something that you find on every corner in Miami," Santana explained. "The menu is a lot of the staples you would find in everyday Cuban food. Things that people know and expect to have in a Cuban restaurant, and we also added some stuff. The Coconut Curry Chickpeas, that is one of my dishes, just to have something that is a vegan option."
The cafe opens early especially for early-rising workers, to serve breakfast for only $5.00. This neighborhood-friendly price gets you a breakfast of your choice, such as eggs and bacon, Cuban toast, and a café con leche. According to Santana, "Everything on our menu is under $10.00. It is made for the working-class people. It is made for neighborhood people. You don't have to be a tourist, you don't have to be on vacation, this is food you can come and eat every single day and still afford it." Although Santana has deep roots with Cuban fare, learning from her family and grandmother, she and her husband brought in a longtime friend, Pablo Rodriquez, to cook. Chef Rodriguez aims to put the Cuban Window Cafe on the map as the best Cuban eatery in town.
Pablo grew up in the center of Cuba, and evolved his devotion to cooking by learning from his family, specifically his grandmother. Cooking is not a job for him, he explained. "I became the chef of the family, and this is not work, not what we do. We are not working, we have pleasure for all of the food, mainly Cuban food," Rodriguez said. Chef Rodriguez and his son butcher the pork and beef in house. Rodriguez honed his techniques growing up with his father, a butcher in the farmlands of Cuba. Rodriguez was kind enough to step away from the kitchen to tell me his story. "We lived in a big town like this one, in the middle of the country where the next house is two miles from there. There was no electricity. They had to save the food for years," Rodriguez said. "By Christmas they raised the pig and processed it on Christmas. We had to make a big tank and put all the pork in there. Like Masitas that you see here."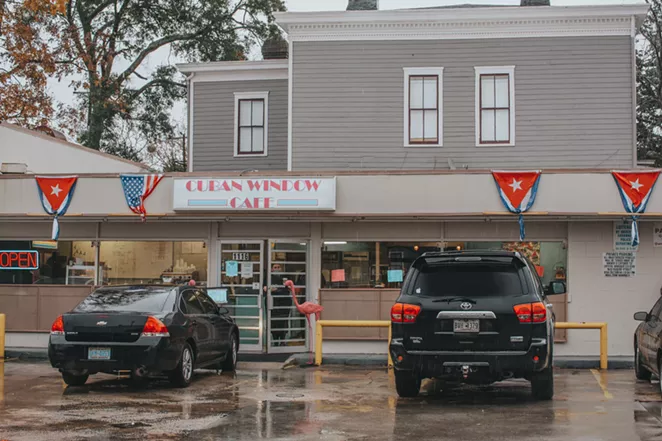 Masitas De Puerco is a dish of fried pork chunks that are melt-in-your-mouth succulent. The traditional way to preserve pork is to vat it and cover it in its own fat, preventing premature spoilage. The fat preservation results in tender, full-flavored pork that is marbled with umami and fork-tender. Throughout his life, and by cooking with his family, Rodriguez perfected tricks like these, and is now bringing them to his kitchen in Savannah.
You will find the most authentic side of the menu in the Complete Specials. Dishes like the Mojo Pork, Pollo Asada, and Palomilla Steak are ones where Rodriquez applies the same techniques he learned living in Cuba so many years ago. The same can be said for the rotating specials menu. Past specials have been items such as Ropa Vieja (stewed beef and vegetables), Ajiaco Criollo Cuban Creole stew, and Bacalao, which is steamed cod with peppers and potatoes. Ideal for lunch, the menu also features some classic sandwiches. The Medianoche is the cousin to the classic Cuban sandwich. The difference is a shell made with sweet bread instead of Cuban bread. The minor addition of sweetness cuts through the smack of mustard of the original version. The mustard is a necessary ingredient to balance the fat and umami of both types of pork. The sugars in the sweet bread add to the crunch created by pressing the sandwich in a hot grill. The warm succulent sandwich is crispy on the outset, then gooey from the melted Swiss cheese, and finishes with a mouthful of tender roasted pork. Other pressed sandwiches include Cuban Frits Sliders made with beef and chorizo, Pan Con Lechon created from mojo pork and onions, and the Pan Con Bistec steak sandwich. French fries are the classic choice for any sandwich, but the Cuban Window Cafe has better, traditional choices for sides. I am always drawn to Maduros, or sweet plantains, but the less sticky version, Tostones are available as well. Black beans, yellow rice, yucca, and vegetables are just some of the sides available to add to any meal.
Cuban Window Cafe: 1116 Abercorn St., Savannah. 912-777-5042