"A Notable Journey," a solo exhibit by African American sculptor Curtis Patterson, opens this Friday, April 1, at Savannah's Laney Contemporary.
Curated by Patterson's former student Melissa Messina, it promises to be an important show, paying past-due homage to an Atlanta-based artist unfamiliar to too many of us.
Savannahians may remember Messina from her 2008-16 stint as interim Executive Director and Senior Curator at the SCAD Museum of Art.
Today, she is a nationally recognized arts professional and speaker who develops exhibitions and public programming both independently and in leadership roles with museums and non-profit arts organizations.
Much of her stellar career, she tells me, is focused on "prioritizing fantastic artists whose work demands deeper exploration but who have not been given their due because they are female, or a racial minority, or work outside of the market centers, or all three."
With research funded by Creative Time/Warhol Foundation, the Stuart A. Rose Library at Emory University and the Crystal Bridges Museum of American Art and others, Messina has a passion to use any curatorial platform she's offered to give visibility to artists who have been marginalized.
A highlight of this focus was the 2017 co-created show "Magnetic Fields: Expanding American Abstraction, 1960s to Today" which displayed work by 21 Black female abstract practitioners and traveled from Kemper Museum of Contemporary Art in Kansas City to The National Museum of Women in the Arts in Washington, DC.
Now it is time to shed light on the work of Curtis Patterson, born in 1944 in Shreveport, Louisiana. The grandson of a master carpenter, Patterson earned his Bachelor of Arts in Art Education from Historically Black Grambling State University, and later was the first African American to receive a Master of Visual Arts in Sculpture from Georgia State University in Atlanta. He was a faculty member at The Atlanta College of Art from 1976 to 2007 and it was during the latter years of his tenure that Messina studied sculpture under him.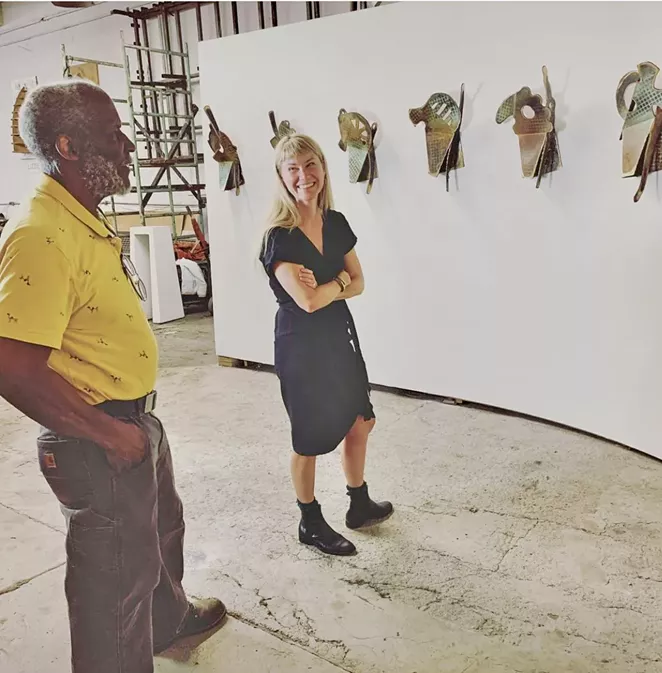 "He was an incredible influence on me, teaching me not only about materials and techniques but also about artists both historic and contemporaneous that he thought I should be looking to for inspiration," Messina recalls. "A number of my recent projects have highlighted Black female abstract artists so I guess my interest in Curtis's work could be seen as an extension of that. I learned at a very impressionable age about abstraction from him – as well as from Mildred Thompson, whose estate I curate – so for me, it is more about honoring that influence. When Susan Laney expressed interest in his work, I got really excited about the possibilities around bringing it to Savannah and the dialogue it would create. So, I asked to curate it. Luckily for me she and Curtis agreed! I am honored to have been his student and to have this opportunity to present his work today."
"A Notable Journey" highlights a selection of Patterson's mid-scale bronze and steel sculptures from the last thirty years. Primarily known as a sculptor in the public sphere, Messina and Laney view this show as a "platform of visibility for his powerful pedestal and wall-based sculptures." With a command of material, scale, and abstraction, they say, "Patterson is one of the most important sculptors of our time."
The curator and gallerist explain that Patterson's experience of growing up during the Civil Rights Movement often informs the subject matter and symbolism of his work.
"Montgomery Bus Stop" creates an environment that suggests the courage of Rosa Parks, while "Water for Mandela" symbolizes the South African leader's 27 years of incarnation. They go on to say that his large-scale sculptures reference inspirations in art history ranging from Hale Woodruff to Henry Moore, and that his multi-dimensional wall works emphasize a spectrum of African diasporic experiences. His abstract approach is also inspired by a long-time interest in improvisational jazz.
I look forward to viewing Patterson's 2021 "Diasporic Reflections," a series of mask-inspired wall reliefs representing each month of the year, and pieces from the "Shango's Friends" series – both highlighting his continuous use of African symbols, and which in his words, "pay tribute to domestic labor implemented by people of African descent" and display his longstanding commitment to "raise consciousness about a people who have given so much of themselves." Shango is a deity of the Yoruba people of Nigeria whose symbology is believed to imbue powerful energy and who is often depicted adorned with an oshe – a double-headed Yoruba ax.
Messina has also chosen to display pieces from Patterson's ongoing "Rocker Series," mid-scale works that are often kinetic, or balanced by a simple blade or tripod, and which are constructed of bronze plate finished with a vibrant medley of applied cold and hot patinas.
As mentioned above, Patterson has primarily gained recognition for his large-scale public art installations. He entered this realm with "Cometh the Sun," a huge, geometric sculpture of cor-ten steel and concrete that draws heavily on African motifs, commissioned by the City of Atlanta's Bureau of Cultural Affairs.
Originally installed in 1977, the piece can be viewed in Gordon White Park on the Atlanta Beltline at the intersection of the West End Rail and the Westside.
Other public art includes the 2008 bronze "Andrew Young Obelisk" honoring the former Atlanta politician, diplomat, and activist, and the 1984 bronze "Celebration for a Champion," honoring 1936 Olympian Jesse Owens, which stands near the entrance to Jesse Owens Plaza at Ohio State University.
As in the smaller pieces coming to Savannah, much of the public works incorporate elements and symbols that pay tribute to the historical contributions and sacrifices of both well-known and unknown African Americans.
When I tell Messina that I imagine Laney Contemporary to be the perfect space in which to display abstract sculpture, she readily concurs.
"Susan has one of the best eyes in the business and shows exceptional work in an exceptional space. Her gallery has – and continues to – raise the bar for Savannah and the Southeast. The different size spaces Laney Contemporary offers will really showcase a range of Curtis's work. Throughout his career, he has primarily shown monumental work in the public sphere, so at Laney we can show largescale indoor pieces in the larger spaces and more intimately scaled work that people rarely get to see in other spaces." She continues, "There will be about 30 pieces in total, some from the late 1980's and others from as recent as 2021, which will give Savannah a great overview of his practice. Someday, I hope we can find a home for an outdoor piece in a public space in Savannah!"
"A Notable Journey," the solo exhibition by Atlanta-based sculptor Curtis Patterson, will be on view April 1 through May 28, 2022 at Laney Contemporary, 1810 Mills B. Lane Blvd. in Savannah.
The public is warmly invited to meet the artist at his opening reception on Friday, April 1, 6-9pm. For more information, visit laneycontemporary.com, on Instagram @laneycontemporary, or 912.438.4442.