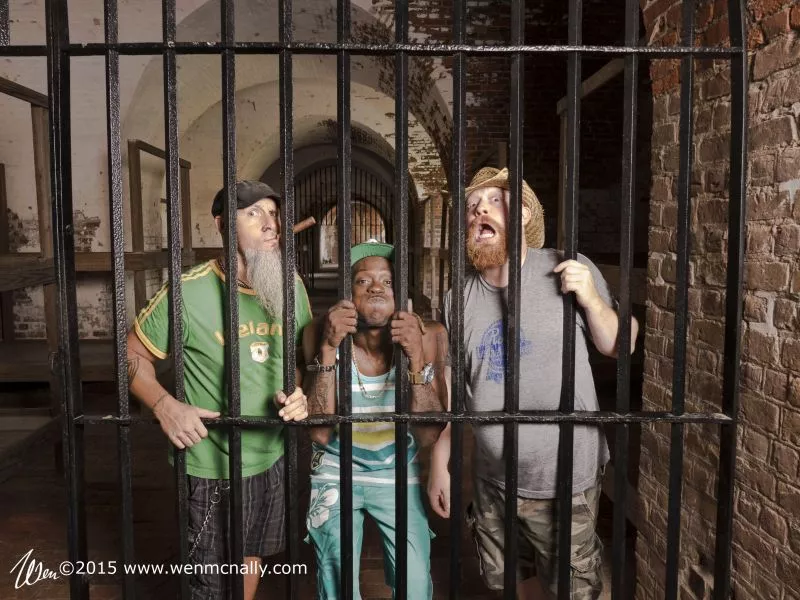 THE British have an old saying: "In for a penny, in for a pound." It implies that if you start something, you must see it through to its end. Essentially: if you're gonna go, go hard.
That's precisely what In For A Penny's Sean McNally did when he began performing Irish folk songs a couple of years ago.
He'd recently picked up mandolin and earned a regular evening spot performing at The Sand Bar on Tybee. Though he played with a drummer occasionally, McNally's music was essentially a solo pursuit until he was offered a spot on River Street's Saint Patrick's Day entertainment lineup, leading him to expand to folk-punk three-piece and christen it In For A Penny.
"We put the band together just for Saint Patrick's Day!" McNally recalls. "That was our first show. We had never played together before, and we did a three-hour set our first time out."
While performing in the hustle and bustle of last year's festivities was a new experience, McNally is no stranger to rowdy renditions of traditional Celtic folk.
"I was playing in an alt-metal band 15, 20 years ago, and our singer went and heard a band from Orlando, Seven Nations—kind of a traditional Celtic rock band with bagpipes," McNally recalls. "He came to the next band practice and said, 'We're completely changing our style!'"
McNally was living in Virginia at the time. When his band was invited to try their new Irish-ified set at the Highland games, they were astounded at the reaction.
"We watched the crowd, people from age two to 90—everybody was into it," he remembers. "We never had an age span like that doing what we were doing and decided, 'There's something to this.'"
Over the years, McNally settled down, married, had children, and put music on the backburner.
"When I picked up the mandolin about two and a half years ago, I fell in love with it," he says. "I started goofing off, relearning a bunch of songs from back in the day. They were in the back of my head somewhere, surely I could find them!"
The songs were a hit, just as they were before.
"Everybody digs on it!" he says. "I played a Dropkick Murphys song—somebody had asked for it, I didn't know the words—but somebody in the bar said he did, and he came up to sing. People were standing on top of the bar! I thought, 'I need a band. It needs to go beyond me.'"
McNally recruited guitarist Jeremy Riddle and drummer Henny Da Butcha to accompany him. The musical diversity that exists between the three has allowed for some fun twists and surprises in their sets.
"Everything's got that Irish twang to it, maybe a little bluegrass overtones—but bluegrass came out of Irish hill music," he notes. "Jeremy's got a reggae and punk background, so we'll do weird reggae covers. We love playing that kind of stuff!"
As for their Irish fare, McNally describes: "We've taken a lot of traditional tunes and cranked 'em up to 11."
Celtic punk can be largely traced back to '80s band The Pogues. A gang of Irish punks residing in London, Shane MacGowan and company employed the use of banjos, accordions, mandolins and tin whistles to give a traditional nod to rock music. Since The Pogues made their mark on music history, bands like Dropkick Murphys and Flogging Molly emerged, adding bagpipes, Irish fiddle, and more to straightforward punk.
There's something about the energy of the toe-tapping, vibrant energy of bagpipes and fiddle mixed in with straightforward punk structures and singalong choruses that appeals to just about anyone, Irish or not.
"I can't put a finger on it, honestly," McNally remarks of the sound's universal appeal. "It's fun, energetic, it makes you move. It's funny—I run the risk of sounding sexist—ladies will dance to anything, but when we're playing this and you see the Rangers guys start out being silly, doing a jig, but by the end of the night, they're having a ball with it! I don't know what it is about it, but I see it happen over and over again. It just kind of forces you to move your feet."
Though heritage didn't play a huge role in McNally's childhood, growing up in a Michigan pig farming town, he's been researching his own Irish ancestry, tracing his lineage all the way back to the mid-1600s and just outside of Dublin. He truly felt the Irish in his blood when he started playing mandolin.
"When I got into the mandolin, it kicked in," he says. "It felt familiar!"
After their stacked Saint Patrick's Day weekend, the band plans on hitting the studio to record a five-song demo. But first: the beautiful mess that is Saint Paddy's. McNally loves it, particular the fact that, though it's certainly an evening of heritage, everyone is Irish in Savannah for St. Pat's.
"I think it's really inclusive; I think Irish heritage always has been," he observes. "Everybody sits around in dark corners telling stories, making sure everybody's laughing and having a good time—who doesn't want to be a part of that?!"
CS