MAYBE IT'S something in the water, but perfect moments of synchronicity have a way of occuring within Savannah's creative communities. The Hostess City's most recent manifestation exists at the intersection of activism, live music, art, and pure, unabashed fun: the inaugural Non Stop Boogie Drop.
From Friday, April 7 to Saturday, April 8, Starland's House of Strut will host a 24-hour event in support of nonprofit organization Savannah Riverkeeper. If there's anybody who can turn the bottom floor of a Victorian, vintage-slinging house into a 24-hour palace of music, food, art, and dancing, it's Erica Cobb Jarman and Ben Umbreit.
Umbreit entered Jarman's throwback-glam world when he rented a Speedo from House of Strut. DJ OB-1Benobi by night, Umbreit is best known as the force behind 25 Shades of Purple, an entertainment hub based around the artist Prince. Umbreit, who owns one of the largest digital collections of Prince's music and performances in the world and throws tribute parties, meetups, and more, knows how to get people on a dance floor.
In January, Jarman had a dream that she participated in a dance-a-thon and woke up motivated.
"I wanted to dance for 24 hours, and I wanted to do it for Mother Earth," she declares. "I was feeling anxious about what was going on politically and had more anxiety about the environment than anything."
Meanwhile, Umbreit was interested in a growing trend in the DJ world: 24-hour DJ events, where a new DJ would take over the tables on the hour for a full day.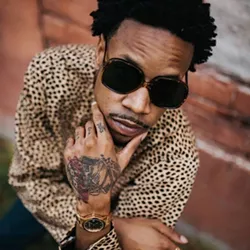 "There are a lot of DJs in Savannah, but it's mostly a band town," Umbreit says. "Whenever I DJ with another DJ, I get so much out of it. So I thought, 'What if all these DJs could play back-to-back?' I think it would foster the DJ community."
It was a tough sell—bars couldn't have a 24-hour show, and a house party wouldn't work. He remembered Jarman, whose shop has hosted everything from a Mothers concert to multimedia drag shows. Umbreit posed the idea to DJ Jose Ray; Ray responded with a bewildered smile.
"'He goes, 'Erica proposed the same idea to me tonight,'" Umbreit remembers.
"Can you believe that?!" Jarman exclaims.
It seems the Non Stop Boogie Drop was simply meant to be, and once they realized their shared mission, Jarman and Umbreit got to work, selecting Savannah Riverkeeper as their charity.
"[The River] is our most important natural resource," says Jarman. "If it wasn't for it, none of us would even be here."
Just so happens, Augusta-based Savannah Riverkeeper was already interested in hosting a Savannah fundraiser but weren't sure where to host it. When Umbreit pitched their idea to Riverkeeper's Jacob Oblander, he was ecstatic.
Non Stop Boogie Drop features a variety of local and regional bands and DJs of all styles. From dancing in the wee hours with Lotion in the Basket to sharing sunrise with The Flying Bacon Cheeseburgers, there's something for everyone. Plus, those who dance all night may be rewarded for their efforts with great prize packs.
In addition to music, there will be go-go and fire dancers, interactive artwork, a selection of summer and spring vintage styles to shop, a special Clockwork Orange-themed lounge in the side yard courtesy of The Atlantic and West Elm, and even a VIP Purple Room as an homage to Prince.
Inside and outside the House, attendees will find everything they need, from local coffee to beer from Southbound, Moon River, Service, and Coastal Empire. Expect a variety of food trucks at the event, and make sure to stay up dancing 'til 7 a.m.—Back in the Day Bakery has created "boogie biscuits" for the occasion, and all early morning attendees will get a fresh confection on the house.
As local residents, businessfolks, and lovers of the arts, Jarman and Umbreit look forward to connecting with the community through the Boogie Drop and making it an annual event.
"You can see Savannah coming," Umbreit says, acknowledging the city's growth. "If we can get in now and create some established things, they can be sources of positivity for the city and community."
"We want to do huge, amazing things in Savannah," adds Jarman. "We want to make big splashes, but a lot of people who make big splashes leave to go to other towns. We're invested in this community; we're here to stay."