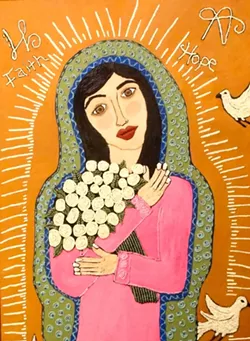 EVERYTHING about Danette Sperry, from her artwork to her personality, is refreshingly simple. A self-taught artist, she paints things that she likes.
"I get inspiration from stuff that keeps coming up in my head," she explains. "Sometimes you get an idea in your head and you want to go with it."
Sperry and her husband John live in Maysville, Georgia, a small town about an hour outside of Atlanta. The country life helps keep the two stay true to their simplistic lifestyle—Sperry jokes that all she does is create art.
"We have a 1917 farm house we live in," Sperry says. "Our studio is out back; it's fifty steps to work. The only traffic is the birds."
Sperry's approach to art, as with life, is gentle, making the title of her solo show, "Harmony: The Gentle Soul of Danette Sperry," incredibly fitting. Her relief paintings range in subject from dogs to birds to the blues musician Muddy Waters and follow the typical folk art style, fitting right in at Roots Up Gallery.
Sperry's relief technique is more complicated than traditional relief, as she combines layers of paint with hand-etched detail done with a small knife.
The detail in Sperry's pieces is, at times, unbelievable. In "Dog Walkers," for instance, the dogs are fully marked up with tick marks, wavy lines, and swirls all over their bodies.
It's impossible to overstate how much physical work this is, since some dogs need more than one layer of etching, but Sperry wanted each dog to look unique.
"When you first do this, it's really thick," Sperry explains, gesturing to another one of her paintings, "Poppies."
"All your mediums and stuff you use and paint thickeners, and then when it dries it just comes down."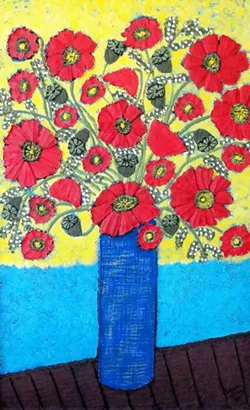 Sperry started her style of relief paintings as a way to blend her love of sculpture and painting.
"I like the 3D sculpture, but you're limited on what you can create," she says.
"When you're painting, a painting is just a painting. They're beautiful and all, but I love texture, and that's how I evolved to where I am."
As many folk artists do, Sperry uses symbols to convey themes in her work. The painting "Madonna" includes character symbols for faith and hope.
Her husband John is also a folk artist—on a visit to see his work, Roots Up owner Leslie Lovell discovered Danette's pieces and decided to bring them to Savannah.
Back in Maysville, Sperry also runs a woodworking shop, Primitive Folks, where she creates tables out of centuries-old repurposed wood. She uses the same wood for her frames, attached to the outside of the painting.
"Since it's primitive art, I wanted something simple to go with it," Sperry says. "I didn't want something too fancy because I didn't want the frame to be the art, I wanted the art to be the art."
Sperry's intricate works need to be seen in person to be believed. "Harmony" hangs at Roots Up until July 18.
cs