WHEN HE lived in Savannah, Daniel Brady Lynch had a reputation for being one of the most, if not the, most prolific music creators in town. Just 'cause he's moved to Chicago, things haven't changed; in fact, he may be giving The Windy City a run for its money.
Back in Georgia, the Guyton native drummed in punk bands Cray Bags and Greta O. and the Toxic Shock, created experimental electronic recordings and a one-man live show as Sunglow, and played guitar in scuzz-duo The Lipschitz, handling the recording process for all of those projects.
Since he and partner Rachael Boswell, also of The Lipschitz, relocated to Illinois, Cray Bags may be on a permanent break, but Greta O. and the Toxic Shock still exists as an entity and plans to tour in spring, The Lipschitz are working on a new record and performing in their new hometown, Sunglow's recording, and Lynch is ready to unveil a brand-new venture entirely: Bummerville.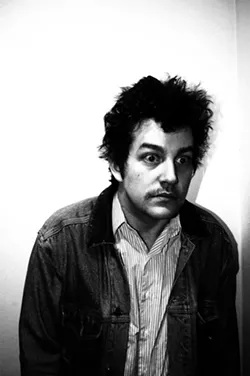 His "solo" project, supported live by Cray Bags bandmates Joshua Sterno (guitar) and Derek Lynch (bass) as well as Jonathan Graham (drums), hits the road this week in support of a debut full-length record.
Bottom Feeder—which is available on the very day the band plays the hometown of both its creator and its label, Graveface Records—is a collection of songs that were floating in between Lynch's other bands.
"I think of it as an individual outlet," Lynch says. "They're all songs that didn't really make it to other projects that didn't fit in quite well."
Initially, Lynch released the track "Time That It Takes" under his own name. Once it caught the ear of Ryan Graveface at Graveface Records, it was time to create a moniker.
"I had these corporate-sounding names that didn't make any sense—Autoplant—but that didn't make any sense," Lynch recalls. "'Bummerville' is how I describe situations in my life, and that was specifically a bummerville, to have to make a name for something that came out of a personal, really close to home, place."
Lynch wrote and recorded the songs on Bottom Feeder in Georgia and Illinois. Despite a huge move and life transition, his process didn't slow down.
"Around that time, I was in the midst of recording the Lipschitz record, getting that out just to be put out in July, and also doing Cray Bags and recording that Greta O. record, and I was in the middle of putting out that Sunglow album," he recalls.
"But I knew I was going to move and the projects were going to be in a weird state. I never stop having ideas—it's just constant—and I'm having a lot more alone time. It all adapted pretty well. I live in a box apartment, my work station's pretty much the same everywhere I go. It was pretty seamless. I immediately got a job, my life didn't change, it all just moved."
While it's unlike anything he's previously released, Bummerville is distinctly the music of Daniel Lynch. Rock 'n' roll to the core dressed up in fuzz and lo-fi processing, it's defined by blown-out vocals, splashy, fried textures, and damn catchy hooks.
"My vocals are kind of buried, but I don't want to be on top," he says. "It's not reflective of the way that I perform and the way I like to write. I don't want to be shoving words down people's throats—I'd rather put them out there, and if you want to read into them, you can apply your own meaning to them, if you want."
Graveface Records will release the album on both black and red vinyl, available at the Savannah show and in-shop at Graveface Records and Curiosities. Ryan Graveface moved his record label from Chicago to Savannah six years ago, and with the exception of bands that Graveface himself performs in (The Casket Girls, The Marshmallow Ghosts), Bummerville is the first Graveface album by a Savannah artist.
"Ryan heard ["Time That It Takes"] and wanted to hear the rest," Lynch says. "I sent him 16 or so songs at the time. Now that I have an outlet for it, I can keep my ideas going."
Lynch and Boswell, who both honed their music skills in Savannah, have enjoyed living in Chicago and performing.
"I moved here knowing a few people in one scene and a few in another scene, and I've been playing a lot in the punk scene up here," Lynch says.
"They're really good people, all-inclusive, positive environments. We played a punk show at a gallery recently, and it was Mixtape Night. They encouraged everyone to make their own mixtape, put them in a box, and when you leave, take a mixtape. People were really juiced on it. It's really kicked me back in gear, reminding me the reason I'm doing in any of this in the first place: For the enjoyment of it."
Though he's focused on Bummerville during this current album release tour, Lynch will soon resume working on a new Lipschitz record and planning a tour with Greta O. and the Toxic Shock. He's also working on a new Sunglow record.
"I have some super-chill, groovy things in my mind," he says.
CS