Living room shows are all the rage, but a Goth legend is taking the format to a whole new level.
David J of Bauhaus and Love and Rockets fame will perform an entirely unique and distinctly Savannah concert at the Bonaventure Funeral Home Chapel. Poised at the entrance of historic Bonaventure Cemetery, it's a perfect backdrop for the icon to perform an array of solo material and songs from past projects.
The evening was organized by local tour guide and storyteller Shannon Scott, who offers regular tours of the historic cemetery.
"I've been doing stuff out there for 14 years, including the Bonaventure After Hours program," he explains. "I think this is the next level."
Inspired by Tunes from the Tombs, a concert series at Atlanta's Oakland Cemetery, Scott is excited to use the landmark area to showcase songwriting.
"David J's using people's living rooms and anywhere that has a quirky, unorthodox vibe," Scott explains. "With his Gothy past, thematically, it makes a great show."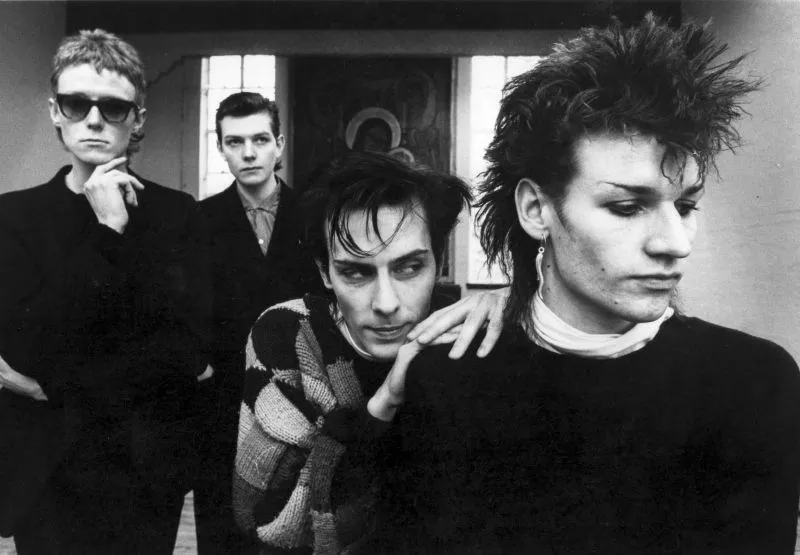 J was a founding member of Northampton, England band Bauhaus along with guitarist/vocalist David Ash and J's brother Kevin Haskins. Named after the German art movement, the trio added vocalist Peter Murphy and released a debut single, "Bela Lugosi's Dead," in 1979 on the label Small Wonder. Recorded live in Beck Studios during a six-hour session, the song clocks in at over nine minutes, teeming with eerie guitars, post-punk unease, and Murphy's tremoring, haunting vocals delivering J's lyrics. The song is considered the very first Goth rock single, inspiring countless imitations and odes for years after.
The band released a second album, Mask, in 1981, adding keyboards and additional instrumentation to enrich their sound. After releasing their third album, The Sky's Gone Out, the band's cover of David Bowie's "Ziggy Stardust" reached No. 15 on the British charts; it would be their biggest hit. A Top of the Pops appearance pushed the single to its peak at No. 4.
They released their fourth album, Burning from the Inside, in 1983, and broke up that same year; "Rest in peace," J said from the stage at their farewell concert at Hammersmith Palais.
At one point, Ash and J expressed interest in reuniting Bauhaus. They arranged a rehearsal, but Murphy didn't show up to practice. In his absence, Ash, J, and Haskins discovered the unique chemistry they had as a trio and formed the group Love and Rockets in 1985.
The band's song "So Alive" was a hit in the United States in 1989, and the group survived for 14 years, releasing seven records.
Bauhaus has played several reunion shows, including 2005's Coachella Festival and a subsequent tour in North America and Europe. They hit the studio together in 2008; though the session time resulted in an album, Go Away White, it didn't last. Haskins references "an incident" that awakened the band's differences, and no promotional tour was scheduled.
Throughout the years, J was writing and making music outside of Bauhaus and Love and Rockets. Bauhaus was still together when he started writing solo material for two albums, Etiquette of Violence and Crocodile Tears and the Velvet Cosh. He was also busy acting as a producer and played bass on two Jazz Butcher albums. He even joined Alan Moore, the comic writer, and saxophonist Alex Green for a short-lived band called The Sinister Ducks; later, J wrote an EP of songs intended to be a soundtrack for Moore's graphic novel V for Vendetta. He's performed with and written with artists including Jane's Addiction, Porno for Pyros, Strange Attractor, George Sarah, Amanda Palmer & The Grand Theft Orchestra, The Dandy Warhols' Courtney Taylor-Taylor, and more.
In addition to his musical abilities, J is a playwright. His first play, Anarchy in the Gold Street Wimpy, was staged by Atlanta's Dad's Garage Theatre Company in 2004, and he wrote and directed Silver for Gold (The Odyssey of Edie Sedgwick), restaged in Los Angeles in 2011.
J is currently touring in support of Vagabond Songs, a double LP release on Last Hurrah Records.
"I think he's a real troubadour," says longtime fan Scott. "He's embraced the life of some of his heroes and has been doing shows continually for years."
Scott fell in love with Bauhaus as a teenager and has embraced Love and Rockets and David J's solo work.
"I saw him in 2003 or 2004 for the first time in Atlanta and have seen him four times now since that," he recounts.
At one Atlanta show, J performed with The Hot Place, a band of Athens musicians featuring members of The Swimming Pools Q's. Scott conversed with the band (he and the lead singer, bassist, and keyboardist, Lisa King, attended SCAD together) and expressed his interest in hosting them and J in Savannah. After hearing that Savannah marketing guru Scott West had hosted events in the Bonaventure Funeral Home, Scott was inspired.
"It's not every funeral home that would be that colorful," he notes. "They are really excited about doing events there; I was kind of taken aback by their enthusiasm! I feel like they have a more festive approach. The next generation of clientele sees the celebration aspect, and this way, the mausoleum isn't just collecting dust and mildew."
The event will also be a fundraiser for One Love Animal Rescue; Scott encourages attendees to check out the nonprofit's wish list on their website, oneloveanimalrescue.com, and bring items or scope out the financial donation list.
Scott hopes that the unusual show will be the first of many that merge luminary artists and Savannah's historic setting.
"This is kind of my stab at trying to bring something culturally to Savannah that will hopefully be a beacon for others to get inspired," he says.
cs