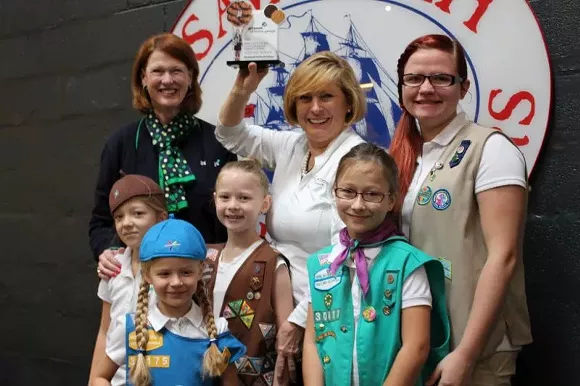 EXACTLY 100 years ago, Girl Scouts of America founder Juliette "Daisy" Gordon Low heralded another brilliant idea.
The forward-thinking Savannahian had already established her pioneer organization for young women five years before, and it was time to raise some funds.
The troops began peddling cute packets of homemade cookies locally to help pay for their outings and activities, eventually recruiting the city's popular Gottlieb's Bakery to keep up with demand when sales went national in 1936.
Girl Scout cookies now pull in more than $800 million a year, and the girls in green continue to forge Daisy Low's mission of independence and civic leadership by tapping America in the sweet tooth.
"When you buy Girl Scout Cookies, you're supporting life-changing experiences for girls and providing a way for them to learn business literacy, leadership skills, to travel, go to camp and learn the value of community service," says Sue Else, CEO of Girl Scouts of Historic Georgia.
Buying a few boxes (or, er, cases) of Thin Mints and Samoas every year is an enduring tradition, and local chefs take it even further during National Girl Scout Cookie Weekend, taking place Feb. 24-26.
The "ful-crumb" (tee hee!) of the celebration is the culinary competition, when area restaurants and bakeries offer up their most creative and delicious takes on recipes using at least one of the seven varieties of Girl Scout Cookies. New to the contest this year are the graham cracker marshmallow S'Mores as well as separate categories for full-service restaurants and specialty spots like ice cream shops and restaurants.
Over a dozen establishments have signed on and will feature the confections on their menus throughout the week, and the winners will be determined by a combination of public vote and scores doled out by a panel of local foodie experts, including Chef Jean Vendeville of Savannah Tech's award-winning culinary program, Jeff Hewitt of Visit Savannah and Steve Parnell of Little Brownie Bakers, the company that produces the Girl Scouts' famous treats.
Whether the chocolatey-peanut butter flavors of the ever-popular Tagalongs will seduce the most palates or if the judges favor the lemony delicacy of Savannah Smiles is anyone's guess.
Savannah Coffee Roasters took home the trophy with its Trefoil-layered iced tiramisu in 2016, and the reigning champ intends to defend the title.
"We are definitely in it to win again this year," avows owner and executive chef Lori Collins, who oversees the spacious café and bakery on Liberty as well as a new location in the Design Center shops at the corner of Waters and Mall Blvd.
In spite of her appreciation for complex flavors, Collins gravitated to the understated Trefoils for last year's entry, alternating the shortbread cookies with layers of Kahlua-infused marscapone, then blanketing the confection with ganache and serving it with cream coffee sauce and chocolate-covered coffee beans.
"I wanted to use something that didn't necessarily have a dominating flavor," explains the third-generation pastry chef who has continued to serve a version of the recipe in the café ever since.
"The cookies melted nicely into the dessert—it was perfect!"
Savannah Coffee Roasters qualifies as both a restaurant and a bakery, and Collins and her chefs will enter both categories with a couple of tasty innovations that will hold up to the plate. "That's what I've been thinking about this second year, that it has to be served easily," she notes.
Though she admits to getting caught up in the hype of the new S'Mores—"I love the idea of them, it's so Southern"—she hints that she's been feeling more influenced by the desserts of her native Australia.
"We're doing something completely different this year. It won't be anything anyone has ever seen. I can't give any more clues but it's divine!"
Taking part in the Girl Scout cookie contest not only feeds Collins' competitive side but nourishes her passion for women's rights.
"I think the Girl Scouts organization is a wonderful part of Savannah and America," says the businesswoman, who participated in the Scout-like group St. John's Ambulance as a girl in Australia.
"Empowering women is so important, particularly from a young age."
Collins is committed to doing her part to further Daisy Low's legacy of leadership and hopes her cookie contest recipes endure as long as the tradition itself.
"I don't want to do a novelty. I want to make things that people want to eat," says the cookie boss, adding with a laugh, "I take dessert very seriously."
cs